When we take clients out for an engagement session, we like to make an adventure out of it and do something atypical and memorable. If they like to hike, we head out on some trails or climb a mountain; if they like to explore the city, we get our wanderlust on and see what happens. So how do you plan for an engagement adventure?
In some ways, you just can't (and shouldn't) plan for an adventure. But we definitely have a few simple ideas (and some image inspiration) that should get you and your clients thinking about how to up the ante on your engagement sessions and take them to adventure status!
1. Create a Story
We stylize our engagement sessions as adventures and rarely keep them under three hours because we love telling stories with our photography. We think it's rad when our engagement images pull all the events into a cohesive love story. Creating a story can be as simple as sitting down with your clients and talking about their favorite places to go, their favorite activities, or their desire to recreate their first date.
For Kelly & Ron, a couple of hip urban adventurers, we stopped at an ice cream shop (a local favorite), explored some out-of-the-way places (like a bookstore filled with various oddities), and ended up having them dangling their feet in the pool of a mansion. Their adventure tells the story of an awesome engagement date night!
2. Make It Personal
It's important to connect your photography to your clients and their interests so that it's personal to them and something that they'll remember. It'll keep your clients talking and sharing the images, and that's good for your business! For Courtney & RJ, nature was key. We took them for a hike, they got in the lake, Courtney danced in the night in the dress her mother made and wore for her honeymoon, and they took off in their Grandparents' camper van.
3. Be Spontaneous
Spontaneity is key in adventuring on an engagement session. You never know what can happen, but you have to be ready to let your creativity fly. If you're trying to nail a portrait and bikers keep riding in front of you, invite them into the shot (Nicole & Evelyn below). And if it rains, embrace it and make something epic; in the case of Julie & Eric, we flipped the clouds with a prism and rolled right on through the storm.
CONCLUSION
Photography is about creating art in our minds, and we feel that you can apply that idea to everything you do, including engagement sessions. Tell a story, use your clients' personal details, and be spontaneous so that your images show more than an ordinary engagement session; make your images relate an epic adventure story. Clients will be raving about you to all their friends and showing off amazing images from their adventures – the best free advertising you can get!
For more on engagement photography, SLR Lounge has details on how to snag a free Engagement Photography eBook! And you can now get Pye Jirsa's (SLRL's Editor-in-Chief) Incredible Engagement Photography Course (via Creative Live) for only $74!
We'd love to hear what you have done on an engagement session to make it memorable for your clients (comment below), and we'd love to see your engagement images (post some over at our growing SLR Lounge Photography Community Facebook page)! Adventure on, friends!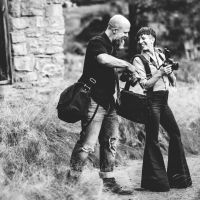 Amii & Andy Kauth
Amii & Andy are a wife and husband team of rad portrait and wedding photographers (Sunshine & Reign Photography) who absolutely love life and are generally just stoked! Yeah! When they aren't photographing or writing and teaching about photography, you'll find them off on a seriously legit adventure with their little ones, lifting weights in their garage, training jiu-jitsu, refining their archery skills, or surfing every chance they get. And on the rare chance they escape off on a "date night"? Yep! They'll find a wedding to crash (true fact). Website:
Sunshine & Reign Photography
Instagram:
@sunshineandreign