Overview
When it comes to organizing photos, the Metadata Panel is definitely a useful tool. This right-side panel contains all the information about the images themselves including what cameras and lenses were used, image dimensions, copyright information, and much more. Since the main focus of the Library module is organization, this panel allows you to organize all the information you need and decide which information to display. In this tutorial, we will not only show you how to add additional information to your images, but also how to sync metadata across a selection of multiple images at once.
Watch the Video Tutorial
The following video is from the SLR Lounge Lightroom 4 A to Z Workshop on DVD, a 14-hour workshop covering everything Lightroom from file management to advanced artistic processing techniques. The video shown below explains the different settings available in the Library View Options.
Metadata Views
To expand the Metadata Panel, hit [Ctrl + 4]. Starting from the top, this panel allows us to select from a variety of different views. Each view provides you with different options to what metadata is displayed and available to edit. "Default" is the most common view because it gives you a summary of what we think is the most important information on your image.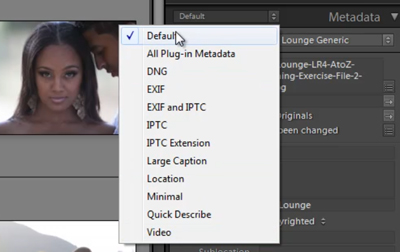 Within the default view, the first group of information displayed is basically file system metadata which includes the name, sidecar files, copy name, folder, and status.
Below that, we have some copyright and informational metadata. This includes the title, caption, copyright, copyright status, creator, and sublocation.
Just after that, certain attributes are listed such as the rating and any labels that we have had applied to the image. Below that is our EXIF data, which includes information such as when the image was captured and exactly how it was captured, what kind of camera was used, what dimensions were used, etc.
If you want a different grouping of information to be shown within the Metadata Panel, you can select another one. For example, try selecting the "EXIF" view.
This can be really useful for viewing every bit of EXIF data. In the example below, we can see that the flash didn't fire, we had focal length of 120 mm, the camera that was used, and so forth.
Another useful metadata information tab is IPTC. It shows standard metadata information such as contact information and image information.
Although the other views are useful in certain circumstances, the default view is generally the best view to keep it on because it gives you the most useful information that you would need to view and edit.
Syncing Metadata
Since we are on the subject of metadata, I am going to show you how to sync metadata in Lightroom.
First, select an image and add any kind of metadata. In this example, I added a title for this image as "LR4 Tut Series Exercise Files".
At this point, the title is added to the selected image. In order to sync this title with the other images, make a selection of images for which you would like to sync the metadata.
Notice that many of the information categories will now display "< mixed >" since a single name or piece of information in that category does not match across all of the selected images for those specific categories. Of course not all categories should be synced or they will not be distinguishable between each other. However, syncing certain information can be very beneficial when organizing images.
In this next example, we will sync the caption. As shown below, I typed in "Shot by Lin and Jirsa Photography" as the caption.
Since I have more than one image selected, as I hit "Enter" a prompt will pop up and ask me if I want to apply the metadata change to all of my selected images. Click "Apply to Selected".
This syncs the metadata status to all of your selected images.
Another useful tool in the Metadata Panel is the "Sync Metadata" tool which provides you with the ability to sync what is already entered as metadata across a larger selection. You won't have to repeatedly type the same metadata information because it will sync across your selection automatically. Keep in mind that the image selected first will contain the metadata that will be synced to the rest of your selection.
After making your selection, click "Sync Metadata".
This will pull up a menu with a variety of information categories that you are able to sync. Simply "check" the options you would like to sync. In this example, we will select "IPTC Creator", "IPTC Copyright", and "Title" under the "IPTC Status" pull down menu.
Then, click "Syncronize".
At this point, the title is "LR4 Tut Series Exercise Files" and is no longer displaying "< mixed >" since the selection title was synced.
Conclusion
At this point, you should have a good understanding of the Metadata Panel and what you can do with it. It is a great organizational tool and when used correctly can improve your overall workflow.
In our next Lightroom 4 A to Z DVD tutorial, we will be covering the Filmstrip in Lightroom.
If you are interested in purchasing the Lightroom 4 A to Z DVD, it can be purchased for $99 in the SLR Lounge Store.
Purchase the Lightroom 4 A-Z DVD Guide
The Lightroom 4 A-Z training DVD will turn any Lightroom novice into a complete master of Lightroom 4 in no time! The DVD which can be played on a Mac or Windows PC includes the following:
– 130 Video Tutorials and nearly 14 hours of content!
– Over 6 hours of tutorials dedicated to developing techniques
– Full Menu System for easy navigation through the tutorials
– Bonus DVD Content that includes Advanced Lightroom 4 Techniques
– Full HD 1080p Resolution for all Video Tutorials
– On-screen Shortcut Tooltips for Lightroom 4
– Exercise Files + Final Catalog so you can follow along during the tutorials
No Advertisements