Talk of brand ambassadorship has been a heated subject for debate in recent months as to whether there is an honest and fair representation. Instead of approaching photographers who are already in the public eye and have a vast following to join forces, Hasselblad does things a little differently and it is refreshing.
Since 2008 the company has housed the bi-annual Hasselblad Masters Competition in search of the next generation. The prestigious competition invites esteemed professionals as well as up-and-coming talent from around the world to submit their best three images for a chance to win the coveted title of being a Hasselblad Master.
Hasselblad Masters are judged on their photographic ability, creativity, compositional skills, conceptual strength and technique – and are acknowledged to have made a compelling contribution to the art of photography. Each entrant must submit three images per category, with the jury voting on the images rather than the photographer.  – Hasselblad Official Press Release
31,500 entries were received for the 2018 competition and eventually narrowed down to 110 finalists, ten for each of the 11 categories. A juried panel in conjunction with public vote chose eleven inspiring photographers to become a Hasselblad Master. The jaw dropping images will be printed in the bi-annual Hasselblad Masters book and the new ambassadors will be invited to collaborate with their brand new medium format camera.
The 2018 Hasselblad Masters
"It really struck me how progressive many of the entries were this year and how far the entrants were willing to push the brief. These were the photographers who caught my eye – the ballsy, out-there risk-takers who make compelling pictures that refuse to be ignored. I'm proud to have helped to get this great kit into their hands – their images deserve it." – Tom Oldham, Masters Jury Member.
The following video is a beautiful gallery of the winning projects from around the world and it is definitely worth a look. You can also visit the gallery here if you'd rather take your time and get lost in the sea of talent; it may inspire you to enter the competition in two years' time.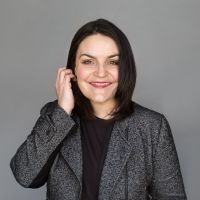 Brittany Smith
Brittany is a fashion and beauty photographer who works between NYC, Montana and LA. She photographs the way she has always wanted to feel and believes in the power of raw simplicity. When not behind a camera she can usually be found at a local coffeeshop, teaching fitness classes at the YMCA, or baking something fabulous in the kitchen. Instagram: @brittanysmithphoto