Now that Anthony has defected to the dark side (aka switched from Fuji to Sony), I get to test out all the new Fuji lenses. That's both a good thing and a bad thing – a good thing, because I get to do my own 'try before I buy' and a bad thing, because the quality that Fuji has been putting forth in their new lens offerings means that when I try, I want to buy. In fact, I'll spoil the ending of this for you before you read much more; I've already placed a request to our B&H rep to keep this review lens. Hooray for more credit card debt.
When Anthony handed me the Fujifilm 16-55mm F2.8 R LM WR at WPPI a few weeks ago, I think I may have squealed in delight. He hadn't made his switch to Sony yet, but he happened to have an extra review copy of the lens and since he's a nice guy (and I begged – i.e. threatened him within an inch of his life), he let me have one of them to play with.
Size Matters
The first thing I noticed about the XF16-55mm F2.8 R LM WR was the size. It is quite a bit larger than its predecessor, the Fuji 18-55mm "kit" lens. I had just photographed my first wedding with my new Fuji gear and borrowed the 18-55mm because the 16-55 hadn't shipped yet. The results from the 18-55 were underwhelming. Granted, it was a difficult wedding – stressful, way behind schedule and very little light and the 18-55 did not handle the low light well at all. The image quality was muddy and dull. It's also half the price of the new 16-55mm, so it's not even fair to compare the two lenses.
The newXF16-55mm F2.8  is roughly the same size as my old Canon 24-105mm lens. I loved my 24-105, and despite its limitations, it was on my camera 90% of the time. To totally complete my new Fuji kit, I needed something similar – or rather, something like the Canon 24-70mm, a lens that I had always wanted, but never had the chance to get.
The size of the 16-55mm is both a good and a bad thing. Like many DSLR refugees, one reason I made the switch was because my shoulders were tired of lugging the weight of a DSLR kit. The XF16-55mm F2.8 R LM WR is solid and seems a bit large on my little X-T1 body, but not so much that it's awkward. The lens is almost a pound and a half and uses large 77mm front filters, but the weight still was a non-issue with the X-T1 being so tiny. One might consider purchasing the battery grip though to balance things out.
Image Quality & Performance
When Fuji announced this lens, I was hoping that it would be a good replacement for my beloved Canon 24-105mm and it is. Using it for my second X-T1 wedding, I immediately noticed how fast it was and the photographer I was second shooting for commented how quiet the lens was, and indeed, it was virtually silent. (Note, he is a Canon user and totally thought I was crazy for switching to Fuji).
The focal length of the 16-55mm is equivalent to about 24-84mm on a full frame sensor and it has a constant 2.8 aperture. It has 14 points of weather sealing which isn't really a big selling point here in sunny Southern California (and yes, I'm totally bragging to you East Coast readers), but for the handful of rainy days we have, it's nice to know my camera is safe. One thing that might cause someone to pause, is that this lens does not have image stabilization. Unless you're shooting a lot of video, in which case you probably don't own the X-T1 anyway, the lack of image stabilization is practically a non issue.
The images were sharp from edge to edge and beautifully so; it wasn't just because this second wedding was outside, on a gorgeous day with perfect lighting and a beautiful couple either. The 16-55mm locked in on my subjects quickly and seamlessly, the images produced were crisp and clean. No distortion to be seen anywhere.
The lens just felt right. It was the easiest wedding I'd ever photographed.
Sadly, I am not able to show you many images from this wedding, as we are under an NDA, but I was able to get permission to post a few images from the day.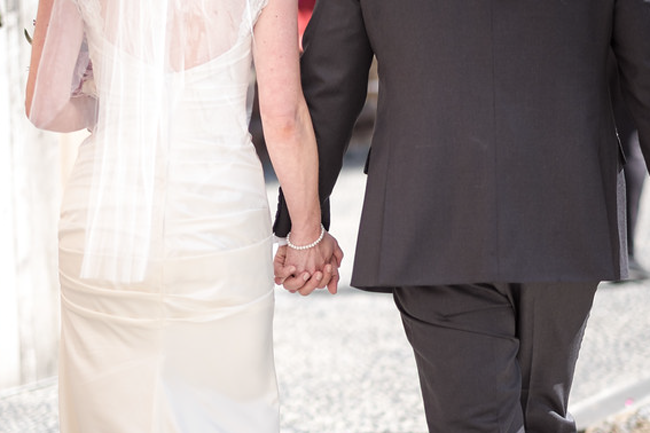 Conclusion
This lens is the one I've been waiting for. Along with the Fujifilm XF 50-140mm f/2.8 R LM OIS WR Lens and the Fujifilm XF 56mm f/1.2 R Lens, I have the complete kit I need for my wedding photography. In fact, for this wedding, I took the 16-55 off my camera only one time. I was able to use that one lens for almost the entire 6 hour wedding.
The price tag comes in at $1200, which being used to Canon's sticker shock, is not bad at all. If you're on a budget and are looking at the $600 18-5mm "kit" lens, I highly recommend that you dig through your couch cushions and sign off on your first born for the 16-55mm instead.  This will be my go to lens from now on and is worth every penny, in my opinion. Get yours here.
**Thanks to Paul at PS Photo Media for allowing me to shoot the two weddings with him so that I could test out the two lenses**
Hanssie
Hanssie is a Southern California-based writer and sometimes portrait and wedding photographer. In her free time, she homeschools, works out, rescues dogs and works in marketing for SLR Lounge. She also blogs about her adventures and about fitness when she's not sick of writing so much. Check out her work and her blog at
www.hanssie.com
. Follow her on
Instagram