In this video presented on Formula 1's Youtube Channel, we go trackside with a group of photographers who capture the the fast action for the organization. Shutter Speed: Trackside With F1 Photographers places you in the stands and on the tracks listening to the artists as they discuss some of the gear they use, the conditions they look for, how they create their iconic images, and what it's been like over the years working with the racing teams and sponsors.
I'm not what you'd call much of an automotive guy (in life, or in photography), but I can appreciate the skill and artistic vision that goes into capturing these racers moving at speeds in excess of 100mph. I can only imagine the complexity and stress that goes into getting "the shot" for this field with just seconds to capture the action. F1 spends time in this video featuring some photographers (Mark Thompson, Qian Jun, & Vladimir Rys) who create amazing images for the racing league. The 4 minute video gives us just enough to make us want to learn more. Here's hoping they continue the series, or maybe we'll get lucky and someone like Netflix will add these artists in their "Tales by Light" docu-series in an upcoming season!
The part that I particularly enjoyed was when the photographers explain that even though they often carry upwards of $30,000+ worth of gear, the technology has changed so much that a fan in the nosebleed section of the bleachers can get incredible shots of their own with a basic kit. The only real difference the access they have gives is an arguably better vantage point to shoot from. Qian goes on to show how he's gotten some of his incredible shots from up in the grandstands to prove the point. The other thing i took away from this was just the attention that a massive organization is giving to some of the people involved behind the scenes like us photographers, who work so hard to help create & promote the brands we all know and love. Racing fan or not, I've respect for Formula 1 for this short video and hope to see more of it from other companies out there.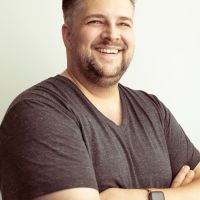 David J. Crewe
David J. Crewe is a full-time commercial photographer and Senior Editor with SLR Lounge. Based out of both Southern California & Las Vegas, Nevada. View his work and blog:
DavidJCrewe.com
Follow his Instagram:
@DavidJCrewe