Food Photography is a genre where the seemingly apparent simplicity of the final image is betrayed by the complexity of the process used to create it. A meticulous eye is required to create a picture that appropriately highlights the food within a context that contains many dynamic elements. On the plate itself, there is a competition of sorts between the portions with each demanding its opportunity shine. However, it is usually not possible to meet those demands in a single frame and it becomes necessary compile several shots to achieve the vision behind the shot. Photographer Mark Levin gives us a glimpse into a workflow that employs image stacking to create vivid food photography.
The goal is to stack the images and then to reveal only the portion of each photo that has the food properly exposed. Organization is key for this workflow as each portion of food has its own layer and is properly labeled.
Step 1 – Stack and Mask the Images
– Use the move tool to drag the images on top of one another in the desired order. Holding "Shift" as you release new the second image on top of the first will perfectly align the images as you stack them.
– Once you import the images, apply a black layer mask to each image.
Step – 2 Paint in the underlying images.
Brush Shortcut – (B)
Since you've masked the images with black, you will need to paint with white to reveal the portion of the underlying image you want to reveal.
It is possible to achieve similar results by manipulating a single RAW image with different masks. However, Mark prefers to create these images by properly exposing each shot and blending them in post. Photoshop is powerful but nothing beats getting it right in camera. It saves time and money for both you and your client.
Camera gear used for this shoot
Canon 5DMK II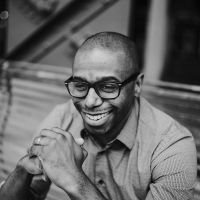 Wendell Weithers
Wendell is based in Atlanta where he shoots events, portraits, and food photography. He also supports his wife Andrea as she runs their cake design business, Sweet Details. Instagram:
Wendellwphoto