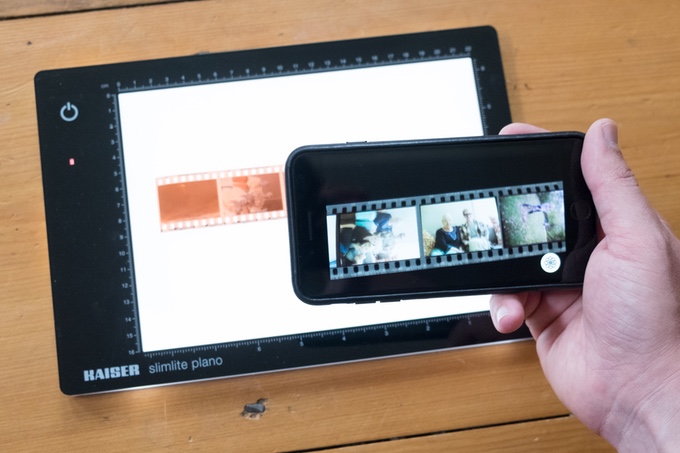 Today more and more photographers are choosing to shoot film. Film labs, such as Richard Photo Lab, offer a one-stop-shop for film developing, scanning, and prints, but there are those photographers who still want to develop at home. With at-home developing comes at-home scanning – and it can be tedious, especially if you want to scan high-resolution.
In my film workflow, I use an Epson V550 to scan my film and scanning anything 12 megapixels or higher can take up to 20 minutes each. For wedding work, this time is borderline acceptable, but for family snapshots it too much time. Photographer and developer Abe Fettig is kickstarting an application called Filmlab that will allow for easy viewing and digitizing analog film from a smartphone, and it looks impressive and fun.
When you open FilmLab, it automatically detects the photos and gives you a real-time preview of what negatives will look like as positives. A simple tap of the frame will fill the screen for whichever device you are using (both iOS and Android).
FilmLab uses multiple RAW images (available on modern smartphones) and combines them to create one image of much higher quality than you'd be able to get with the built-in camera app. Images can be saved directly into the camera roll or shared directly from the app itself. If you would rather capture an image with your camera and a macro lens, FilmLab will let you quickly process your images once transferred to your device.
The following example images are from using FilmLab on an iPhone 7 Plus and processed in FilmLab's (still unfinished) automatic exposure and color balance settings.
Due to App Store policies, it is impossible to give supporters of the Kickstarter a released app for free. So instead, Fettig will offer a year of access to FilmLab through a beta channel; receiving new and improved updates to FilmLab for one year after the campaign ends. To find out more about FilmLab or support the app for yourself, head over to the Kickstarter campaign by clicking here. The final version 1.0 is expected to hit app stores in late supper or fall
Justin Heyes
Justin Heyes wants to live in a world where we have near misses and absolute hits; great love and small disasters. Starting his career as a gaffer, he has done work for QVC and The Rachel Ray Show, but quickly fell in love with photography. When he's not building arcade machines, you can find him at local flea markets or attending car shows. Explore his photographic endeavors
here
. Website:
Justin Heyes
Instagram:
@jheyesphoto