Drones have provided photographers and videographers with a new perspective unlike anything before and the quality of visual artistry is reaching new heights as a result. They provide a license to explore stunning landscapes with fresh lenses that ignite the senses, creating an adrenaline rush as if it were being experienced for the first time.
Jay Worsley, an award-winning cinematographer and filmmaker, unearths and celebrates the insane amount of beauty that is all around us in his newest short film. 'Ethos' is an ode to Mother Nature and features enamoring footage of the Pacific Coast and Southwest. Using DJI's Inspire Pro and X5R, Worsley captures scenes of Oregon, California and Arizona that are sure to take your breath away.
"There is nothing like beauty. It stops your heart. It thickens your blood. It stops your breath." – from 'True Love' by Robert Penn-Warren
The film opens with intimate words from 'True Love,' a poem by Robert Penn-Warren, and immediately sets the tone of the harmonious blend of melodies that are about to unfold. Worsley paints his adoration of nature with gentle crescendos and decrescendos in tandem with quick tempo changes.
The artistic melding of misty oceanscapes and vast landscapes, dramatic narration with impeccable timing and chosen melodies has created a symphonic masterpiece from start to finish that is sure to inspire.
Worsley's craftsmanship and precision is present from the chosen composition down to the creative edits that inspire a renewed sense of love and appreciation for the wondrous Mother Nature, leaving the viewer in awe and yearning for more.
Gear Used:
Immerse yourself in Ethos and be sure to check out Jay's YouTube channel for other inspiring work.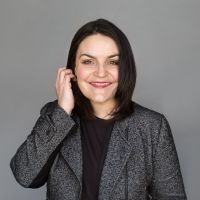 Brittany Smith
Brittany is a fashion and beauty photographer who works between NYC, Montana and LA. She photographs the way she has always wanted to feel and believes in the power of raw simplicity. When not behind a camera she can usually be found at a local coffeeshop, teaching fitness classes at the YMCA, or baking something fabulous in the kitchen. Instagram: @brittanysmithphoto