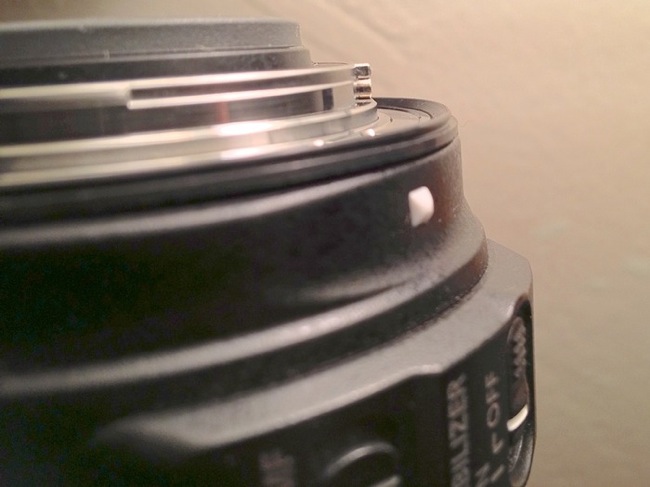 Imagine you have been planning an epic street shoot for weeks with your photography buddies, but on the day of the shoot, you look out your window and realize that it's drizzling. For most photographers, this would kill all their plans for shooting that day, but luckily for you, you have a weather-sealed dslr, such as the Canon 5D Mark III. However, you discover that most of your lenses are not weather-sealed.
In fact, nearly 75% of lenses available on the Canon EF lens mount lack any form of weather sealing.
To address this common and frustrating problem, Tyler Sterbentz created the Dust Donut, a weather sealing rubber o-ring that attaches to the mounting surface of a DSLR's lens.
By blocking dirt and moisture from collecting around your lens and camera's connecting area, the Dust Donut prevents harmful dirt and moisture from entering your camera body's opening and collecting on the digital sensor causing serious damage and image degradation.
Dust Donut in Action
To see the Dust Donut in action, check out this video!
Lens Compatibility List
Because they are created to add a weather resistant seal in the same way that some of the high end Canon "L" series lenses do, Dust Donuts are precisely engineered to fit exactly on your lens mount. With no sloppy over hangs or gaps to worry about that could allow leaks or cause lens attachment problems, you can freely shoot and change lenses with peace of mind.
Here are the lenses that are compatible with the Dust Donut:
Canon EF-S Lenses: EF-S 10-22mm f/3.5-4.5 USM, EF-S 15-85mm f/3.5-5.6 IS USM, EF-S 17-55 f/2.8 IS USM, EF-S 17-85mm f/4-5.6 IS USM, EF-S 18-135mm f/3.5-5.6 IS, EF-S 18-200mm f/3.5-5.6 IS, EF-S 60mm f/2.8 Macro USM
Canon EF Telephoto Zoom Lenses: EF 28-135mm f/3.5-5.6 IS USM, EF 70-200mm f/2.8L USM, EF 70-200mm f/4L USM, EF 70-300mm f/4.5-5.6 DO IS USM, EF 70-300mm f/4-5.6 IS USM, EF 75-300mm f/4-5.6 III USM, EF 75-300mm f/4-5.6 III, EF 100-300mm f/4.5-5.6 USM, EF 100-400mm f/4.5-5.6L IS USM
Canon EF Wide Angle: EF 15mm f/2.8 Fisheye, EF 20mm f/2.8 USM, EF 24mm f/2.8 IS USM, EF 28 f/1.8 USM, EF 28mm f/2.8 IS USM, EF 35mm f/1.4L USM, EF 35mm f/2 IS USM, EF 35mm f/2
Canon Standard & Medium Telephoto: EF 40mm f/2.8 STM, EF 50mm f/1.4 USM, EF 85mm f/1.2L II USM, EF 85mm f/1.8 USM, EF 100mm f/2 USM
Canon Telephoto: EF 135mm f/2L USM, EF 135mm f/2.8 with Softfocus, EF 200mm f/2.8L II USM
Canon Macro: EF 50mm f/2.5 Compact Macro, MP-E 65mm f/2.8 1-5x Macro Photo, EF 100mm f/2.8 Macro USM, EF 180mm f/3.5L Macro USM
Canon Tilt Shift: TS-E 17mm f/4L, TS-E 24mm f/3.5L II, TS-E 45mm f/2.8, TS-E 90mm f/2.8
To learn more about the Dust Donut, please visit Kick Starter.
judywang
Judy Sera Wang is a fashion, product and portrait photographer. To see her work, please visit
www.judyserawang.com
. When she is not writing for SLRlounge.com or shooting for clients, you can find her singing, hiking, or traveling.