Productivity is sort of the name of the game these days. Do more, more efficiently. It either means you save time or just accomplish more in the same amount of time. But it isn't always easy to do, and those in photography know that what we do is often extremely time thirsty.
Of course, it's well known now that working pros spend merely a modicum of time actually shooting, and the rest of the time doing various business and administrative things, from marketing, planning, travel, cooking the books (cough). And then let us not forget about the amount of time we actually spend working on our images. Of course, this varies depending on the type of work you do. High-end retouchers will spend hours on a single image sometimes but have few to work with, and then a wedding shooter may spend a minute or two on each but have hundreds. Either way, the cost in time is high.
A lot of that time is spent at your computer; this is a blessing and a curse because you can do most of it from one place, but your workspace is often limited. To this end many of us have become used to working on multiple monitors because it's just THAT much more screen real estate that allows you to work with, and therefore, tends to boost productivity in nothing less than dramatic fashion – when you get used to it.
And WHEN you get used to it, well, good luck going back to anything but. Dealing with one screen becomes what feels like a massive handicap, as if you've lost an arm, or an eye, or an assistant. This is why operating systems now offer up the ability to split your screen to work in '2 workspaces' on one monitor, to give you a taste. That's great and all, but there is no substitute for the real thing.
However, that real thing can be bloody expensive. High-end IPS monitors aren't exactly bought with the lint in your coat pocket, and in addition, they aren't exactly portable either. There is a solution for many out there, though, and that's using your iPad as a second monitor. (Yes I'm aware iPads aren't inexpensive, but this makes them dual purpose).
In theory, the ability has been there for years, and I, in fact, have been doing it wirelessly from the release of the iPad 2, but it was never seamless, not responsive enough, and at times was prone to lost connections. What this translated to was that something meant to boost productivity turned out, in fact, to be a hindrance.
But that was then, and this is now. There's been leaps and bounds in tech advancement. iPads of today are different creatures altogether, with better screens, and much much more power and the new apps take full advantage of that. Well, Duet does anyway. I've not had it for long, but I intend to have it and use it for long into the foreseeable future.
What Duet is, at the most primal level, is a secondary display app. So if you've got an iPad, (and that includes a helluva lot of people), you have in your possession a rather capable secondary monitor with the download of this app. It was released a year ago, but they've done a lot of work under its simple exterior to make it work well with even the most modern iPads, like the Pro. In fact, I was told that the Pro is already the 3rd most used device for Duet.
This makes sense as soon as you use it because it works. It just works right from the start. I suspect that one of the big reasons why it works so well is that the developing team abandoned the notion that we only want it to work wirelessly, and so using the lightning cable information is able to be transferred extremely quickly – we're talking like 60fps quickly, and you see it.
Using it on a 2014 iMac and a 2015 MacBook Pro there was no lag, and that was a new experience for me. I suspect it will be for others who have tried other similar apps. That's only going to get faster I assume as more iPads like the Pro support USB 3 speeds, and when Apple actually releases the required cable.
What this means is that you don't have to even think about lag or babying the iPad as a monitor, so you just get on with your work. That also means it's more than capable of assisting you in your photography workflow. Add to that the iPad is touch screen, and you realize you've got something very versatile on your hands. So here's how I've used it with my photography work.
Lightroom
Many of you already know that in Lightroom you can set it up with a secondary display window and that window is a godsend. One of the banes of my Lightroom existence is the perpetual thorn in my side that is switching back and forth between Library and Develop modules. Working on two monitors and setting the secondary display dispenses with that problem as you allot one screen for the Library and the other for Develop.
Typically I will set the iPad for the library and the main screen for Develop, and it works like a charm – no switching, and you can simply just tap the iPad screen to scroll and select the next image you want. I have done some retouching on it, and it's actually not bad unless you get very detailed. I suspect when support for the Apple Pencil comes, this will be a real option.
Photoshop
When I'm on the road and using the small 13 inch MacBook Pro, every inch of that screen real estate is precious. Having the dual monitor set-up with iPad means I can use much more of my main screen. Simply, I shift over all my menu and toolbars to the iPad which leaves me with unadulterated screen area to work on my image, and with Duet, it's quicker than ever.
Of course, the touchscreen also means you can actually edit directly on the iPad itself, either using your finger or a stylus. What's even cooler is that the app is undergoing more improvements that will see it be able to take advantage of the Apple Pencil in all its pressure sensitive glory. All this and this version apparently taxes your CPU 50-80% less than before. For many, this will eradicate the need to have a pen tablet, and make WACOM work for their money.
*I should interject that the Wacom is still a much more complete system and for those who are serious about retouching, that's the route to go hands down. That said, in a bind, or for basic things, I see no reason we can't get benefit out of this thanks to Duet. Yes, there is Astropad as an alternative when it comes to retouching on an iOS device, but it doesn't work quite the same as Duet in terms of full second monitor ability.
Conclusion
This is literally a plug & play app where download and installation are a breeze even for those with an IQ of a cabbage, and the use of it is just as simple. It can be adjusted relatively well for less powerful machines, and can be configured to any orientation of your primary screen. So it's much like others in that sense. The difference is, this one, as stated above, just works. And that allows for a confidence in working that is hard to put a price on.
I feel it pertinent to mention here that you can use Duet for more than just separating Lightroom modules and Photoshop panels. If you have a video tutorial on Lightroom or some retouching technique, and you want to follow along, just drag the video player (see Pye mid-gab above) to the iPad and let it go while you follow and work along. Or use it for your music player or any number of things. You can see some options and see it in action in the video below.
Honestly, if you have an iPad, and you do want to up your efficiency, the $9.99 it costs for Duet is a bargain. That's two lattes at your local haunt. I literally have nothing negative to say about this app, and I have nothing to gain from saying that. On my iPad, there's a hierarchy of importance and those near the front are of most importance. This is on page one.
Get yours here.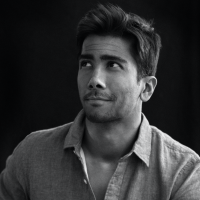 Kishore Sawh
A photographer and writer based in Miami, he can often be found at dog parks, and airports in London and Toronto. He is also a tremendous fan of flossing and the happiest guy around when the company's good.