Introduction to DSLR Camera Lenses
Choosing a lens is one of the most important decisions you make as a filmmaker. Your depth of field, distortion, and overall composition are dependent on the lens you choose. But how do you go about shopping for camera lenses with so many brands and options out there? We'll break it down for you in our Video Camera Equipment Guide.
Rokinon Cine:
People wonder why the the Rokinon Cine lenses are more expensive than their very similar "photo" counterparts. They are priced this way because although the glass is the same, the exterior of the lens has been designed for filmmakers and it makes a huge difference, making Rokinon Cine lenses the best budget lenses you can buy brand new. The most noticeable difference is the de-clicked aperture ring. Most manual aperture photography lenses have apertures that "click" into place which can be very troublesome when filming because it adds unnecessary camera shake and noise. Having a smooth, de-clicked aperture ring gives you finer and smoother control of your exposure. The Rokinon Cine lenses are also re-barreled to have gear teeth on the focus ring. This allows the lens to work with a follow focus system. The only complaint I have with the set of lenses is that there is currently no 50mm in the Rokinon Cine line. The price and image quality, as well as the cinematic design make these lenses a tremendous value.
–
Rokinon 24 t1.5
This is a great wide angle cinema lens from Rokinon,  it works great on a full frame camera as well as cropped sensors.
Rokinon 35mm t1.5
This Rokinon Prime lens should be one of your first choices when considering buying a Rokinon lens. The 35mm focal length works great for both Full Frame and APS-C sensor cameras.
Rokinon 85mm t1.5
This is the most affordable 85mm lenses on the market. Wide open at t1.5 you can get some great background blur and a nice shallow depth of field.
Canon L Series Lenses
For anyone who uses Canon and takes photos as seriously as they take video, there are no better lenses. The Canon L series lenses are Canon's flagship lenses for their DSLR's, and as you can imagine, they have exceptional image quality for video. The Canon L line also offers a variety of high quality zoom lenses. For Canon users who want to invest more in the quality of their videos, the Canon L series lenses is a great step forward.
Canon 24-70mm f2.8L II
This versatile lens will likely be your first purchase in the L series because of its versatility and quality. Read our full Canon 24-70 review here.
Canon 70-200mm f2.8L
Your next lens will likely be the Canon 70-200mm f2.8L lens. Zooming in at 200mm will give you amazing compression and the bokeh on this lens looks amazing.
Canon 50mm f1.2L
This is one of Canon's best prime lenses. It's versatile and it opens up to an astonishing f1.2, which gives you a great shallow depth of field and nice out of focus ares.
Canon 85mm f1.2
This lens is a real gem in Canon's lens lineup. An 85mm lens that opens up to an unheard of f1.2. When used well, this lens can deliver outstanding results.
Nikon/Nikkor Lenses:
Nikon glass isn't exclusive to Nikon shooters. I see many people using Nikon lenses, including Canon shooters. The reason is because many Nikon lenses are completely manual, making them easy to mount and use on any system. Nikon shooters can take advantage of glass made from the 60's to the present because Nikon's F mount has remained unchanged since the creation of their first film cameras. Nikon also has excellent zoom lens options that are great for covering many focal lengths.
Nikon 24-70mm f2.8
One of the best and versatile lenses from Nikon is the 24-70mm. This is a great lens for both photographers and videographers.
Nikon 70-200mm f2.8 VR II
After the 24-70mm, this is the next lens to buy. Covering all the popular telephoto lengths, this telephoto lens is an all-in-one package for videographers.
Nikon 50mm f1.4
The 50mm is a necessity for video and Nikon makes a great one. With a solid build and superb image quality, it's a must have for both photo and video.
Nikon 85mm f1.4
Nikon makes a very nice, very high quality 85mm lens. For close-ups and over the shoulder shots, the 85 is definitely a must have.
Zeiss ZE/ZF Lenses:
The Zeiss ZE/ZF lenses are some of the best quality lenses you can get for a DSLR camera. The moment you pick up the Zeiss lens, you know you're working with a professional lens. The all-metal construction of the lens makes it very durable and there are no plastic or rubber on any part of the build making it very reliable. The Zeiss lenses are some of the finest lenses available for DSLR filmmaking and anyone who considers taking their filmmaking skills to the next level should definitely consider these lenses.
Zeiss ZE 35mm f1.4
This is a new Zeiss lens that replaced their 35mm f2. It improves on their older 35 in image quality and versatility, making it an even better lens for video.
Zeiss ZE 50mm f1.4
This should be the first Zeiss prime lens you consider. With it's versatile focal length, compact size, superb image quality, and affordable price, it's a must have for DSLR video.
Zeiss ZE 85mm f1.4
The Zeiss 85mm 1.4 is a popular choice among videographers because of it's focal length and high image quality. The tension and throw of the focus ring also makes it easy to hit your focus, even when you're shooting wide open.
Zeiss ZE 100mm f2
The Zeiss 100mm f2 is a great telephoto lens, great for close ups and extreme closeups. The Macro capabilities of this lens is unmatched.
Time to turn Professional
Zeiss CP.2 Lenses:
The Zeiss CP. 2 lenses are the next step forward in terms of build, quality, and price. These lenses are designed to industry standard with a standard focus ring and aperture gear positions. These lenses are the perfect bridge between DSLR lenses and professional cinema lenses. One great feature of the CP.2 lenses is the ease of switching mounts, so you can use them on Canon EF, Nikon F, Micro 4/3, Sony E, and PL. These are considered entry level professional motion picture lenses so if you're looking to a future proof set of primes, these are a great choice.
Zeiss CP.2 50mm T1.5
This is the grown up version of the ZE 50mm. It has the image quality and versatility you need from a 50mm lens, and the industry standard T stops and focal ring.
Zeiss CP.2 85mm T2.1
The Zeiss cinema 85mm is the perfect compact prime for professional motion cameras. Its compact size and ease of use make it easy for people of all skill levels to use.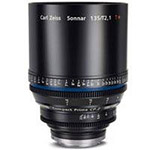 Zeiss CP.2 135mm T2.1
When you're filming with these lenses, chances are, you are filming with professional actors. This is a great lens for closeups, taking advantage of an actor's great facial expressions and emotions.
Canon CN Lenses:
Ever since the introduction of the 5D Mark II in 2008, Canon has been investing a lot of time and money into developing the video capabilities of their cameras. They introduced a new line of professional motion cameras and with those cameras came a new line of Cinema Lenses. These lenses are built to industry standard, and built to have exceptional optical quality when recording in 4k resolution. The Canon CN line of lenses are a great way for filmmakers to make the jump from still lenses to professional cinema lenses.
Canon CN 14mm T3.1 L
This is one of the widest cinema lenses available for full frame sensor cameras. It's incredible field of view makes it possible to get really wide and dynamic shots.
Canon CN 24mm T1.5 L
This is a great wide angle lens for Professional Motion Film Cameras. It also works great with Cameras with a smaller than full frame sensor.
Canon CN 50mm T1.3 L
This is Canon's 50mm lens. It biggest advantage the CN 50mm has over the CP.2 50mm is that the aperture opens up slightly wider, making it possible to get an even shallower depth of field.
Canon CN 85mm T1.3 L
This impressive 85mm cinema lens opens up at an astounding T1.3. The shallow depth of field opens up new aesthetic choices for professional filmmakers to consider.