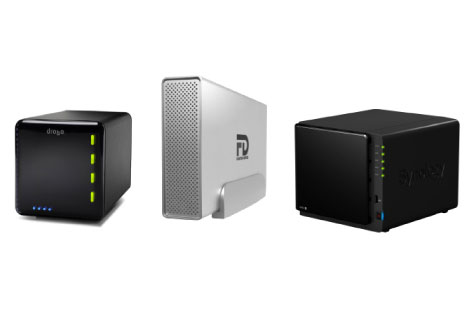 Overview
The following is an excerpt from the SLR Lounge Lightroom Workflow System Workshop on DVD, a system designed to increase your post production speed by 5 to 10 times. Click here to learn more.
As photographers, we know first hand just how critical it is to have fast, reliable storage devices for our images. Our extensive experience with several different storage systems has ultimately allowed us to single out three product brands that can stand up to the demands of professional photography.
Of course, each have unique strengths and shortcomings. We decided to give you some basic information to consider when determining which product system is the best fit for you and your studio.
Watch the Video
Watch the full review in this video, or read the written article below.
Options for Storage Solutions
1. Drobo – Direct Connect RAID Solution
Drobo is known for its innovative design and ease of use.  It has a polished look with a colored light system to communicate utilization status so you know just how much space is being used simply by looking at the device itself. In addition, this system is very economical due to its upgradeable technology which allows you to pop in and out drives of varying capacities as you please. This is a big advantage for Drobo users because you can add and upgrade drives as you go.  You don't have to buy a whole new RAID storage device when more space is needed or if a hard drive fails.
However, Drobo is considerably slower than G-Force and Synology devices.  If this caveat isn't a big issue for your studio, then Drobo can be a great system to fit your needs because it safely protects your digital data without complications, providing a no-hassle experience. Since it connects directly to the computer, Drobo devices can be used to directly run Lightroom and other software that aren't compatible with network-attached storage devices.
2. G-Force – Direct Connect RAID Solution
These devices are quick. For this reason, G-Force is very popular in the film industry where speed is key to workflow efficiency. With faster interfaces and disk speeds, G-Force is the leading device when it comes down to overall drive performance. While speed and performance are a major advantage, these devices are slightly more susceptible to failure, at least from our experience. Of course it still has the data backed up, we have just found that we do have a bit more reliability issues with G-Force than with Drobo or Synology. If you find that a Drobo does not perform quick enough, then this is a fantastic solution for your studio.
Again, since it connects directly to the computer, G-Force devices can be used to directly run Lightroom and other software that aren't compatible with network-attached storage devices.
3. Synology – Network Attached RAID Solution
Last, but certainly not least, we have the Synology system. In contrast to the previous devices which use direct connections, Synology is a NAS (Network Attached Storage) device. One benefit to NAS devices are that they provide more versatility in a studio with multiple production workstations. Essentially, a Synology disk station acts as a file storage server allowing everyone on the network to pull data from the device while maintaining high transfer speeds.
In addition, a NAS device has many additional administrative capabilities which direct connect solutions don't offer. For example, it has the ability to setup advanced user access profiles, cloud-based file sharing, advanced RAID options, and so forth.
The only real drawback of NAS solution is that Lightroom catalogs (and other software without NAS compatibility) cannot be opened directly from network locations. This means that the catalog file must be transferred onto the local machine before it can be opened.
Still, we consider Synology to be the best high-performance business/enterprise class storage solution that is extremely reliable. We use multiple 5-Bay Synology 1512+ systems within our studio.
Conclusion
At this point you should have a basic understanding of the pros and cons of these storage solutions. Now you need to decide which best fits the needs of your studio and workflow. Remember to think of your studio's current and future needs when deciding which storage device to purchase.
To learn more about the SLR Lounge Workflow System Workshop on DVD or to purchase it, click on this link.