I could totally geek out and talk about all the tech specs, numbers, industry jargon and do a whole technical review on the Canon Rebel T5i (also known as the 700D), but when I was checking around I noticed that there were not a lot of reviews geared towards the typical consumer who's just not up on all the technical stuff. Since this camera is more aimed towards your soccer mom and dads, I'll be reviewing this camera with them in mind.
Watch the Video Review
The Basics
It pretty much goes without saying that all the newer DSLR cameras have the basics like auto focus, shutter, metering, exposure modes and scene modes covered.
Most of these cameras also have more than enough megapixel for what typical consumers use a camera for, which is to post online. The Canon T5i matches up well with all of these consumer criteria, and its 18 megapixels sensor allows you to print up to a 16×24 enlargement.
The more important topic is low light handling and ISO. It's been a long time since I have handled an entry level DSLR and what I found was a pleasant surprise. Although you can always use a pop-up flash when shooting indoors, you can also produce good images without flash by shooting the T5i in the ISO1600-3200 range. The images do get a little grainy after ISO1600, but that's still pretty good considering not too long ago the pro line Canon 5D mark I topped out at ISO 1600.
Additionally, it also boasts a native ISO range of up to ISO 12800, with optional expansion to 25,600 in H mode.
Decent Burst Mode
A lot of my friends shop for entry-level DSLRs because they want to photograph their kids in action. This requires a healthy frames per second rating. The T5i on continuous mode gets a pretty decent 5 fps. That's just enough to get the elusive smile on a baby's face and to capture the kids playing their first T-ball game.
Ergonomics and Usage
How the camera feels in your hands and how well the buttons are laid out are important things to think about when buying a camera. Maybe because I have been a Canon user for so long, but I rather enjoy what the T5i has to offer. The placement of the dials and the buttons feel natural.
I love the articulated screen that allows me to either get a better view even in odd positions or let me get the selfie shooter's point of view. The touch screen functions are surprisingly useful. It makes me wish that my pro-line Canon 5D Mark III would have the same ability.
It's too bad though that Canon did not include the dual dial control that the pro line offers. It is one of the features that is usually not available in entry-level DSLRs, but it would be nice if Canon breaks that trend. Still, as far as ergonomics goes, the Canon T5i is pretty sweet.
Conclusion
If you are in the market for an entry-level DSLR that has a little more extra features, then you may want to give the Canon Rebel T5i a look. It has plenty of resolution,
There are several options out there on buying this camera. You can of course purchase it as a camera body only or with a lens. If you already have a good set of Canon lenses, then the first option may be your best choice. If you are just jumping into the Canon DSLR system, however, you can save some money by buying the T5i as a lens bundle. Currently, the T5i can be bundled with the Canon 18-55mm f/3.5-5.6 STM lens or with the Canon 18-135mm f/3.5-5.6 STM lens.
If you are sticking to a kit lens I would suggest getting the Canon 18-135mm f/3.5-5.6 lens. Although it costs a little more money, the lens provides a wider range of focal length.
With all the standards well covered as Canon usually does, along with the added bonus of the articulated touchscreen LCD, and the gets five stars from me.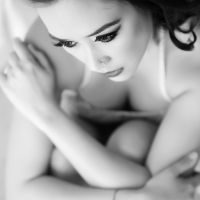 Michelle Ford
Michelle is a Southern California Portrait and Wedding Photographer. When she's not geeking out with a camera she's nerding out in her IT world. All other moments in the day are spent with her two wonderful children. See her work on
The COCO Gallery
check out her blog at
frexNgrin