Colorful lights twinkled happily, carols played in the background and the earthy scents of pine and cinnamon filled the air.  Memories of Christmas' past flooded through my mind as each handmade ornament was carefully unwrapped and placed on the tree. Baby's First Christmas, 3rd grade class photo, a Yellowstone souvenir, wooden shoes from my college trip to the Netherlands…
Nostalgic, handmade ornaments have long been a tradition in my family. Nothing brings back memories more effectively than a photo, and since custom photo ornaments can be really expensive, I thought I'd take a DIY approach this year.
Last week I showed you how to create a bokeh effect overlay using Christmas lights. The photo used in that tutorial was created specifically for this photo ornament project. These could also be made into coasters or magnets by simply changing the backing material. Here's what you'll need if you want to give it a try.
Photo prints
Construction paper, felt or magnet for the backing
Mod Podge or other decoupage medium
Clear acrylic sealer
Small foam brush
Mod Podge Paint Brush Applicator, 2.25-Inch
Brayer or squeegee
Scissors, regular and decorative (optional)
Pencil
Ribbon
Cardboard coasters or chipboard scraps
Hot glue gun (optional)
First, I measured the diameter of the cardboard coasters I had picked up in the dollar bin at my local craft store. For a thriftier option, you could use chip board from the back of an old notebook and just trace a cup or lid to make a circle. In Adobe InDesign I placed my photos in a round frame, 1 inch larger than the diameter of my coasters, and created a little ribbon graphic with the year on it. You could easily do this in Adobe Photoshop or whatever photo editing software you have.
Then I printed them out on plain office paper with my ink jet printer. I would have preferred to have a toner based print but didn't have time to run down to my local print shop, so I had to spray my prints with a clear acrylic. This stuff is totally toxic, so make sure you use it in a well ventilated area, preferably outside. Don't forget to cover your work space. I used a roll of kraft paper I keep on hand for this sort of thing.
After the acrylic spray is dry, cut out your prints.
Then lay your coaster on top of the print and trace it with a pencil.
Make 1/4 inch wide cuts along the outer edge of your print. This will allow you to wrap the photo around the coaster.
Here's a close up.
Next, using the foam brush, apply a coat of Mod Podge to the back of the print, staying inside the pencil line.
Place the coaster on top of the glue. Since the coasters I used had a raised monogram, I placed them facing up so the monogram wouldn't show through the paper on the front.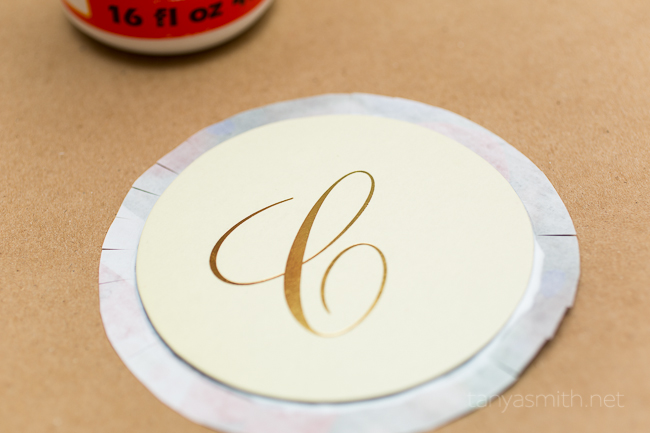 Turn the print over and smooth out any wrinkles with the brayer or squeegee. Don't have either? You can use a credit card, just be careful not to tear or scratch your print.
Now, turn your print back over and carefully fold each little section up and over the back. Apply a little dab of glue under each section to secure it.
Smooth out any excess glue with your paint brush and flatten any "corners" with your fingernail.
While the Modge Podge is drying (let it sit for 15-20 minutes) cut out a construction paper backing. Use felt or cork if you'd like to make these into actual coasters instead of ornaments. Or, you could apply a magnet so Grandma can display it all year long on her fridge…
For the backing, I just traced another coaster and cut slightly inside the line with decorative scissors. If you are totally hard core and happen to have a 4 inch die-cut circle punch, call me because we need to hang out.
After the Modge Podge has dried, you'll need to get ready to apply a top coat. Here's a little tip: Use a baby food jar or other small container as a stand for your piece so it won't stick to the table when drying.
For the top coat, I apply a thin coat with the foam brush and then smooth it out with the Mod Podge applicator brush. I really didn't think this was necessary, but after trying it I'm totally sold. See photos of the difference in brush strokes on the backing (below).
While your top coats are drying (I actually apply two top coats), you can cut ribbon and apply to your backing pieces with a hot glue gun. If you don't have a hot glue gun, just use a little dab of the Mod Podge or regular craft glue. Skip the ribbon step if you are making coasters or magnets.
When both top coats are dry, apply Mod Podge to the back of your ornament and place your backing, with the ribbon sandwiched between for a finished look.
15-20 minutes later, top coat your backing. Here's a comparison between the brush strokes of the foam brush and the Mod Podge applicator brush. Probably any wide sable brush would do. It really makes the finish more smooth.
When everything is dry, finish with the acrylic spray, or just leave as-is. Here's a photo of the final product hanging on my tree. It's not as nice as some of the fancy metallic or press printed ornaments the print labs have been offering, but it's a fun DIY craft to do with your older kids during Christmas break to preserve a memory for years to come.
Happy crafting!
Rewind [How to Create a Textured Still Life Fine Art Photograph]
CREDITS: All photographs by Tanya Smith are copyrighted and have been used with permission for SLR Lounge. Do not copy, modify or re-post this article or images without express permission from SLR Lounge and the artist.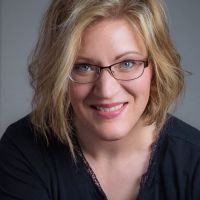 Tanya Goodall Smith
Tanya is the owner of WorkStory Branding Photography in Spokane, WA. Businesses hire her to create story-telling content that sells their high end products and services. She also teachings photographers her unique business model for making serious money as a corporate and personal branding photographer. Find her at
workstoryphotography.com
and
workstoryeducation.com