As photographers, we use cameras on a daily basis to capture life's moments and create art. Although we appreciate the features we use most in order to "get the shot," we typically view cameras as little more than tools of the trade. In reality, however, cameras themselves are nothing short of works of art. To celebrate this fact, the team behind an exciting new project on Kickstarter has created a beautiful, interactive art piece in the form of CAMERAFRAME. Using actual components from cameras (with options for a film or digital camera), CAMERAFRAME seamlessly blends photographic tech with thoughtful design in an exhibition that pros and enthusiasts alike will love.
You can find CAMERAFRAME here on Kickstarter until July 13, 2023.
CAMERAFRAME Video
Features and Benefits
Regardless of whether you identify as a digital or film photographer, CAMERAFRAME has a solution tailored to your passion. Choose between two versions: V1-Digital (featuring digital camera components) and V2-Film (featuring film camera components).
Within the 50x50cm frame, the CAMERAFRAME showcases an impressive array of camera parts that celebrate the essence of photography. If you choose the V1-Digital version, you'll find components including the sensor, mainboard, LCD, top cover, bottom cover, and shutter, elegantly displayed within the frame. On the other hand, the V2-Film version offers a captivating composition featuring components like the body, top cover, mechanical parts, controls, bottom cover, and black box. Informative text accompanies each component, providing an educational aspect to this extraordinary artwork.
Where this project really sets itself apart is through its interactive features. This is one work of art that literally goes beyond the frame. Each CAMERAFRAME includes a QR code that will allow you to explore the 3D model of the frame and learn more about its featured elements. The goal in creating this interactive feature, according to the CAMERAFRAME team, is to provide "an immersive experience that deepens the understanding of the components' functionality and their contributions to the overall design."
Kickstarter Pricing & Purchase Info
In a remarkable record-breaking achievement, CAMERAFRAME reached its initial funding goal within a mere 12 minutes of launching. Now is the perfect time to join the CAMERAFRAME community and be a part of this extraordinary success story.
Thanks to the special pricing for early backers, you can secure your own CAMERAFRAME on Kickstarter for an exclusive price of €259 instead of €399. Please note that only the first 50 backers will have access to additional savings through the "Super Early Bird" offer, so be sure to jump on board early to take advantage of this special price.
We should also mention the exclusive "CAMERAFRAME Kickstarter Limited" version available for €449, a true collector's item that can only be obtained through Kickstarter. This version features a unique colored frame and is numbered to reflect its limited availability.
Only on Kickstarter, you'll also have the opportunity to choose the brand of the featured components for digital (Nikon, Canon, Pentax or Sony), film (Nikon, Canon, Pentax or Minolta), or the kickstarter edition (Nikon, Canon, Pentax, or Sony).
You can also choose optional add-ons to make your CAMERAFRAME even more exclusive. The available add-ons include a mounting kit, special packaging, a clip rail system, a square-hanging system, an adjustable aluminum tripod, or a unique creation of art with the remaining camera pieces.
Conclusion
Of all the photography or camera-themed products on the market, this one stands out for its high-quality presentation and innovative features. The display itself looks amazing, but the interactive features elevate it to a conversation piece that will intrigue anyone with even a shred of interest in photography, and especially those interested in knowing how things work. This is your chance to showcase your love of photography in a worthwhile presentation that will elevate any home or studio space. Visit the CAMERAFRAME Kickstarter page today to learn more about this unique work of art. This project will end July 13, 2023.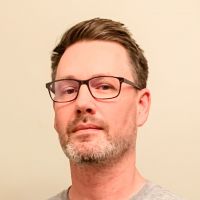 Sean Lewis
Sean fell into photography while teaching for a non-profit. What started as a minor task - documenting guest speakers and classroom activities - grew into a major obsession, and eventually led to a position shooting with Lin & Jirsa. Nowadays, at SLR Lounge, Sean's work as a marketing associate merges his interest in the fields of photography and education.