Boudoir Photography
A good percentage of the women I shoot boudoir for have never met me in person before the shoot. We usually communicate via email and over the phone so it's pretty common for their nerves to be higher than normal during the shoot. In Part 1 of our Boudoir Shooting Tips, we talked about my 5 favorite tools to bring to a boudoir shoot. In part 2 we will talk about 7 effective tips for how I set the tone and alleviate nerves during a Boudoir shoot.
Watch The Boudoir Shoot Tips Video
Music: "Aerials" from Lights & Motion "Reanimation" (Deep Elm)
License this song at The Music Bed
7 Tips to Alleviate Nerves at a Boudoir Shoot
Tip #1 No Alcohol
Clients joke all the time about needing a sip of wine or a shot to help them feel more comfortable during the shoot. Alcohol may alleviate our client's nerves, but it can negatively effect the overall flow of the shoot. I know people who turn pink or red when they drink alcohol, and some people can get a glassy-eyed look after one shot of alcohol. I don't want to have to Photoshop out signs of inebriation, especially when it can be prevented. The other main concern I have is that I don't want to play bad cop. I don't want to put myself in the position of having to cut someone off so I don't even bother opening that door. I'd rather spend the energy breaking the ice and alleviating tension in other ways.
Tip #2 Dress Down
The general rule for dressing for a wedding as a guest is that the bride is the only one in white and you can't try to outshine her, It's her day. I approach the boudoir shoot the same way, in fact, I dress down. I skip the makeup, I wear sweats and a pair of flip flops. I want her to be the belle of the ball. I tell my clients that shoots are major workouts for me and my team, which is true. The girls usually understand and excuse the lack of professional outfit. This rule only applies to women. If I were a male, I wouldn't come in too sloppy, because looking professional for men is important, and it won't outshine the client.
Tip #3 Communicate with Client
I spend the first half of the makeup session chatting with the client. I want her to feel comfortable and get to know me. Occasionally I'll divert the conversation to my assistant or makeup artist, momentarily giving her some room to breathe. When she does get more comfortable around me, I slowly bring us around to talk about fashion. It's the perfect segue to discussing the outfits that she brought. When discussion our thoughts behind each outfit, I gauge her reaction to each of the pieces she brought. I'm not only trying to identify which outfits would best suit her, but I'm also trying to get the back story on the pieces she chose, as well as her comfort level with each of the pieces.
Tip #4 Create a Inspiration/Mood Board
I ask my clients to put together an inspiration board for our shoots using Pinterest. I like to see what style they are interested in and it also shows me their comfort range. I'll offer up my own board as a starting point and for my boudoir clients. I like to emphasize that sexy doesn't always mean naked. After we talk about the outfits, we'll review the photo styles that appeal to her.
Tip #5 Plan Out the Shoot
Once all these discussions are in place, my assistant and I will plan out the shoot. While the client is finishing up on the makeup chair, we'll walk around, check the lighting setups, match the outfit, and even plan out the poses. We will then circle back to the client and bring her into the plan.
Tip #6  Only Play Music During Prep
I'll stream music in the makeup room during prep on a wireless speaker that I bring. I tend not to bring the music into my shoots because it's distracting. A good song comes on and I start dancing, and she starts singing and then we start laughing. It's hard to get back into the mood of shooting when that happens.
Tip #7 Be Sensitive with the Client's Needs
These types of shoots call on me to be a friend, a confidante, even sometimes a psychiatrist. Boudoir shoots are emotionally sensitive shoots and I am highly aware of that. I do my best to get her in her comfort zone, as it does make the overall shoot a lot easier and smoother. The client will also greatly appreciate your sensitivity, and it will lead to overall better photos.
Bonus Info: How To Prep Your Client for A Boudoir Shoot
Before any type of shoot, it's always a great idea to prep your clients. Remember, most of them are not used to being in front of a camera! For boudoir photographers (or someone looking to break into that genre), this is a very, very important step. In the following video, Ewan Phelan, who runs a very successful boudoir studio with his wife Brianna called Last Forty Percent, shares some of the tips he tells a client before a boudoir shoot. From sharing with them (and showing them) how to pose so he can create pronounced curves to what lingerie to wear, Ewan describes a multitude of instructions, very simply stated, that he shares with his clients.This 5-minute video is packed full of useful posing info – even if you are not a boudoir photographer.  See the (age restricted) video here.
If you want to add boudoir into your business, another clip from their Boudoir on the Edge with Brianna and Ewan Phelan course on CreativeLive tells you how to do just that. Perhaps you're a wedding photographer or portrait photographer wanting to offer Boudoir for your clients. Brianna Phelan starts by saying that you have to treat it like a new business and start from the beginning. You cannot just throw it into the mix. This involves having a separate blog, website, and social media links as to not confuse your clients who might want to hire you for another genre of photography. The 4 minute clip below gives some good tips on how to seamlessly integrate your business.
Conclusion
Utilizing these 7 tips can help you create an easygoing, comfortable environment for your client in your next photo shoot. It can help your shoot go much smoother, giving you more time to capture and focus during your shoot. Try these tips out and let me know how your next boudoir shoot goes in the comments below. I'd love to hear any new techniques you guys use to handle your shoot.
Boudoir photography is a genre that involves a lot of attention to detail and a knowledge of body types, shapes, and movement. Obviously, when you have a semi-clad client in front of you, as a photographer, your confidence in lighting, posing, and angles have to be on point to make your client look their best. Add to that, most of us do not have clients that are naturally comfortable in front of a camera. There will be times that you do, and man, does that make our jobs easier, but a majority of the time, you're going to need to know exactly what you're doing and be able to direct a client confidently.
To learn more tips on boudoir shoots, drop in next week for part 3 of our Boudoir Photography Tips, where we talk about breaking the ice in a boudoir shoot.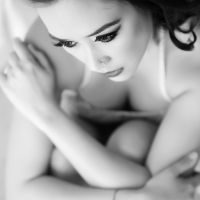 Michelle Ford
Michelle is a Southern California Portrait and Wedding Photographer. When she's not geeking out with a camera she's nerding out in her IT world. All other moments in the day are spent with her two wonderful children. See her work on
The COCO Gallery
check out her blog at
frexNgrin