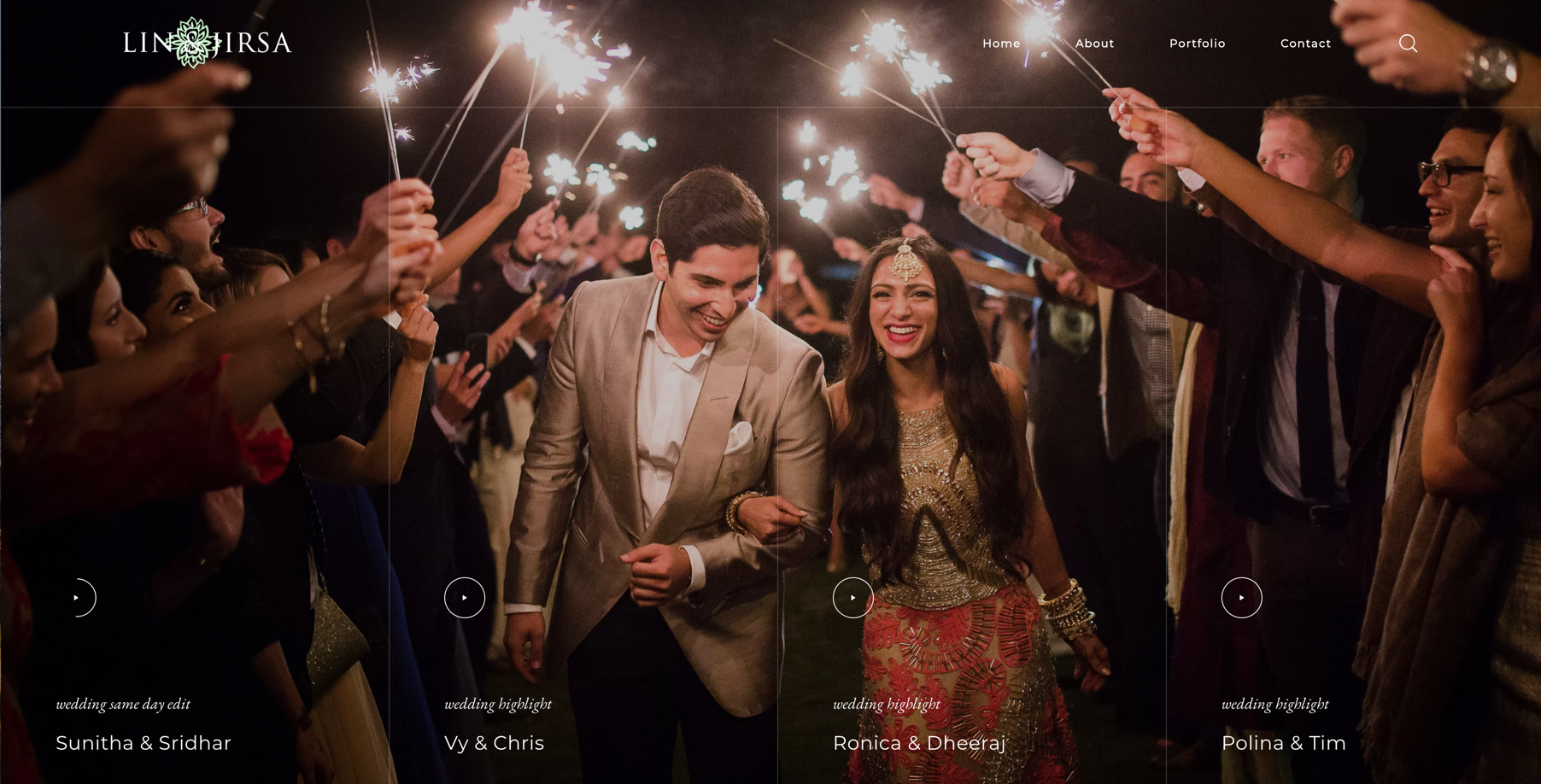 A beautiful website can help you stand out from your competitors.  But too often, photographers and cinematographers focus on aesthetics over usability and SEO.  Finding the right balance is critical for your business because, after-all, what's the point of having a pretty website if nobody can find it (or properly navigate it)?  This article highlights our favorite WordPress theme for videographers and why we chose it.
Background
Our studio, Lin and Jirsa, offers both wedding photography and wedding cinematography. We recently decided to branch off the cinema portfolio to a new website domain to give the cinema side more visibility, with its own dedicated portfolio, own web presence, and own story.
We knew that if we could rank the cinema website high in search, we would have inquiries flowing from both the photo and the video websites, boosting all sides of the business.  So we launched ljvideography.com, a website dedicated to our Orange County Wedding Videography.
Note: We know this strategy works because we did the same thing last year by branching off our Maternity, Newborn and Family Photography services to a new website and subsequently increasing leads and revenue for that line of business.
Why WordPress?
For our Wedding Videography website CMS, we chose WordPress again because of its flexibility and SEO strengths.  And for the theme, we searched marketplaces like Template Monster, Themeforest and CreativeMarket, but ultimately came back to our preferred company, Flothemes for their Cannes WordPress Theme.  We chose this theme, what I would consider the best WordPress theme for videographers, for the following reasons:
1) Unique Design
Simply put, this theme is beautiful, unique and polished.  I would argue that all Flothemes are as unique as they are appealing, but I've never seen one like this, and chances are, neither have our clients.  Below is a screenshot of our homepage.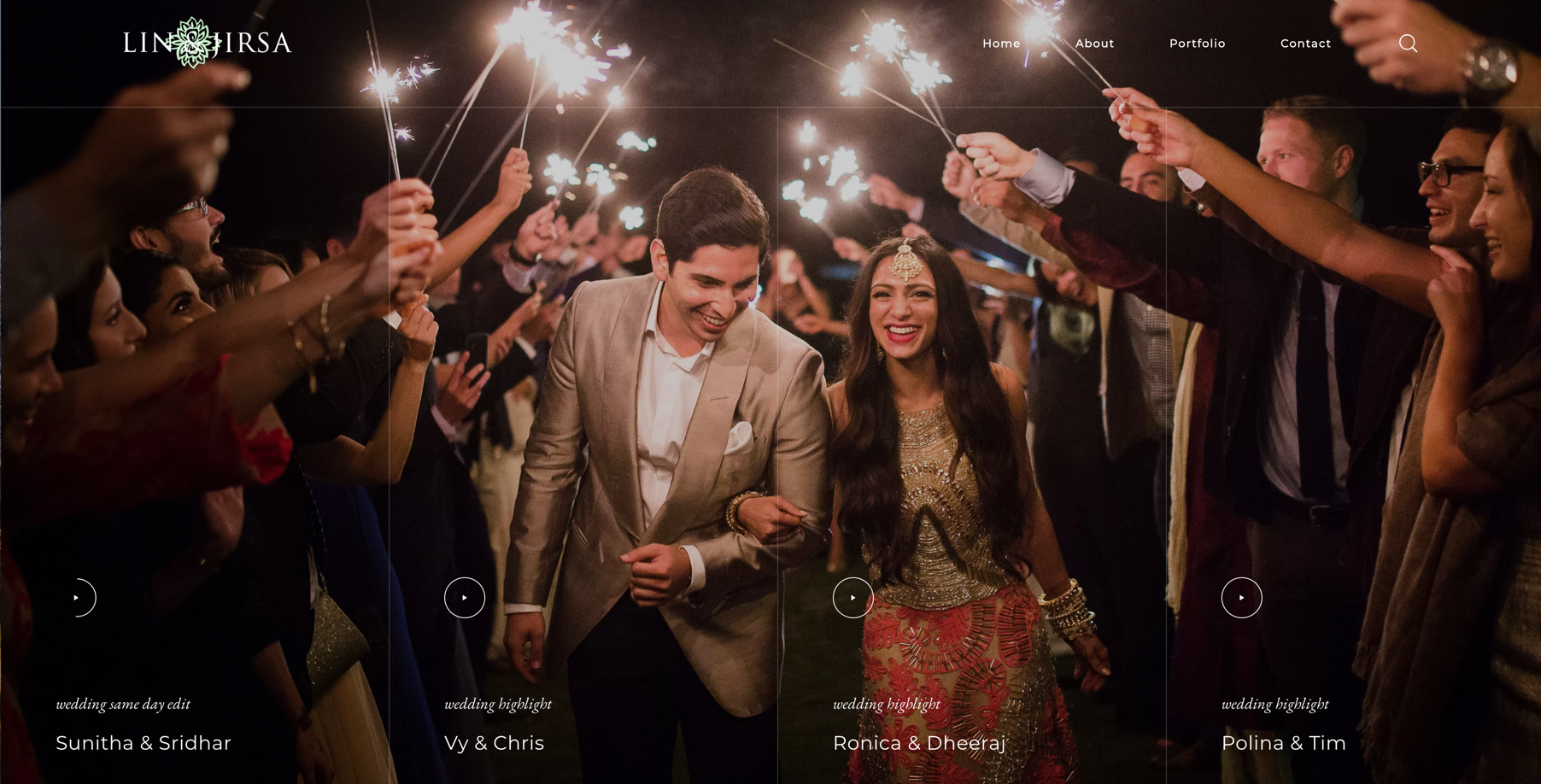 2) Balance of Media and Text
Many beautiful portfolio websites lack areas for keyworded text.  Text areas are critical because, in 2018, keyworded text is still important to ranking well in search.  The Cannes theme gives you multiple options for keyworded text on the home page.  The screenshot below is just one example.
Reasonable Page Sizes
Cannes does not load any of the videos until their play buttons are clicked.  This is critical for keeping your page sizes small and helps with page load speed. Surprisingly, many competing video portfolio WordPress themes load huge videos, sometimes as much as 10MB immediately, slowing down the speed and creating usability issues.  From the screenshot of a website speed test below, see how our home page is only 2MBs (which we could potentially shrink further with more image optimization).
versatile and customizable layouts
If you're worried about your website looking exactly the same as others, you'll appreciate the fact that the Cannes theme gives you multiple layout options for each of your pages, as you can see below.

Within each page, you can also add custom elements for more text, images, slideshows, videos or most other content.

support team
The biggest downside of WordPress vs other platoforms like Squarespace and Wix is the steep learning curve and lack of support (since WordPress is a free, open source platform).  An inexperienced user will undoubtedly be able to set up those other websites faster and experience fewer difficulties.
However, the SEO benefits and the customizability of every feature and option on WordPress is often worth the additional work and education required.  The Flothemes support team will help you bridge that gap and get you up and running.  When setting up my website, I had a simple question that they were able to resolve within a few hours.  With WordPress themes that don't come with support, you're stuck figuring it out yourself or hiring a developer.

Other (standard) inclusions
Beyond the features mentioned above, the Cannes theme includes all of the must-have features that are now considered standard for portfolio websites.   These include the following:
Responsive Design – Displaying correctly on any device.
Social Integration – Connecting your Instagram feed to your home page and displaying social icons.
Contact Forms – Forms that your clients fill out to inquire about your services.
Newsletter integration – Form that syncs with your Mailchimp account.
Areas of Improvements
Of course, nothing in this world is perfect.  If there were a version 2 of this theme, here are things I would like to see:
More newsletter integrations
Currently, the theme only supports Mailchimp integration.  We love Mailchimp but we'd love to see integration with the other big players like Constant Contact, Ontraport and others.
Expanded "Play" Area
One drawback of the theme is that the videos in the portfolio play only when the actual play button (circle) is clicked.  I would prefer that the video play when any area on the entire thumbnail is clicked.  However, this is a small issue that shouldn't have any material affect on the user experience.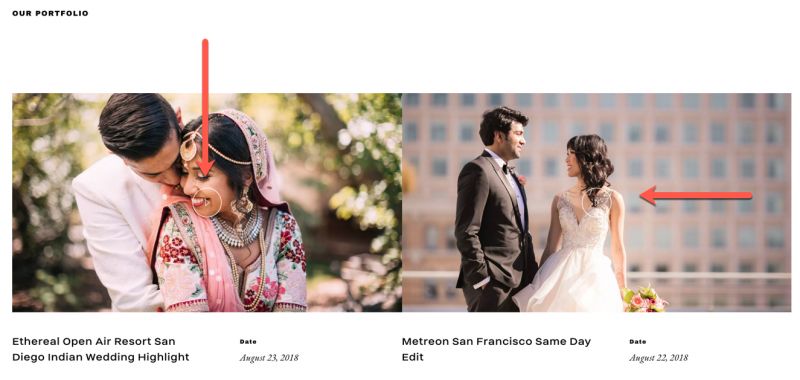 Conclusion
All in all, we're excited to launch this website and appreciative of the quality products Flothemes continues to create.  What are your thoughts?  What theme do you use?