Even though I've been using Photoshop for 20 years (Holy Cow! Am I that old????) I always learn something new when I watch a Phlearn Pro Tutorial. I'm amazed by the wealth of Photoshop knowledge presented in these affordable videos.
During my Graphic Design career, I've created my share of clipping masks and composited images in Photoshop. Cutting out hair is always a struggle and it's also something I see being done very badly in general. Look at the myriads of local dentist and realtor newspaper or banner advertisements and billboards in your area and you'll see what I mean!
In this Phlearn Pro Tutorial, The Best Way to Cut Out Hair, Aaron teaches how to create a custom brush to replicate the texture of hair in your specific image. Then he uses the custom brush to layer-mask hair (or in this case, fur on a coat) in the image without leaving any fringing or soft edges. Brilliant!
This method seems like it might be time consuming or difficult, but compared to trying to cut out individual hairs with the pen tool, or using channels when your background color is similar to your subject, this is quick and easy. I can't wait to try this out on my next composite image.
This video really should be called, The Best Ways to Cut Out Hair, because more than one technique is explained. Other options presented for cutting out hair include how and when to use the pen tool (which has been my go-to method for cutting out hair in the past), how to make a selection and mask using the color range tool, how to use the Step and Repeat tool (one of my faves in Adobe Illustrator, but I had never used it in Photoshop!) and why it's important to use a pressure sensitive pen and tablet (like the Wacom Intuos Pro Professional tablet, which is what I use).
Aaron is really good at explaining why he's using a specific method (since there are several ways to do anything in Photoshop, after all). He goes into detail about how to use each tool required and always mentions key commands, which are crucial for learning to use your editing software in the most efficient way possible.
After reviewing several Phlearn tutorials, I highly recommend them, including The Best Way to Cut Out Hair. It's $24.99 and available at the Phlearn store here.
Click here to read our other Phlearn Pro Tutorial reviews. And if you're a Photoshop beginner, check out his Photoshop 101 and 201 series, now available in our store.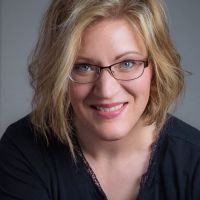 Tanya Goodall Smith
Tanya is the owner of WorkStory Branding Photography in Spokane, WA. Businesses hire her to create story-telling content that sells their high end products and services. She also teachings photographers her unique business model for making serious money as a corporate and personal branding photographer. Find her at
workstoryphotography.com
and
workstoryeducation.com