Most photographers, whether they care to admit it or not, care about aesthetics of their gear. From vintage styled bodies, to the look of a Canon L lens. It's always astonished me then, that camera bags are usually so damn hideous. The argument has always been that it's a utilitarian product so it's function over form. That's hogwash, and anyone who has seen an Aston Martin knows that the two can be melded together seamlessly. And as with cars, a bag must be useful, but it must also look good. There is no reason that a camera bag has to look like a bunch of running shoes stitched together.
There's been a trend in recent years, thankfully, for a new kind of thinking in photography. As a form, what used to be the foray of pros and some enthusiasts, has become a different animal all together. Everyone and their mother has a DSLR, and now, mirrorless cameras. With the exploding market for small powerful shooters, it only makes sense the markets for products pertaining to this have shifted their business model. 

As a result some companies have begun to take a novel approach to the industry, to make camera bags that are beautifully crafted, functional, and that don't scream 'photographer present'. Companies like ONA, UNDFIND, and Kelly Moore spring to mind. A few weeks ago, I was sent one of Kelly Moore's newer models to review. Generally, Kelly Moore has had a demographic of a female persuasion, and having a chance to stop by her booth at WPPI recently, it's clear her demographic is loyal, huge, and growing. She is doing something right. Except I'm not a woman. This new bag though promised to be different. And it is.
[REWIND: 8 FASHIONABLE CAMERA ACCESSORIES YOU CAN MAKE YOURSELF (OR BUY, IF YOU'RE NOT CRAFTY)]
About Construction & In Use
Called the Followell, it is the namesake of a photographer friend, and former intern of Moore's, and is certainly appealing to men, and women, as it turns out. I decided to take it around with me to a variety of environments, from the beach, to the Sony Open Tennis Tournament, and around Miami generally. Already this was a good sign. It was good looking enough for me to do this.
It's constructed of high quality and durable canvas, with leather accents, and a leather cover flap. Surprisingly for a bag this small, it is loaded with pockets, and its form is deceiving in that it can carry more than you'd think. In the picture below the next heading, you can see a variety of things I was able to fit in here. Just to note, when the Nikon 80-200mm f/2.8 was inside, it had to stand up for a camera body to fit also. Otherwise, laying flat it was fine, with still ample room for another lens inside. Aside from the main compartment, there are ample pockets for everything from small external drives, to keys, cables, chargers and iPads.
The insert is of high quality. It is moisture resistant, and as with the bag itself, is teeming with structural rigidity. I like this a lot as I don't like to baby my things, and like to be able to be a bit rougher with them, safe in the knowledge the contents are protected. I found that the bag, with or without insert, would stand upright on its own with ease. Four feet on the underside canvas seem perfectly leveled end effective for this purpose.
The detail with the feet is appreciated and caught my attention, as did the rest of the strong metal fittings like the strap clips. There are two straps that come with the Followell; A long shoulder strap with a thick pad, and a short handlebar strap which I highly value. I often like to just pick up the bag and go without slinging it over my body. Also worth noting is the nice packaging and dust bag that accompanies your purchase.
What Fits
To be fair I was easily able to fit a smaller Nikon body like an older Nikon D90 or Nikon D5200 with a 50mm 1.8 on it, with a second lens, and an Nikon SB-700. This didn't stress the parameters at all. There's more resistance fitting something like a D3, though it can be done. Also, a Sony A7 was able to fit with 3 lenses comfortably, with a Sony RX100 added to that, all in the center section. I actually think this bag is ideal for mirrorless systems.
In her promo video, Moore says the space between the rear wall inside the main compartment and the rear of the insert is perfect for an iPad mini. It is, but I use my normal iPad a lot more, and much to my surprise it actually fit, and I wasn't too worried about it in there due to the stiff padding. This was a huge plus. Keep in mind this is also an iPad2, so the new Airs should have no issue.
Pros
Lightweight
Held up in inclement weather/contents safe
High quality build and materials
Appealing aesthetics – colors go well, and is understated
Holds more than one would think
Cons
Leather flap scratches really easily (if you're like me, you like this worn look)
Stiffness of the canvas at zipper of main compartment makes the contents stay in safe, at the price of being difficult to get items in and out. May not be suitable for high pressure environments.
Conclusion
I was apprehensive about the bag to begin with. I really do like masculine, beautiful bags. So knowing Kelly Moore's demographic, I was concerned. but after seeing it in person, I found myself using it more and more. It's sleek enough to be refined, and masculine enough that I would wear it and not worry people would think it's mine. It's entirely wearable by women too as seen here:
I should interject here that my old camera bag isn't even a camera bag but it's still what I choose over anything else. It's a Belstaff messenger bag I've had for years, that's military grade canvas with no padding whatsoever, and costs a hell of a lot more than most camera bags. But it's rough, manly, and handsome. It's my companion for life. As a shooting bag though, it's just not that practical, and my gear can get lost in it, and I've taken a fall with it on the moors in England and a broken lens was the consequence. This wouldn't have happened with the Followell.
I'd be remiss not to mention that I noticed it was getting a lot of glances at the Sony Open, a tougher crowd to stylistically please. It doesn't get in the way, and light enough to carry all day – making it great for a street photographer. Also nice is that it doesn't scream for attention, but it'll hold it if given half a glance. I do think it's best suited for a mirrorless system, and the A7 looked mighty fine encased in it. As a day to day city romper, this will likely be my go-to.
You can get the Kelly Moore Followell at B&H and other retailers and see the rest of Kelly's bags here.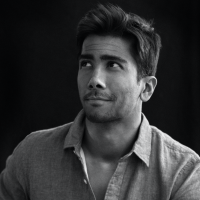 Kishore Sawh
A photographer and writer based in Miami, he can often be found at dog parks, and airports in London and Toronto. He is also a tremendous fan of flossing and the happiest guy around when the company's good.