It's coming to something when the news is making the news, but that's precisely what happens every April 1st, and today is no exception. It's the day tech and photo-related companies tout some false gimmick or comedic service to a rather gullible public. That's you and me. Apparently, we eat it up.
Yet, I can't even make a dent in the list of things that interest me more than your average April Fool's joke; counting my eye-lashes comes to mind. As does having a staring contest with the mirror, or looking through swatches of beige, and even beigier paint. It makes perfect sense then, that in some sick twisted cosmic hiccup, my fellow editors decided I was just the man to bring you this year's photo related April Fools' jokes post.
While some have high production value and effort reserved for a Michael Bay film, most have as much talent for disguise as a dog in dark glasses trying to get into a cats only golf club. There are in fact, more convincing FOX News reports. In other words, they're mostly rubbish. However, we've sorted the wheat from the chaff and broken down a list of 2014 April Fools' Jokes that will hopefully reprieve you from the terminal illness that is day-to-day boredom.
They delve into the merits of pink-ifying your DSLR. Surely, far more entertaining and mentally stimulating than the book it's parodying. It'll have you standing at attention.
The ultimate selfie accessory is a hovering robot that ensures you get all the selfies you and your Instagram fans/haters could want, and at just the right moments, no stretching required.
3. Canon 1D W
The Digital Picture broke the news with this nature-geared, camouflaged, animal eye-tracking variant of the Canon 1DX. Perfect for the Duck Dynasty lover you have yet to annex from your life.
The Digital Picture also announced the acquisition of Samyang by Sigma, creating a 'Classic Global Vision Line."
Custom SLR also announced, and this one is big (pun intended), their new, highly versatile Bigfoot Tripod. The gargantuan tripod, promises to elevate your photography to staggering heights – of madness.
Lomography announced, with video in tow, the Lomography 'SuperPhotoSpray" that lets you spray a film roll and allow you to take pictures with it, without a camera. You'll just have to have the patience of granite to allow it to develop.
GoPro, never out of sight, debuted their latest offering to have little to do with photography – #STOKED. The beverage of choice to "help you achieve maximum radness," and likely acts as a cleanse.
7. Vimeo Crackdown
On a more worrying note, rumors of a Vimeo crackdown were rife. Could it be Vimeo was actually offering up your private information with reports of DMCA infringement issues?! This one had us going.
8. The Phoblographer and Millions of Cats
Even the Phoblographer brought us results of a poll of millions of cats, that almost all said they were sick of being photographed. Can't help but think this is true.
9. Nikon Ditches RAW in All Non-Full Frame Cameras
That's right. Nikon, acclaimed for its wide dynamic range, has, according to Fro Knows Photo, decided to drop RAW in all cameras under the D600. At a full 3 and half minutes, complete with serious tones and jabs at Ken Rockwell, this one was enough for a raised eyebrow – probably because it would hardly come as a surprise to some.
10. Google + David Hasselhoff
Then of course there was Google, never to be outdone, had a host of tricks up their Orwelian sleeve, most humorously having your Google+ photos adding celebrity photobombs that begin and end with David Hasselhoff.
P.S. – Mitch Buchannon is my hero.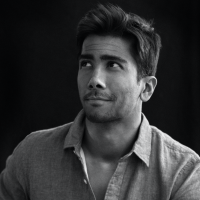 Kishore Sawh
A photographer and writer based in Miami, he can often be found at dog parks, and airports in London and Toronto. He is also a tremendous fan of flossing and the happiest guy around when the company's good.