Many of us who work within and those who frequent SLR Lounge approach editing and Photoshop from the perspective of retouching people. The wedding photographers, the portrait shooters make up a sizable group and the focus within retouching tends to be quite similar.
I know I can speak for myself, and I'm sure for many others, and say that I often forget that there's so much more that can be done to retouching an image, and to thus change an image in a visceral way with Photoshop. It was recently at the Adobe MAX keynote address which served as a reminder to me and to many, how endless the possibilities are.
From changing day to night, adding a light source in post, and so forth, and I've had some inquiries regarding how to do some of this. Photoshop's Principal Product Manager, Bryan O'Neil Hughes, takes on a little of this in a recent Photoshop Playbook episode where he shows how to change the time of day, and also adding lights.
To be fair, this isn't the most intense of changes possible, and his subject is a car, which you may find you have little use for. However, what really makes it worthwhile is just to see how certain tools you're familiar with in Photoshop already, such as lens flares and gaussian blur, can be adapted and used in ways you may have never thought. Also, the little workflow tips and tricks Hughes uses along the way are the types of things we all should pick up on and utilize because they just make the experience that much quicker, and slicker.
A Further Thought
There's another point worth noting that may actually be the most important piece of suggestive information to be found in the clip. When Hughes is adding 'light' to the car's headlamps, he makes a quick mention of the fact he doesn't want the mask to be entirely exact, because if you think about how light works, it's usually not with a sharp edge.
This may seem like a non-issue, but if there's one thing I always stress to anyone doing retouching of any sort, and I've mentioned it in a recent article, it's that how you think about what you're doing is just as important as how you technically apply your ability. I stress to spend a little time really thinking about what should be there realistically. Comparing this to skin editing, for example, too many retouch skin to the point it looks like plastic, devoid of pores, texture, or variance in skin tone. This is a common rookie mistake because they think the skin should be smooth, but no one's skin looks like that. Keeping reality in mind is key to delivering believable and beautiful results.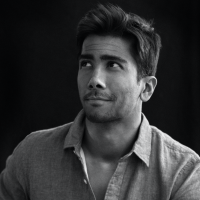 Kishore Sawh
A photographer and writer based in Miami, he can often be found at dog parks, and airports in London and Toronto. He is also a tremendous fan of flossing and the happiest guy around when the company's good.