In this video full of tips from Joe Greer, you'll learn the importance of following the rules…
your
rules. It's about finding out what works for you through lots of practice and that means taking lots of photos, which is what we are all about here at
COOPH
. So, load your camera and start shooting! But don't forget to tag
@thecooph
and #coopshoutout on Instagram for a chance to be featured in their stories. We can't wait to see your pics!
Joe's Tips For Film / Analog Photography
Keep A Photography Log Book – It will help you understand your rhythms with analog Photography and gain a better comprehension of the settings you use and end results you get.
Know your Location / Choose the right Focal Length – Give yourself time to scan the area to know where you want to go and what you want to photograph.
Choosing the Right Film Stock – It's vital to test out and experiment with as many different types of film as possible so you know what suits your style and settings the best.
Over & Underexposing your Film – Be careful to not underexpose your film since this analog format is not as forgiving as with digital. You'll be able to recover and use more with a slightly overexposed frame than the opposite.
Don't be afraid to Make Mistakes – Just because each frame costs you money (when compared to digital), you will make "mistakes". Imperfections captured when making a "mistake" can bring out something far more beautiful than a "normal" shot
Choose the Right Aperture – Choose a higher number than you normally would with digital since more will be in focus with your film scans. It'll give you more freedom and safety with your shot.
Forget All The Tips! – When everyone has a camera and everyone is starting to shoot film, it's vital to find your own style and trust your gut. Photograph what you love, try new things, and experiment!
Check out some of Joe's Analog Photos in the Gallery Below;
See more of Joe's work;
YouTube: @Joe Greer
Instagram: https://www.instagram.com/ioegreer
or his website: https://www.ioe.photography
*Content shared with permission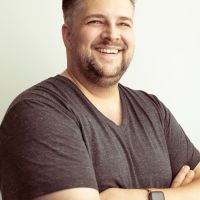 David J. Crewe
David J. Crewe is a full-time commercial photographer and Senior Editor with SLR Lounge. Based out of both Southern California & Las Vegas, Nevada. View his work and blog:
DavidJCrewe.com
Follow his Instagram:
@DavidJCrewe