Our "SLR Lounge Awards Artist Feature" articles highlight SLR Lounge Awards winners, some of the very best wedding photographers around the globe.
This article features Chad Winstead of Chad Winstead Photography (North Carolina, USA). Chad is a multiple platform award-winning wedding photographer; he entered his Apex Award-winning photograph into the wedding photojournalism category in March. The Apex Award is a level reserved for those whose photographs are selected by SLR Lounge's curators from the top 1 percent of submissions.
Read on as Chad shares his 5 tips for improving wedding prep photographs; Chad is definitely known for turning the dull into the dramatic!
Tip #1: Arrive Early
Arriving early allows us to get there around the same time as the couple and anyone else who is joining them. This is good for us so that we can scope out where the couple will get ready and so that we can set up our lights. We are often stuck in small, cramped rooms with no windows at many of the venues where we photograph. We come prepared with Tether Tools RapidMounts and a Manfrotto Nano Clamp with a Novoflex Ball Head. This way, we are able to get the light where we need it and have ample time to place light stands where they won't be in anyone's way.
Tip #2: Use Flash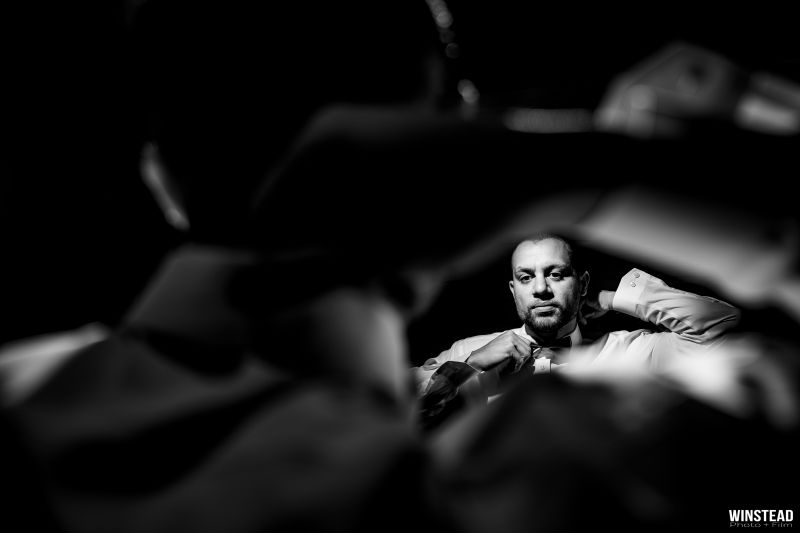 Using flash allows us to darken cluttered, ugly backgrounds and create the dramatic photographs that our couples love. When we are in a locker room of a country club with no windows, using flash is the only way for us to get a variety of getting ready photographs for the couple. We use MagMod MagGrids to direct the light exactly where we need it, and we use MagMod MagGels to balance the color temperature.
Tip #3: Anticipate Moments
When using flash you have to be wary of where the flash is coming from so you don't get unwanted shadows (such as a makeup artist's hand). The bride's prep takes a little while, so dial in your settings and wait for just the right moment where everything falls into place. Don't forget to switch back to natural light to get different looks, and to make sure you don't miss other possible moments going on around the room.
Tip #4: Look for Reflections and Unique Angles
Look for mirrors, glass to shoot through, or bring a prism to grab a few artistic photographs as well. If there are windows, I love to go outside and shoot the window to get the sky or surrounding scene into the composition. Couples are always thrilled when we can get a view of the landscape into the photograph with them!
Tip #5: Give Guidance (When Appropriate and Needed)
We truly don't want to interrupt, or make prep feel like a portrait session, but sometimes you need to step in (the couple will appreciate it later). For example: if the bride is planning on getting into her dress in a bathroom stall, suggest that she come out before lacing it up. Let her know where the best light is and suggest for her mother or maid of honor to help her into the dress in that perfect spot.
Bonus Tip: Don't Forget the Details!
Take the dress and shoes outside if needed, or find a unique spot to incorporate the venue into the story.
Chad's Final Thoughts
Even though we often get stuck in challenging situations, I love our weddings here in North Carolina. We have beautiful beaches, unique cities, great food, and the mountains, all in one state! We are truly lucky to have a little bit of everything here.
You can see more of Chad's work on his website; as well, be sure to give him a like/follow on Facebook/Instagram as well!
Check out the latest SLR Lounge Award Winners here. Don't forget to submit by the April 30 deadline to be considered for SLR Lounge's April 2018 awards competition. And, finally, remember that anyone can sign up for an SLR Lounge account for free and submit, but Premium Members are able to submit up to three photographs each month!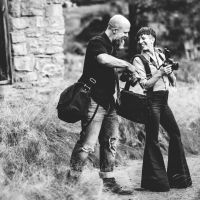 Amii & Andy Kauth
Amii & Andy are a wife and husband team of rad portrait and wedding photographers (Sunshine & Reign Photography) who absolutely love life and are generally just stoked! Yeah! When they aren't photographing or writing and teaching about photography, you'll find them off on a seriously legit adventure with their little ones, lifting weights in their garage, training jiu-jitsu, refining their archery skills, or surfing every chance they get. And on the rare chance they escape off on a "date night"? Yep! They'll find a wedding to crash (true fact). Website:
Sunshine & Reign Photography
Instagram:
@sunshineandreign