I can't get enough of my  EOS M. In fact, I recently bought another one. The power packed into this small mirrorless camera is an amazing tool that I love to use. While using the EOS-M out of the box with EF-M lenses is an overall ok experience, I have found three ways to make the EOS-M work even better for me.
3 Ways That I Have Made The EOS M Work Better For Me
Problem: The EOS M is almost too small in the hand, and when shooting hand held or on a monopod, it can be difficult to get a clean grip on the camera body.
The solution to this was actually quite simple. I went out and purchased an third party grip for the EOS M. The model I went with is from Fotodiox. It is all metal and screws into the EOS M via the 1/4 20 thread on the bottom of the camera (they give you another mounting screw so you can still attach it to tripods or quick release plates when the grip is attached).
The grip, does add a little bit of weight to the camera, and being all metal I would expect nothing less. In addition to also allowing for mounting to a tripod, the grip also has an opening on the underside of the grip so you can still access the battery/SD compartment.
Overall, the grip does what I need it to do. It gives me a clear grip point on the EOS M, and improves handling when hand holding or using a monopod -in addition to giving the camera more protection in case of a drop from the side and bottom.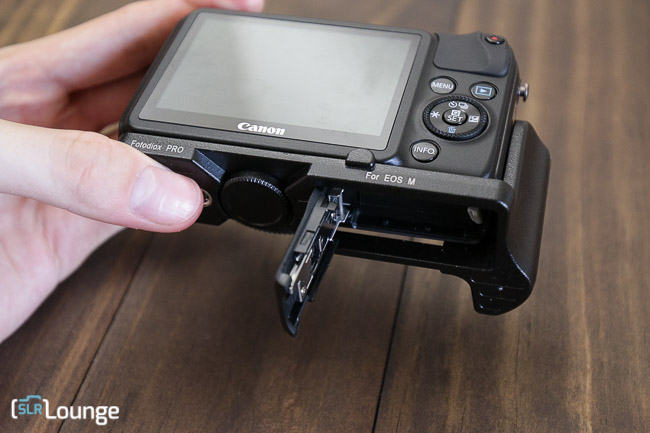 You can find the Fotodiox grip I purchased over at Amazon, here. It is a little expensive at $30 (considering you likely only paid around $250 for the camera), but the additional benefits of having a solid grip on the camera when hand holding is well worth it to me.
Problem: EF-M Lens selection sucks. There is one good constant aperture prime lens, the 22mm, and then a bunch of variable aperture kit lenses. If you want to do serious work with the EOS M, then EF-M lenses are not a real option currently.
I have talked before about getting the EF Adapter for my EOS M, and those adapters are great for anyone who already owns Canon glass that they would like to use. But being a mirrorless camera, there are literally endless possibilities when it comes to adapters/lenses that you can use on your EOS M.
I recently picked up a Canon FD to EF-M and Olympus OM to EF-M adapter for my EOS M so I can now utilize old manual focus lenses on the cheap. I went over to KEH.com and purchased an old Olympus 35-70mm F/4 for my video work. I have been practicing with manual focus on the M. As many of you probably know though, trying to get critical focus from a 3″ LCD screen is not ideal.
To help with that, I installed the Magic Lantern Apha that is compatible with the EOS-M, and through that I have access to focus peaking, which helps a ton with the manual focusing.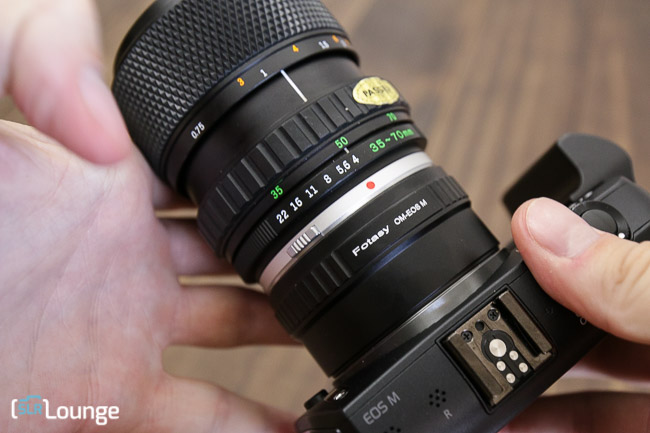 All in all I spent $13.99 on the OM to EF-M adapter, and $35 or so on the Olympus manual focus lens. I now have a quality lens to capture my video with and I was able to do it for about $50 (not including shipping).
Problem: Battery life on the EOS M is not ideal, and to make matters worse, the battery indicator seems to go in large chunks. You can go into a shoot thinking you have enough battery to cover it, and then moments after you being shooting, your battery starts to crap out on you.
The  solution here is simple, a pair of after market batteries, and an wall adapter unit. You can of course buy legit Canon batteries, but you will pay about $100 for them, which when you bought the camera itself for $250 seems a bit insane. Personally, I went with these Lithium Energy LP-E12 compatible batteries. They are 2200 mAh, where as the Canon battery that came with the EOS-M is only 875 mAh, so in theory, I should get some more life out of these (It's worth noting though that 3rd party batteries are notorious for inaccurate labeling).
In my experience with them, they have lasted at least as long as the stock Canon battery, so I am happy with them. I bought two so that I would always have the ability switch out a battery when needed. Most of my shoots don't go longer than an hour or two, so one full battery is usually plenty, but I like to have backups just in case.
Another option for those of you who plan to use your EOS M indoors or near a power outlet is an wall power adapter, which allows you to power the EOS M from the wall. This is incredibly useful in a studio sort of setting where the camera will be stationary in one place and running for long periods of time (aka shooting a podcast or instructional video of some sort).
Conclusion
These are just a few ways that I have made the EOS M work better for me. Hopefully any of you that have taken my advice and grabbed an EOS M on the cheap recently can look at these tips and get the most out of the EOS M for your uses as well.
If you have any questions about any of the items I mentioned above, or the EOS M in general, leave a comment below and I will answer as best I can. Have a good one, and remember to get out and shoot!