Wedding ring photography is an important aspect of wedding photography. Besides the fact that clients pay a whole lot of cash for them, they're important because of their significance as a symbol of their union. Getting incredible wedding ring photos time after time can be a challenge. Finding the right background, lighting, and settings for three wedding rings is just as stressful as planning the perfect shot for your couple. So to give you some inspiration and a new outlook on wedding ring photos, here's a list of wedding ring photography tips and ideas to help you think outside the ring box.
For more tips on wedding jewelry and details, check out Photographing the Bride in SLR Lounge Premium – your one stop shop for getting consistently incredible imagery of the bride on her wedding day.
Basic Wedding Ring Photography Tips
Let's get started with a few basic wedding ring photography tips before jumping into the more detailed creative wedding ring photography tips.
Use a Macro Lens – Macro Lenses aren't the cheapest lenses, especially when you take into consideration that fact that you might only be using them for one or two shots throughout the entire day, but it's very important to pick one up if you're considering adding good wedding ring pictures to your wedding photography portfolio. If you're on a Canon, you're probably looking at the EF 100mm f/2.8 Macro or the EF 100mm f/2.8L IS if you can afford it.  All other camera makers should have equivalents.
Use Manual Focus and Take Multiple Shots – It's going to be tough to rely on auto focus in this situation, as it's just not accurate enough. Get used to focusing manually, take multiple shots, and make sure you zoom in as you're checking the images on the LCD to make sure you come away with a sharp, perfect focus. There's nothing worse than having a great shot set up and not coming away with a usable image.
Use Additional Sharpening in Lightroom – Don't forget to cheat a little bit and touch up/sharpen your rings in Photoshop to give them that extra pop.
Creative Wedding Ring Photography Ideas
Gone are the days of boring wedding ring pictures! The classic shot of the rings on top of the wedding day itineraryis overdone. And getting the candid moment of the ring exchange isn't quite enough. It's time to think creatively. It's time to think of the wedding rings like you think of your bride and groom in that you want to deliver shots of your subjects with creative light, creative compositions and interesting backgrounds.
Find Reflections for Your Wedding Ring Photos
Find and utilize reflections to create vertical symmetry and add interest to a scene. This can be a glass table, a granite counter top, a piano or any other reflective surface. Wipe down the surface to ensure there are no marks or specs prior to placing the rings and use your phone to make sure they are in the same focal plane. If you don't find a reflective surface, use your cell phone!
All of the photos used in this article are taken with a Canon EF 100mm f/2.8L Macro IS in order to get a precise picture of the details of the rings and to achieve a greater compression than you would with a 35mm or 50mm. If you don't have a backdrop available, Google an image of 'bokeh' or 'Christmas lights' on your phone and place it behind the rings so that it reflects onto the glass. Trust us, it works.
Try Creating A Wedding Ring Silhouette
Often times, wedding rings have intricate details carved into them or create unique silhouettes. While most of the time we focus on lighting them up to showcase the jewels or design, a silhouette brings the viewers attention to the shape of the ring which brings a unique perspective to the traditional ring shot.
Image by Jason Vinson – Website
Use Putty When You Need The Ring to Stand
In these shots, the groom's ring is lying flat on the surface and the bride's ring is standing up and pointing up to the heavens, showing off its glorious detail. So how do we keep the ring from falling over? The answer is simple. The secret behind our wedding detail shot is actually Elmer's Putty. It is simple, effective, readily available in craft stores, and best of all, really inexpensive.
To use it, all you need to do is take a small piece of putty and make a little ball with it. You place the groom's ring horizontally on a flat surface and the putty ball in the middle of that ring. Then, you place the bride's ring standing up on the putty. The putty will hold up the ring and as long as you have a small enough piece, you won't see it in your shots. You can buy the putty on Amazon for $5.
See Our Wedding Ring Putty Video Tutorial
Incorporate Personal Elements in Your Wedding Ring Photography
Find objects that are pertinent to your couples' love story or relationship that can be incorporated into your wedding ring photos. This can even be something that you discuss with your clients beforehand to ensure that they bring something with them that is meaningful. Here are some examples of wedding ring photos incorporating props: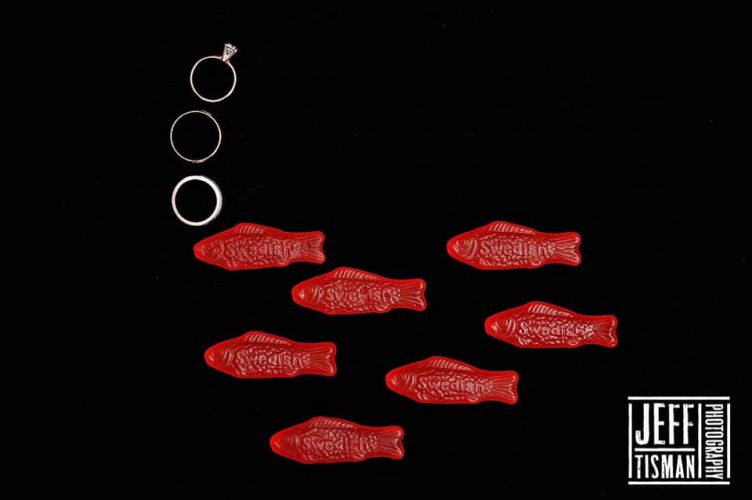 "The couple loves Swedish Fish and they had it out as the treat on the table settings so I tried thinking of something that would be meaningful to them and arranged the fish in a school and made the rings the air bubbles."
Photographers Lissette & Orlando "definitely try to personalize wedding ring pictures for each client according to their interests". After they get the traditional macro closeup ring shot, they "get a second ring shot catered just to the couple's favorite things or to match the theme of their wedding." In this case, the couple was a big fan of DC Comics.
Use the Bouquet as a backdrop for wedding ring photo
Bride's love incorporating other elements of their wedding day in their photographs whether it be portraits or detail shots. Use the bouquet as a backdrop for wedding ring photos or place the ring inside one of the flowers.
Incorporate the Other Jewelry and Shoes
The more separation there is from the background the more compression you will have. You can see three different examples of how we used other jewelry as a background to create great compression & beautiful bokeh-balls.
Similarly to how we used the jewelry above, we chose to show off the bride's shoes by placing the wedding rings on the heels. Double check before placing rings onto the bottoms of shoes because in some cultures this is frowned-upon.
Incorporate the Invitation in Your Wedding Ring Photography
For a more personalized wedding ring picture try utilizing your couple's wedding invite. This is when Glue Dots come in handy to keep the rings in place without you having to try and spend 30 minutes trying to make them balance.
Use LED String Lights and/or LED Pen Lights
We've discussed using LED string lights in portraiture to emulate sun flare or golden hour, but just as we discussed earlier, the more compression when photographing wedding rings, the better. Place the spread apart lights behind close to a foot behind the rings to get the best bokeh.
For just a bit of rim light or even a little drama, we use LED pen lights to highlight our rings. By placing them on either side of the wedding rings you can change your in-camera color temperature to balance out your scene, or try a temperature throw by making the rings cooler and your background warmer.
Find or Create Interesting Wedding Ring Photography Backgrounds
Don't have any cool lights or pens handy? Find a wallpaper or texture background to use as the backdrop of your wedding ring picture in order to create interest. Here, we added an off-camera flash to illuminate our background rather than use the ambient light in the room.
Use Water/Liquid to Add Interest
This setup requires a bit more time and patience but yields in some pretty spectacular results. In the image below, Nik used a bottle of water to create this splashing effect and paired it with an off-camera flash to freeze the motion of the water. The key to getting the right type of action is to take multiple shots to get a variety of options and then choose the best version in post.
Find Creative Compositions with Objects Around You
While you are on the hunt to find that perfect stream of light, take a look at what objects you have around you that give context to the wedding. Sometimes this means grabbing a magazine or coffee table book and browsing to see what you can use that can aide in your composition.
"We try to integrate something important or relevant to the client in detail shots. In this case, they were total fitness nuts."
Find Balanced Backgrounds
Symmetry and balance are the key to certain types of wedding ring pictures. Since you're dealing with such intricate detail, the slightest shift can throw your whole image off. For example, if the image has a focus directly down the center, make sure everything is aligned. If your image has prefect symmetry, adjust it so that it's as close to perfect as your lighting and time will allow.
Create Light Patterns with Natural Light or OCF
Photography is simply the study and understanding of light. We are constantly in search of perfect light to help shape, define, and highlight our subjects, and it's no different when it comes to the objects we shoot. Get creative by finding a small sliver of light that creates a leading line or create a complex light pattern with off-camera flashes.
"In between two walls, I saw the angle of the light and the thought just came to me," says Michael Ramos.  It's images like this that make you want to pause and study the light around you to see if you can making something ordinary into extraordinary!
Find Colorful or Interesting Backgrounds & Textures
Interesting colors and textures are things we as photographers are trained to always be on the lookout for. But on a normal, non-macrophotography basis, we're usually thinking of walls, sunsets, or other large backdrops. Keep in mind that, with your wedding ring pictures, you now have the luxury of taking almost anything and making it a background, from a piece of cloth to a purse to a party favor to a bouquet.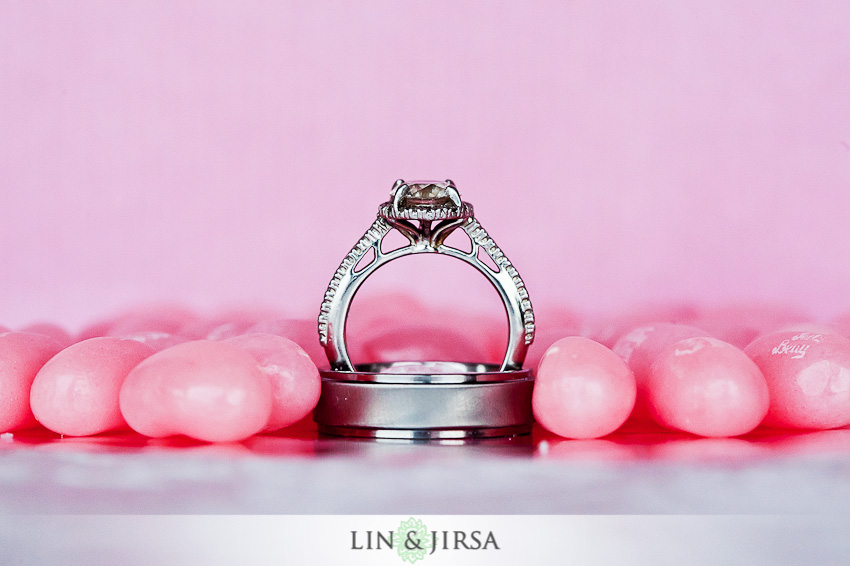 More Information
Which wedding ring photo technique was your favorite? Let us know in the comments down below! We hope this article helped to inspire you to create outstanding wedding ring photos and maybe push you outside the box to start thinking of creative ways to compose and photograph a very important detail at your next wedding! Start streaming Photographing the Bride in SLR Lounge Premium
For more helpful tips to boost your wedding ring photography, check out this list of 10 tips and creative ideas for better wedding ring photos that we put together for our friends at Adorama.  You can check out more of our work on our wedding photography blog and our wedding photography portfolio.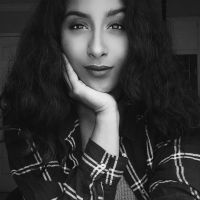 Shivani Reddy
Shivani wants to live in a world where laughter is the cure to pretty much everything. Since she can't claim "Serial Bingewatcher" as an occupation, she'll settle for wedding/portrait photographer at Lin and Jirsa & marketing coordinator here at SLR Lounge. For those rare moments when you won't find a camera in her hand, she will be dancing, eating a donut, or most likely watching Seinfeld. Follow her on Instagram:
@shivalry_inc