One of the biggest releases to come out of Apple this year was their long overdue refresh of their Macbook Pro line. The New Macbook Pro is supposed to be ultra-portable, with a thinner chassis, longer battery life, and a new Touch Bar, but instead of praise for Tim Cook and Co as anyone would expect, the immediate reaction from the professional community was: 'meh'. The new Macbook Pro lacks critical things that professional users actually need, like an SD card slot, dedicated HDMI port, a memory option to expand past 16GB, or the lack of, well, pretty much most 'pro' features. The only thing Pro about the new Macbook is the 'Pro'-liferation of Apple's profits by selling dongles.
Since Apple's MacBook Pro systems are marketed as premium products it's probably going to come as a disappointment to some who have already placed their pre-order, that the processor inside is already year-old technology, but then again this has always been the case. For those who are ready to jump ship, there is a veritable cornucopia of powerful yet attractive PC laptops that will make the transition seamless. Granted, all of the alternatives below are running Windows, but they will provide some (if not all) the 'Pro' features that Apple deemed unnecessary from their new line (with Thunderbolt 3 to boot).
Alternatives To The 13-Inch Macbook Pro
Let's start with a direct 'copycat' of Apple's formula. The Dell XPS 9360 has a wonderfully minimal bezel around the display (thanks to the InfinityEdge), a great keyboard, good trackpad, solid construction, and attractive design. Just like the new MacBook Pro, the memory options top out at 16GB, but in every other way it's arguably a superior professional laptop. On the exterior, Dell's Ultrabook packs multiple USB 3.1 ports, Thunderbolt 3.0, QHD+ Screen and an SD card slot
Specs:
Intel Core i7-7500u 3.5 GHz Processor
Intel HD Graphics 620
8GB LPDDR3-1866mhz
256GB PCIe SSD storage
13.3″ QHD+ (3200 x 1800) InfinityEdge Touch Display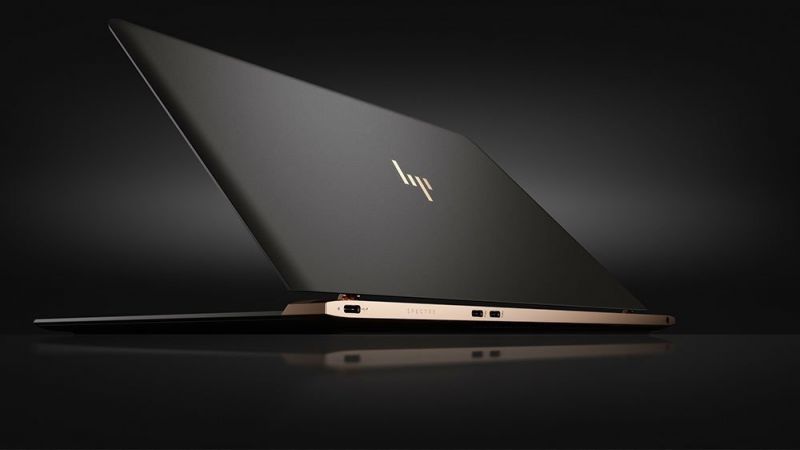 HP boasts its 'Spectre' as the thinnest laptop in the world, but you would be wrong in thinking it's impossible to build a super-thin laptop without compromise. The Spectre's thin outline and small footprint negates the integration of USB Type A ports, just like the New Macbook Pros, with a USB-C (5Gbps) and two Thunderbolt 3 ports. The screen is a non-touch 1920 x1080 and while not retina-tearing will still provide 94.3% of sRGB coverage.
Specs:
Intel Core i7-6500U (2.5 GHz, up to 3.1 GHz)
13.3″ diagonal FHD IPS UWVA BrightView Corning Gorilla Glass WLED-backlit (1920 x 1080) non-touch
Intel HD Graphics 520
Bang & Olufsen Quad speakers
256GB PCIe NVMe M.2 SSD
8 GB LPDDR3-1866 SDRAM
802.11ac (2×2) and Bluetooth® 4.0 combo
2 USB 3.1 Gen 2 (Type-C, HP USB Boost, Thunderbolt); 1 USB 3.1 Gen 1 (Type-C, HP USB Boost)
Instead of lugging around a giant desktop to get the most out of your photos and videos, Razer claims you'll be able to have desktop level graphics in a sleek laptop roughly the size of Apple's smallest MacBook Pro with Retina display. The Blade's slim chassis doesn't have a lot of ports, but the ones that are there can support a portable workstation. The Blade is flanked by USB 3.0 ports, full HDMI and Thunderbolt 3, and adorned with a Chroma keyboard which is great to be able to customize depending on what application you are running. I have added the Blade Stealth to my everyday carry. Razer offers the Blade in a retina ripping 3200 x1800 QHD+ touch display (120% sRGB gambit) or a 1920 x 1080 Matte display, the latter offering better battery life and less glare.
Specs:
Intel Core i7-6700HQ Quad Core (2.6 GHz, up to 3.5 GHz)
14″ diagonal FHD IPS (1920 x 1080) non-touch
Nvidia GeForce GTX1060 (6GB GDDR5 VRAM)
256GB PCIe NVMe M.2 SSD
16 GB DDR4-2133 SDRAM
Option of Matte display
Alternatives To The 15-Inch Macbook Pro
The Acer Aspire V15 Nitro Black Edition is a slim, sleek, powerful entertainment laptop, thinner and lighter than most other similar 15-inch laptops on the market. It packs looks, nice build quality, a great screen and a GeForce GTX 960M GPU. The Aspire V15 Nitro Black Edition could easily pass as a business laptop, thanks to its classic looks, but underneath is a powerhouse ready to take on the most difficult of Pano-stitching.
Specs:
Intel Core i7-6700HQ Quad Core 2.6 GHz
16GB DDR4 Dual-Channel Memory
1TB 5400RPM Hard Drive, 512GB Solid-State Drive
15.6-inch 4K Screen, NVIDIA GeForce GTX 960M with 4GB GDDR5 VRAM
Asus' ZenBook Pro UX501VW offers an Intel Core i7 CPU, 16GB of RAM, 512GB SSD and Nvidia 960M discrete graphics at a price point cheaper than the lowest-end Macbook Pro, let alone the 15-inch model. Its 15.6-inch 3840 x 2160 UHD touch screen display is ideal for photo and video editors who aren't married to Apple, and it's able to produce 110% of the sRGB color gamut.
Specs:
15.6″ Touch IPS 4K Ultra HD display, 3840 x 2160 resolution
Intel Skylake Core i7-6700HQ 2.6 GHz Quad core CPU
Nvidia GTX960M GPU
512GB PCIe SSD
16GB DDR4 RAM
Thunderbolt 3, USB 3.0, HDMI, Bluetooth 4.0, SDXC reader, 802.11ac Wi-Fi
I am going to be honest, this list was originally only 5 laptops that fit the slim Macbook like aesthetic with while providing performance. The MSI GT83VR Titan was added as a joke to fit all of the areas that the fanboys are complaining about. 17-inch screen? Check, Thunderbolt 3? Check, Nvidia graphics? check. Under 5 lbs? Not so much. The MSI GT83VR Titan is hefty beast at close to 13 pounds, but you would be hard pressed to find any Macbook that can match its specs or performance; hell it can  even make the Mac Pro sweat.
Specs:
18.4″ FHD, Anti-Glare IPS Wide View Angle (1920×1080 Resolution) Screen
Intel Skylake  i7-6920HQ Quad Core Processor (2.9-3.8GHz)
2x Nvidia GTX 1080 (8GB GDDR5X) Graphics Cards running in SLI
64GB DDR4 2400MHz RAM
Super RAID 4 1TB SSD (PCIE Gen3 x4) [512GB x2] + 1TB (SATA) 7200rpm
Conclusion
Apple has always provided an alternative computer for the creatives and the ones who thought different in the world, but Apple doesn't exist in a vacuum. Ever since the death of their beloved founder, it's my opinion that Apple Computers has remained stagnate in a quickly evolving market and their only "innovations" have been things that Steve Jobs passed on when he was alive. The word 'Pro' to Apple is just a buzz word meant to incite people into buying their slightly better products.
There are a plethora of other options available, including the sexy new Surface Studio, that offer better performance and features than Apple will provide, and each of the devices in this article has something to offer the Apple convert, from the sleek chassis of the Spectre to the powerhouse that is the Titan.
Windows itself is even bending over backward to cater to professionals.  With a new Windows 10 Creators Update on the horizon, there's never been a better time for dedicated Apple users to make the switch.
Justin Heyes
Justin Heyes wants to live in a world where we have near misses and absolute hits; great love and small disasters. Starting his career as a gaffer, he has done work for QVC and The Rachel Ray Show, but quickly fell in love with photography. When he's not building arcade machines, you can find him at local flea markets or attending car shows. Explore his photographic endeavors
here
. Website:
Justin Heyes
Instagram:
@jheyesphoto