If you carry a lot of camera gear in a shoulder bag or a backpack during a long shoot, than you are probably familiar with the shoulder aches that you can get after hauling all that gear around.
Think Tank's solution is the Think Tank Modular Component System v2.0, a customizable modular waist belt system that allows you to attach various lens and accessory pouches on the belt for quick and easy access while taking all that weight off your shoulder. It is also relatively affordable and has the usual high build quality that you expect from Think Tank.
In this review, we will take a look at how the Modular Component System v2.0 works and whether it can be a viable alternative to traditional camera bags.
The Video Review for the Think Tank Modular Component System v2.0
The Think Tank Speed Belt
The core component of the Modular System is the Think Tank Speed Belt, and it comes in 3 different versions. The belt that we are using for the review is Think Tank Thin Skin Belt V2.0. It is the lightest and thinnest belt out of the three, and it comes unpadded, so it is best for carrying 1-4 lenses no larger than a 70-200mm f/2.8 telephoto lens. On the flip side, it only takes up a little bit of space when you stow it away in a bag.
The front side of the belt consists of the main buckle and adjustment straps. There are also metal buckle stops on either sides of the main buckle that prevents the belt from loosening up when a lot of gear is attached to the belt. It's a great safety feature to have because the last thing you want to happen is for the belt to loosen up or slip off.
Around the sides and the back is a series of loops that allow you to lock in the various pouches in place. You can also have one or more pouches slide back and forth by not locking them into the loops.
If you are planning to carry a heavier gear load, we do recommend that you check out the two other versions because they are padded. The next step up from the Thin Skin Belt is the Think Tank Pro Speed Belt V2.0.
Finally, the heavy-duty Think Tank Steroid Speed Belt V2.0 that not only offers extra padding and a curved brace for extra support, but it also has attachment rings that provide reinforced attachment points for a shoulder harness such as the Think Tank Pixel Racing Harness V2.0.
The Think Tank Lens Changers
There are several different enclosures for the belt pouches. The ones we use for our lenses are the Lens Changers and they come in several sizes from the Think Tank Lens Changer 15 V2.0 for small primes
to the larger, expandable Think Tank Lens Changer 75 Pop Down V2.0 for a 70-200mm lens with hood attached.
The wide opening allows for quick lens changing while the drawstring opening can be closed with one hand whenever you want to secure the content inside.
If you want extra security, you can also opt for the Think Tank Lens Drop Belt Pouch which offers a snugger fit around the lens.
Using the Think Tank Modular Component System v2.0
Using the Think Tank Modular Component System v2.0 is very straightfoward. After deciding which belt and pouch combinations that you want to use, you simply attach the pouches unto the belt. Depending on what's more comfortable with the way you work, you can either have the pouches locked in place or free to slide around the belt.
In addition to the lens pouches, other accessory pouches allow you to carry essentials such as extra batteries, speedlights, and so on. There are even holsters to hold DSLR camera bodies with and without lens attached.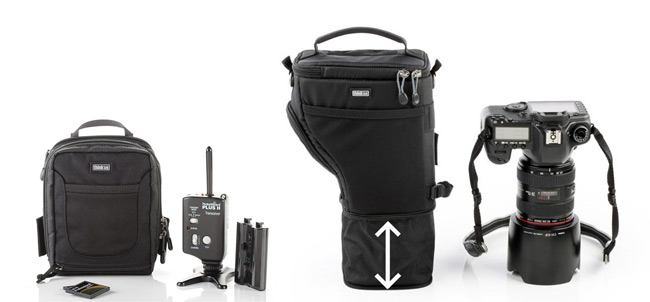 Concerns with Using the Think Tank Modular Component System v2.0
Having quite a few pouches can get bulky, so it's important to decide how much gear you want to add on to the belt. Additionally, this style of carrying your gear is not very discreet, so the Modular Component System may not work if you're shooting street photography or any type of photography where you do not want to attract unwanted attention.
Nevertheless, our setup with the Thin Skin Belt V2.0 and 3 Lens Changer 35 v2.0 worn around the back still maintain a relatively slim profile.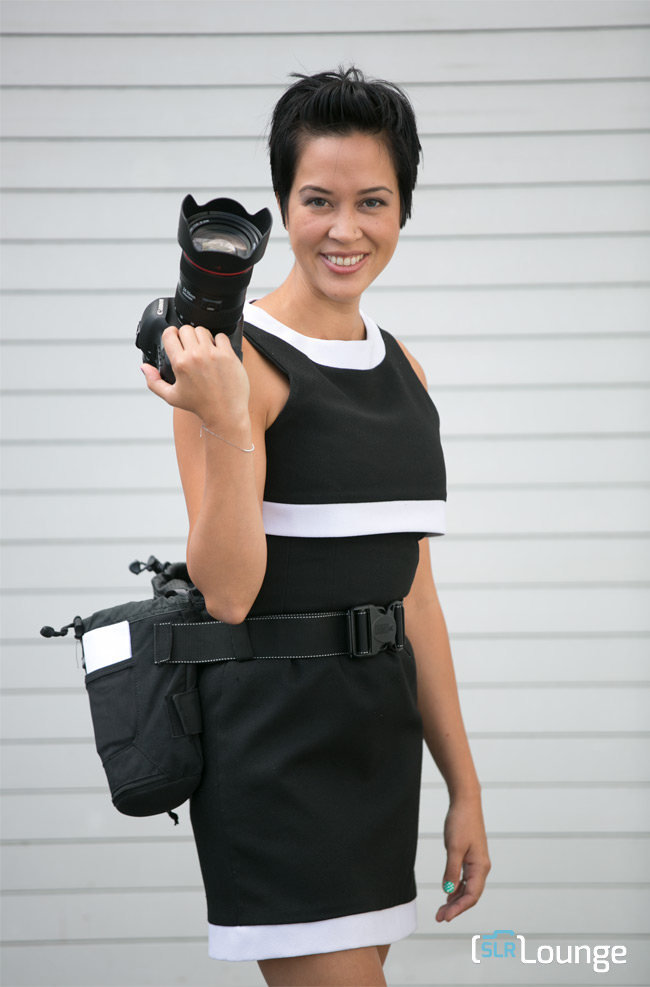 Conclusion
We like the highly customizable Think Tank Modular Component System v2.0 because it is an excellent and affordable alternative to shoulder bags. At the time of writing this article, the Thin Skin Belt V2.0 starts at $31 on Amazon, while the Lens Changer V2.0 starts at $26.
Add on the excellent Think Tank build quality and you have a great system for carrying your gear. As a result, we reward it a solid 5 out of 5 stars.
If your shoulders ache from carrying a lot of heavy gear during your shoots, we recommend that you look into the Think Tank Modular Component System v2.0.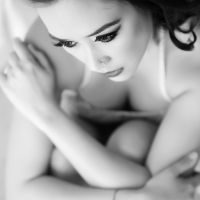 Michelle Ford
Michelle is a Southern California Portrait and Wedding Photographer. When she's not geeking out with a camera she's nerding out in her IT world. All other moments in the day are spent with her two wonderful children. See her work on
The COCO Gallery
check out her blog at
frexNgrin