Welcome to Time Out with Tanya, where I've put my fast paced graphic design career on hold in favor of adventures in motherhood. I'm capturing every moment on camera and you can come along, if you'd like. Sign up for my weekly email here so you'll never miss a Time Out.
Unlike many of the writers here at SLR Lounge, I don't live in sunny, gorgeous Southern California (or Florida) where one can shoot outdoors year round. Not having a dedicated studio space makes it especially difficult to shoot during the winter up here in the gloomy, grey, pitch-black-by-four-PM, freeze-your-buns-off, Inland Northwest. Which is why I learned to use off camera flash a couple years ago and have built up a nice little mobile kit I can use in a client's home or office, even if it's dark and cold outdoors. In this No Studio? No Problem! series, I'll show you some creative set ups for taking portraits without a dedicated studio space, using natural and artificial light.
In part 1, I simply show you what I have in my kit and why I chose it…
Since I'm a part-time photographer (I only book 1 to 2 shoots per week) and shooting on-location, I'm always looking for gear that will give me the most bang for my buck and be as light weight as possible. Most of the gear in my bag is lower budget friendly, with the exception of a few items…
Camera & Lenses
I'm using the Canon 5D Mark III, which performs really well in low light. This is ideal when working in-doors. A typical lens for portraits is the Canon 85mm f/1.8 prime lens. This lens is incredibly affordable and works great, but sometimes I'm stuck in a small space and need a wider angle out of sheer necessity, which is why I splurged on the Canon 24-70 f/2.8 Mark II zoom lens and it's on my camera 75% of the time. This lens is versatile and tack sharp. I also have in my bag a Canon 50mm f/1.4 prime, which I only use if I need the extra depth of field or speed in low-light.
Laptop & Software
I've always been a Mac user and having a laptop is a great asset when you're constantly on the go. The small screen isn't the best for editing, but I make it work. Plus it fits right in my LowPro Camera Bag. I've been happy with the MacBook Pro, especially when paired with an Intuos Wacom Tablet and pen. Don't forget a calibrater (I use the Spyder 4 by Datacolor) and development software. I use Adobe Photoshop and Adobe Photoshop Lightroom 4, plus the SLR Lounge Lightroom Preset System. This set of gear is basically my mobile digital darkroom and I can process photos wherever I happen to be. I also use my laptop for sales sessions on-location.
[Rewind: HOW TO CREATE A CAMEO SILHOUETTE USING ADOBE LIGHTROOM]
Lights & Modifiers
I'm always tempted to buy large studio lights, but I exercise a little restraint and stick to lightweight and durable Canon Speedlite 430EX flashes. Someday I'll upgrade to something a little newer, like the Canon 580EX, or maybe even the amazingly affordable Yongnuo Professional Flash Speedlights. I have Pocketwizard Flex TT5 triggers for my flashes but actually prefer the much more affordable 4 Channel Wireless Trigger for External Speedlights by Cowboy Studio for a simple lighting setup.
I also carry a Wescott 5-in-1 Reflector, and a few different portable light modifiers. My favorite is CowboyStudio's Pro 30 Inch Octagon Umbrella Speedlite Softbox. For the price, this is an excellent modifier that folds up like an umbrella for easy transport. It has a few flaws, and if I had a little more money to spend, I would choose something like the Westcott Rapid Box. In fact, if I were just starting out, I'd grab the Westcott Rapid Box Portable Portrait Speedlite Kit, which comes with two light stands, two modifiers and a nice carrying case. Score!
Backdrop
If you'll be getting creative with backdrops, which are especially useful for Newborn Photography, you'll need a backdrop stand. While you can get a portable backdrop system for as little as $40, I knew I'd be hauling this thing around from place to place, and I wanted to invest in something durable and light weight. The Manfrotto Background Support System I've been using since 2011 has held up very well and it also comes with a handy carrying case. I keep things pretty simple, as far as backdrops go. A roll of white paper or neutral textured blankets work for me. For more info on all the right gear to use for Newborn Portraits, check out the SLR Lounge Newborn Portrait Workshop.
Transporting It All
Since I work without an assistant most of the time, I need to be able to carry all this gear by myself. While I'm sure there are camera bags made specifically for hauling all your gear, I just happened to have a giant Ogio rolling suitcase, which fits all my gear (except the backdrop supports and light stands, which have their own carrying case). I can literally carry all my gear from the car in one trip with my backpack camera bag, light stands and backdrop support bags slung over my shoulder and wheeling the rest in the Ogio bag. Now I just have to keep telling myself not to buy any more gear, because I don't want to have to make two trips out to the car to unload everything!
I'm excited to show you some of the creative ways I've used the items in this kit for on-location portrait sessions. Check out No Studio? No Problem Part 2, Part 3, and Part 4.
For more information about creative lighting, check out the SLR Lounge Lighting 101 Workshop DVD, available in the SLR Lounge store. Click here to view more details.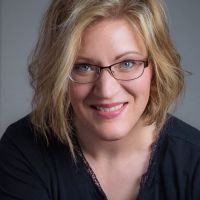 Tanya Goodall Smith
Tanya is the owner of WorkStory Branding Photography in Spokane, WA. Businesses hire her to create story-telling content that sells their high end products and services. She also teachings photographers her unique business model for making serious money as a corporate and personal branding photographer. Find her at
workstoryphotography.com
and
workstoryeducation.com