With the size of the room and all the people around, wedding receptions can be challenging to photograph. In this video, I'll be walking through a quick and easy single OCF lighting set up for wedding toasts and speeches.
Video: Quick Lighting Set Up for Wedding Toasts & Speeches
Today's tutorial is a part of the Wedding Photography Training System from SLR Lounge Premium. There, we discuss every step from talking with the client to the final delivery of the photos. Today, we'll be focusing on lighting toasts and speeches at the reception. Since there are so many angles to capture quickly, getting that consistent lighting can be a challenge. If we leave simply use an on-camera flash, we end up with bad lighting like this.
This is where we've created the OCF Fixed Pinned Lighting Set Up.
OCF Fixed Pinned Lighting Set Up
This lighting set up needs only a single light. This can be any light portable flash. I'm using the Profoto A1 on a lightweight Manfrotto Nanostand. I'm using a MagMod Grid & CTO with the MagGrip. The grid will prevent light spill and the CTO will match the warm lights of the reception room.
Position the flash (in red) roughly 20-30 feet away, depending on the size of the venue. Then, aim the light somewhere between the speaker and the couple to cover everybody. We want the distance to get even lighting on both the speaker and the couple. If we set the flash too close, per the Inverse Square Law, the light will be much brighter on the speaker.
Then, photograph from the general positions shown in blue/green for both first and second shooters.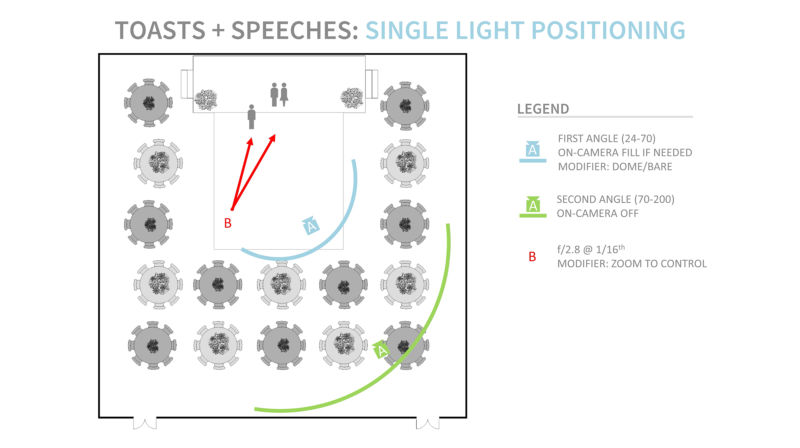 Depending on where the speaker will stand, you can simply mirror the entire lighting set up. It takes less than a minute, and don't be shy either to ask the speaker beforehand to stand in a certain spot to ensure good lighting.
From there, you can capture various angles keeping the same lighting set up throughout.
Conclusion
I hope you enjoyed this video/article. This was a part of the Wedding Photography Training System from SLR Lounge Premium. There, you'll learn how to work with clients, photograph every aspect of the wedding, and deliver a great final product. You'll also learn an expanded version of this lighting set up using two to three lights. So be sure to check that out among our other great photography courses.
Don't miss our next episode of Mastering Your Craft on Adorama's YouTube channel next week! If you want to catch up on all the episodes, make sure you check out our playlist!