It's a great time to be a filmmaker. The market for cinematic storytelling is highly competitive, but opportunities abound for those who consistently deliver quality content. One of the ways filmmakers do this is by using the right gear, like the highly-anticipated and newly-released Pivot Shoulder Rig from the team at PolarPro. This compact stabilizer, which weighs in at under four pounds, includes over six shooting modes and features fully tool-less operation for quick transitions between shots, making it an ideal solution for all kinds of filmmakers, especially those who work under the run-n-gun umbrella.
Video: Pivot Shoulder Rig | Ready for Action
Pivot Shoulder Rig Highlights
Here's a quick look at some of the special features the Pivot Shoulder Rig offers.
Size and Weight
When you're shooting on the go, especially in harsh conditions, you need gear that travels well. This translates to leaving a small footprint in both size and weight. The highly-portable Pivot Shoulder Rig checks both boxes as it can fold down to fit into a backpack water bottle side pouch and it weighs under four pounds.
Set Ups
In the field, it helps when your gear makes it easy to adjust on the fly. The PolarPro team addressed this need with two quick setup features. First, they equipped the Pivot with a quick-release mechanism that allows for fast video plate installs and removals. They also designed the handles and shoulder pad to flip down, allowing filmmakers to place the rig securely on the ground with three points of contact for quick lens swaps and other adjustments.
Shooting Modes
Although it appears simple in design, the Pivot Shoulder Rig offers a diverse range of shooting modes that will allow filmmakers to adapt in the field to meet the needs of the session. As an added bonus, you can transition quickly through these modes without having to use any tools.
On-Shoulder Mode: In this mode, the camera weight is centered over the shoulder, providing maximum comfort and stability for heavier setups.
Over-Shoulder Mode: The shoulder pad can be adjusted downward by 90-degrees to wrap over the shoulder, improving stability, making one-handed operation do-able.
Chest Press Mode: Similar to Over-Shoulder Mode, the Chest Press Mode uses the pad as a contact point with the chest/stomach/hip. This mode works especially well for stabilizing low-angle shots.
On-Tripod Mode: You can remove the shoulder pad, rods, and grips, and mounte the Pivot to a tripod with an appropriate head.
Grip Features
The Pivot Shoulder Rig's grips include several worthwhile features for filmmakers.
Grip Adjustments: Filmmakers can choose between seven different grip rotation angles and a height adjustment range of 130mm.
Arri Standard Rosette Threads: Underneath removable caps on the handles, you'll find M6 Arri mounting points for use with your own grips, handles, and monitor mounts.
1/4"-20 Grip Mounts: Each grip includes a 1/4"-20 Grip Mount for mounting external monitors.
[Related Reading: PolarPro Just Made Lens Flares Affordable]
Hop on over to PolarPro's site for more information on the new Pivot Shoulder Rig. For on-the-go (run-n-gun) filmmaking, this compact rig will no doubt serve you well. In addition, you can add other components to your rig, such as 120mm or 200mm video plates and 100mm extension rods to make the rig even more versatile. The initial run is limited to 500 units, so don't sleep on this incredible shoulder rig.
You can learn more about the PolarPro team and their design process here.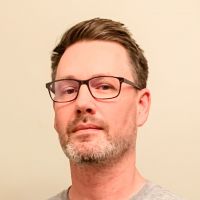 Sean Lewis
Sean fell into photography while teaching for a non-profit. What started as a minor task - documenting guest speakers and classroom activities - grew into a major obsession, and eventually led to a position shooting with Lin & Jirsa. Nowadays, at SLR Lounge, Sean's work as a marketing associate merges his interest in the fields of photography and education.