I remember when the Sigma 35mm ART lens came out in 2012 and legitimately shook up the small online world of photographers. Finally, here was something offering quality optics for significantly less money than the CaNikon counterparts. The images being produced with that lens were beautiful and getting so much attention, and it was hard not to cheer for a company many had merely 'heard of' morphing into a serious contender. It seemed to set the tone for Sigma moving onward, and perhaps even for the rest of the industry which is clearly disrupted.
[RELATED: Sigma Firmware Update for Canon Art Series Lenses]
The Sigma ART line expanded and it continued to be compelling – not as just a cheaper alternative but in many cases a superior option. Many Canon or Nikon loyalists moved on to support Sigma's endeavors, and it seems to give way for the company to make strides rather than sidesteps.
The Sigma 14-24mm f/2.8 DG HSM release was one most interesting to me as a landscape photographer, and one I was/am potentially in the market for. Given the new perception of Sigma I have come to expect a high-quality lens rather than a budget one when getting my hands on Sigma gear, so my review was not one targeted towards the budget-conscious, but for the professional who wants the best in their bag. However, it merits saying that the Sigma 14-24mm ART is $800 less than the most recent Canon 16-35mm, and about $400 less than the NIkon 14-24mm 2.8, which is considered the benchmark.
[Related: Sigma 14mm F/1.8 Art Lens Review | The New Champion?]
I'll cover some of the basics briefly, like sharpness, vignetting, distortion, build, and practicality, but really this lens comes down to the kind of needs you have. If you NEED a full-frame lens wider than your 35mm or your 24mm let me save you time, this lens is good. It's big, won't take a filter, and will attract a lot of attention due to how massive the front element is, but the images you'll get are outstanding. You can see more of David Brosha specifically testing the limits of the dust/splash-proof construction that I didn't want to risk with what short time I was able to use it, here.
Sharpness:
10/10. This lens is as sharp as any super-wide angle I've had on my camera. At 14mm it's Nikon 14-24mm sharp, and at 24 it's better. At a 100% crop you can see that I could have even scaled the sharpening back and dealt with some slight CA issues on the edges but regardless, it is crisp. The lens was designed with 50mp sensors in mind, so it will really shine on my 5D Mark IV. Selling prints, doing design, and stock photos it's essential that I have every pixel available and this makes it available.
Vignetting:
8/10. Some vignetting is to be expected, and because it has a fixed hood when you shoot at 14mm f/2.8, or at a closer focus spot you do notice it. I did not use the profile correction in Lightroom on some of these images so you could see how the vignetting affects some of the images. It was able to be cleaned up pretty naturally if I wanted to correct that though.
Distortion:
10/10. I was expecting to see some, and I saw none. This was the major claim by Sigma in promoting the 14-24 and the one I was most curious about. At infinity focus, though the horizons are straight, it felt strange because shooting at anything wider than 18-20mm has historically always had a little bowing that had to be fixed afterward. This didn't suffer here. It stood up to what it boasted.
Build
9/10. The construction feels solid, and definitely has the weight you'd imagine from so much glass (it's heavier than the Nikon), but regardless of how it feels I'm not as impressed until I get into some weather or until it survives a tumble, neither of which I had opportunity for, which may be for the best because it is such a pretty lens.
Practicality:
7/10. I'm assuming how some others might react to this lens. The weight is not a big issue for me though the size might get cumbersome if I was to travel with it often, and the real kicker for me is not having an easily threaded filter on the front. With how often I have a circular polarizer on my lenses, I'd have to travel with a separate filter system, which is a hassle and not ideal. That said, at 14mm a polarizer might not really work that well. But given that this lens is suited so well for landscapes, this is more than just about polarizing filters and applies to them in general.
If I wanted to do some long exposures of rivers/waterfalls and throw on an ND filter, this is where having a more flattened front element with filter threads would be amazing. For people who are really packing light or small, this could be a burden because it is most definitely not dainty. At this size with those elements too, it's worth noting that autofocus isn't extremely fast, and the 14mm 1.8 Art would be better if you care that much for that. This type of lens though is not really meant for subjects that require amazing AF.
Conclusion
14-24mm is an unusual focal range, and for the majority of people 16-35 is going to suffice. The difference between 14mm and 16mm might not be a huge chasm to some, but across the range it's a difference that's actually pretty massive. There is a lot of story that you can get in the frame when shooting that wide, and you can get that much closer. It takes some getting used to, but if shooting outdoors or if you look at some of the award-winning documentary style wedding shots, many are quite wide.
This isn't to try and convince anyone that you need something that wide, but you might, or at the very least if you've never tried one out you really should to see if your storytelling and 'creative vocabulary', if you will, is expanded with a wider lens. If you spend a lot of time shooting video on your DSLR or are getting into the 360/VR world this also offers a custom rounded hood option.
Perhaps most impressive are the ways it really extends the dramatic leading lines and the amount of a scene that can be captured, like birds overhead, the pier, and the surfer walking to the waves below, all in a single shot. I spent the majority of my beginnings in outdoor photography on a 17-40mm, and most of the time it was only ever on 17mm.
I've not had the 14-24mm range covered in my bag and if I felt I was missing creative opportunities because of that this would be a solid choice.
The issue for me wouldn't be 'should I get this lens over _____ (fill in the blank of whatever other super-wide angle lens your considering), it would be 'Do I need this range covered in my bag at all'? If the answer is no, then no amount of quality will make you need it. If the answer is 'yes', then so long as you don't rely on filters or a super light travel bag then the Sigma 14-24mm would be an easy choice.
The Sigma 14-24mm f/2.8 DG HSM comes in native Canon, Nikon and Sigma SA mounts, and can be adapted for Sony with the MC-11. See them all here.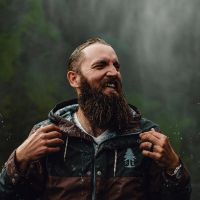 Ryan Longnecker
I grew up in the Eastern Sierras and since I was a kid I loved being outdoors and art. I went to school for music and theology and think both of those weave their way into my photography. I have a passion to change people from being cynical about people and this planet to being hopeful and seeing the beauty in it. I have a wife and two daughters and they could care less how successful I am at taking pictures, and that's great, because it's a constant anchor to what is best.