We are constantly looking for an edge; for an extra aesthetic element to enhance our work so that it makes an impact amid the visual bombardment people endure daily. We refine our technique and reinvest in equipment with the hope that it improves our work and grants it the recognition we believe it deserves. Yet, there is only so much we can do on our own and we come to realize that the vision for our work is something bigger than what we can create by ourselves. You need something else, someone else to contribute to your vision to make it whole.
Many photographers have discovered that a custom backdrop is that missing piece to the puzzle. You've seen them in the portraits that make you pause and wonder how they were shot. Indeed, the lighting is beautiful, the posing is spectacular, and the camera lens combination was obviously adequate to the task, but there was something else that gave it an extra layer of depth and elegance – the backdrop.
Sarah Oliphant of Oliphant Studio, is a master backdrop painter whose 30-year career has placed her work in film, theatre, and photography. Photographer Peter Hurley was able to spend an afternoon with her to discuss how she approaches her work.
You've seen her backdrops in the photography of legends like Annie Leibovitz, Steven Meisel, Patrick Demarchelier, behind all the stars of the day, and used by other well known photography educators like Clay Cook and Sue Bryce and in publications such as Vanity Fair. When you find her attached to these names and see the results, you appreciate her contribution to their work and start to justify the expense of one for yourself.
Perhaps the biggest advantage of getting an original backdrop from Sarah Oliphant is that it will be entirely unique. Everything about it is genuine; nothing "looks" aged or distressed, it actually is. Even if she tries, she can't completely replicate a backdrop.  It is tailored specifically to your vision and that unique quality can help your work stand out.
However, Custom art will come at a higher cost that your typical off-the-shelf variety, and it should for something that is original. So if you need something to get the job done for you whilst you save for something Oliphant, here are a few options below, and check out some examples of Oliphant backdrops below that.
Savage Hand Painted Muslin Background  – $198.99
Savage Collapsible Backgrounds – $161.99
Savage Painted Canvas – $259.99
MORE FROM Peter Hurley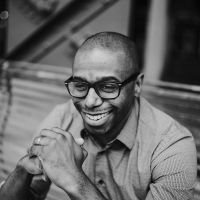 Wendell Weithers
Wendell is based in Atlanta where he shoots events, portraits, and food photography. He also supports his wife Andrea as she runs their cake design business, Sweet Details. Instagram:
Wendellwphoto