Boudoir photography can be one of those niches of photography that can be a challenge for new photographers to wrap their heads around. Unlike your standard portrait session, generally a boudoir session has a lot less clothing, and therefore, less to hide your clients undesirable features (flub here, blemish there, etc).
Posing can go a long way towards making your life easier as a boudoir photographer, but it is also one of those things that you need to learn. These are not your standard portrait poses either, these are poses designed to "bring the sexy back" and tease the viewer without – in most cases – being overtly sexual. Jen Rozenbaum, an experienced and world renown boudoir photographer based out of New York, just released her new Boudoir Posing Workshop, and I took it for a spin (paid for out of my own pocket, this wasn't a review copy) to see what all the fuss about boudoir posing is!
The TL;DR Quick Review
Before I jump into my full review, I just wanted to share my quick thoughts on this workshop for those of you who just want to know the bullet points. In short, yes, I found the workshop very informative and I would feel comfortable running and scheduling some boudoir shoots right now having watched this. The 8 points of boudoir posing that Jen talks about make a lot of sense and Jen is great at not only showing them to you but explaining them at the same time.
That said, there are a few production quality things with it, so if you are a stickler for small things (mic noise, etc) you may want to skip this one. For me, it was not a big deal. I would give the information a solid 9 out of 10, and the production quality a 7. Still a very good value if you ask me.
If you are ready to run out and pick up the Boudoir Posing Volume 1 Workshop you can find it here. Use the code "SLRLounge" (no quotes) to get $10 off! If you want to learn more about the Workshop you can continue reading my full review or you can head over to Jen's website for more information.
Full Review
There is not a lot of extra fluff to this workshop, and I happen to like it that way. The Workshop starts with Jen briefly explaining what the video is going to be about, and then we jump right on into the meat of the workshop, which is 'Jen's 8 Points of Posing.'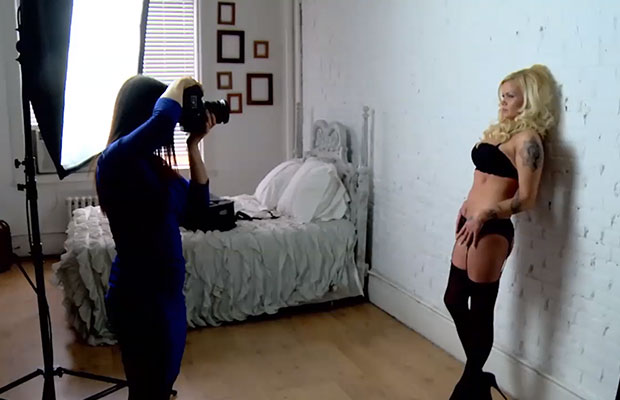 One of the first things that Jen talks about is getting out of the mentality that certain body types will only look good with specific poses. According to Jen, having the subject look proportionate is the key, and using her 8 points of posing the goal is always to have the subject looking proportionate.
Jen then takes us on an adventure into her "small shoe boxed sized studio" (her words, not mine) with 5 gorgeous models of differing body types. You get a first hand look at how Jen poses these models in a variety of situations.
One thing that really stood out to me, and that I liked, was that Jen first showed us how we may think to take the image. Then she goes through her 8 points of posing, so we can see the difference between the two. I found myself saying, yeah that looks like one of my poor attempts at boudoir, and I can see how I could have maybe done better had I known the information Jen shares in this Workshop.
The other thing that I found really inspiring was the work that Jen was doing in her small studio. I don't have a space much larger than what she is working on in this video and I have always had sort of an inferiority complex when compared to a lot of the studios around here because they had a large space. It was refreshing to see someone who is at the top of her genre working out of a space not much smaller than mine, and still creating beautiful work with clients lining up to be shot by her.
Overall, this Boudoir Posing Workshop offers anyone interested in learning how to take better boudoir images their first steps into the world on Boudoir. The information is solid, and Jen is a great personality. I am very confident in giving this workshop a solid 4 out of 5.
If you are interested in buying the workshop you can do so here. Just make sure that you use the special code SLRLounge to get $10 off!