As a off camera flash fan, shooter, and enthusiast, the last few years have been quite exciting given the updates to the portability, quality, and reduction in costs of incredible lighting options and modifiers available for creatives to capture their dream shoots. There's been some incredible advancements in the brands we know and love like Profoto, Broncolor, and Westcott. And then there's been some interesting additions from companies like Godox/Flashpoint. But one brand pretty much EVERYONE in the industry is aware of and has likely owned or used at some point in their career, is Paul C. Buff, (aka the infamous "Alien Bee").
Today, Paul C. Buff, Inc. has announced the LINK 800WS Flash Unit which bridges the gap between being an instudio light or a portable battery powered flash. "LINK"-ing past products with current photography needs, the LINK is backed by the reliability and ease of use from our previous flash units, and combines HSS, TTL capabilities, a detachable battery, and an ultra-bright daylight balanced LED modeling light into one solid flash unit.
[Related Reading: DigiBees | Paul C. Buff Releases Digital Counterpart To Popular AlienBees]
The LINK is a combination of some other units favorite features. The ultra-bright daylight balanced LED modeling light is similar to that of the DigiBee with even more power coming in at 800WS. This is great not only for continuous lighting but also video work. The all metal housing, like that of the White Lightning X-series, and a detachable battery make the LINK perfect for photographing on location. Adding all of these features, and more, make this the most powerful and versatile flash unit in the Paul C. Buff, Inc. product line.
"We know it has been a bit of a wait, and we appreciate those who've been patient with us as we've developed the newest addition to the PCB flash unit family," said Anthony Romano, Marketing and Communications Manager at Paul C. Buff, Inc. "We are a smaller company which does help to keep our prices low, but in-turn it takes a bit longer to develop new gear. During our development time, we had a chance to observe what's out there and hear what photographers not only want, but what they need. We only want to provide equipment that is beneficial to our customers and unique to our product line."
"Our new HUB remote, part of our CyberSync family of remotes, will allow the LINK to perform HSS and TTL," states Romano. "The initial release will be for Canon and Nikon with Sony soon to follow." Adding to the ease of use there will also be a BUFF App to control your lights directly from your cell phone. Available on both iOS and Android platforms, the app will connect directly to your flash units using the HUB and will allow for adjusting both flash and modeling light power, with more features becoming available in the near future.
Technical Specs & Features
FEATURES
9 f-stop power variability (3.1 Ws to 800 Ws)
Adjustable in precise 1/10 f-stops
All-digital control from LCD display
Global plug-and-play from 100 to 240 VAC
Available Modes: ACTION, COLOR, HSS (up to 1/8000 sec.), TTL
Action stopping flash durations as short as 1/15400 sec. (t.1)
Color consistency +/- 100K at any power
Bright, adjustable 800W Equivalent Daylight-Balanced LED Modeling Lamp
Rubber diffusion dome cover
Audible and visual recycle indicators
Built in battery connection
ARRIVES WITH
Magnetic rubber diffusion dome
LINK shipping cover
Flashtube
15′ power cord
60-Day Absolute Satisfaction Guarantee
2-Year Factory Warranty
LINK Quick Start Manual
SPECIFICATIONS
| | |
| --- | --- |
| Watt seconds | 800 Ws |
| Action Mode – Power Variability | 9 f-stops (full to 1/256 power) |
| Color Mode – Power Variability | 9 f-stops (full to 1/256 power) |
| HSS Mode – Power Variability | 3 f-stops (full to 1/4 power) |
| Recycle to Full | 3.5 sec. |
| Flash Duration (t.5) – in Action Mode | 1/1,400 sec. (at full power) | 1/17,500 sec. (at minimum power) |
| Flash Duration (t.1) – in Action Mode | 1/460 sec. (at full power) | 1/15,400 sec. (at minimum power) |
| Flash Duration (t.5) – in Color Mode | 1/1,400 sec. (at full power) | 1/17,500 sec. (at minimum power) |
| Flash Duration (t.1) – in Color Mode | 1/460 sec. (at full power) | 1/14,000 sec. (at minimum power) |
| Power Requirements | Input Power: 95 – 265VAC, 50/60Hz |
| Average Current Draw | 4.5 amps |
| Internal Receiver Range (from rear of unit) | Front: 175′ | Right: 290′ | Left: 325′ | Rear: 310′ |
| Sync / Trigger Voltage | Less than 5 volts (safe for use with DSLR cameras) |
| Modeling Lamp | 800 W Equivalent Daylight-Balanced |
| Flashtube | 14mm single-ring flashtube (daylight-balanced and UV-coated) |
| LCD Display | 3.5″ display |
| Stand Mount | Fits stands up to 5/8 in. |
| Umbrella Mount | Accepts umbrella rods up to 9mm |
| Weight | 7 lbs. 5 oz. |
| Weight with Battery | 8 lbs. 7 oz. |
| Dimensions | 6.5 in. (height) x 4.875 in. (diameter) x 12.625 in. (length) |
Pricing & Availability
The LINK, HUB, and the BUFF App are all scheduled for a Spring 2020 release and will be available directly from Paul C. Buff. Currently the MSRP price of this light is $895.95 for the light on it's own (base price), and is also available in a kit that includes a battery (for up to 250 full power flashes), a charger, and a Canon or Nikon Hub remote for $1195.95
While this is a little pricier than the standard fare we know and love from the PCB line, it's priced VERY competitively when compared to the other "portable" strobes on the market. A little more than the Godox/Flashpoints, but MUCH less than it's Profoto or Broncolor competition. Especially when you consider it's 800WS power when the others are 250-600ws!
So what do you think? Are you interested in this light? Do you think it could change the gear you currently have in your bags? Do you want to see a review and some side by side comparisons? Let us know in the comments below!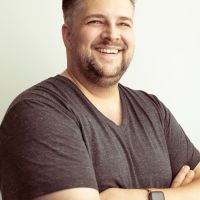 David J. Crewe
David J. Crewe is a full-time commercial photographer and Senior Editor with SLR Lounge. Based out of both Southern California & Las Vegas, Nevada. View his work and blog:
DavidJCrewe.com
Follow his Instagram:
@DavidJCrewe