January isn't the month you typically associate with the term "blockbuster release" but, Panasonic made a case to change that with its announcements at the outset of this year. It debuted a lineup that featured the new GH5 and a full reboot of its marquee zoom lenses. In doing so, it simultaneously set the pace for the industry in this camera cycle and redefined what we should consider a worthy camera update.
Panasonic came out serving specs like pancakes during an "All You Can Eat" promotion at IHOP. Your GH5 came fully loaded with the promise of more to come in short order. And yet, its most glaring weakness still remained; sensor size. No matter how much micro four-thirds sensors improve, the low light ability of contemporary larger sensor cameras has oriented our preferences to ask for more. This demand will always serve as a deterrent to a segment of potential buyers and has created an opening for third parties to profit from Panasonic's success.
Manufacturers like Metabones know that, for many filmmakers, a budget for a GH5 includes the additional cost of a speed booster. In spite of Panasonic's best efforts to fortify their product, a hole remained in its armor and improving light-gathering ability is the best means to mend it.
It stands to reason, that if Panasonic knows a significant percentage of their customers are budgeting an additional $650 dollars to maximize the use of their product, they should find a way to persuade those customers to spend it with them.
They've already done this with their DMW-XLR1 XLR Microphone Adapter. They know that the person who buys a GH5, whether professional or advanced enthusiast, is the kind of consumer who takes their video seriously; which means they also value high-quality audio. Every budget for a GH5 is potentially attached to an audio budget; and with this accessory, Panasonic puts their hands deeper into your pockets. With their own speed booster, they might just take all your money.
But, there are more reasons.
First, they can probably do it better. A Metabones adaptor is like your average translator who doesn't share the native tongue of the two parties with whom he's communicating. No matter how much the translator tries, it would be far more efficient if one of those two parties spoke the language of the other. Case in point, Panasonic can speak Canon better; whose lenses are very likely to find themselves on the front of a GH5. And even though it doesn't possess class-leading video autofocus, any improvement Panasonic makes would be better communicated through a native device.
Second, it's just good business. Today's video consumer is not content with receiving only what camera brands are willing to offer. We like brands who are responsive and adapt their service and products to how we use them.
The brand that does this is the brand that earns our trust,  our loyalty, and our money. If Panasonic develops a superior speed booster, it would round out a robust filmmaking experience that is already arguably best in class.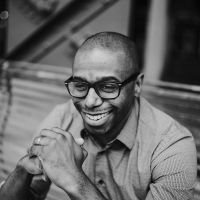 Wendell Weithers
Wendell is based in Atlanta where he shoots events, portraits, and food photography. He also supports his wife Andrea as she runs their cake design business, Sweet Details. Instagram:
Wendellwphoto