There's something about women and handbags. I must own about 5 or 40, one for almost every occasion and one in just about every color, texture, and pattern. Each serves its own purpose – from a sparkly diamond studded evening bag for a fancy night on the town to a less sparkly evening bag for a less fancy night on the town.
There isn't a perfect handbag for every occasion, and the same goes for camera bags. I'll admit, I have quite a few – after all, the bag I take with me on a day hike in the middle of nowhere and the one I pack with me to shoot a wedding at the Ritz Carlton are not the same. Since switching from the Canon 5D Mark II to the Fuji X-T1 system, I haven't really found my favorite camera bag yet. I'm primarily using a small Hobo bag; it looks great but is a tad too small to all fit gear. I'm a minimalist and also a wimp, so I don't like to take a lot of gear because it's heavy.
Gear List
And a bunch of random knick knacks like:
Passion Planner (yes, I still use a paper planner)
Current Read (yes, I still read paper books)
Protein bar
Sunglasses
Keys
Chapstick
Pens
Altoids
Batteries
I was excited when I got the opportunity to check out the Mooli London Hampton Bag (because a new bag is always something to get excited about). The Hampton Bag is currently about halfway through their Kickstarter Campaign with about half of their goal raised. I was able to test out a review copy of the bag for a week, and I'm pretty sure I don't want to give it back.
The Hampton Bag: Design
There's a time and a place for my polyester, black, plain, nondescript and manly looking camera bag – never and in my closet. (I jest, I jest). Sure there are times when I need utilitarian conformity when it comes to my camera bag – times when I need to blend into the woodwork and not draw too much attention to myself and my gear. But most of the time that's not the case; I want to look good, and that includes having nice looking accessories.
The Hampton Bag looks like a handbag on the outside. It's made of synthetic leather and looks like something you would see while walking through Nordstrom. The zipper pulls and accouterments are all gold and shiny, adding a nice detail to the bag itself. The bag is available in three colors: brown (like the one you see in this review), black, and red. **Note: The brown bag you see in the product shots are actually a bit different than the brown hue of my review copy. You can see the color variances in the images. The bag I reviewed looks more caramel brown than orange brown**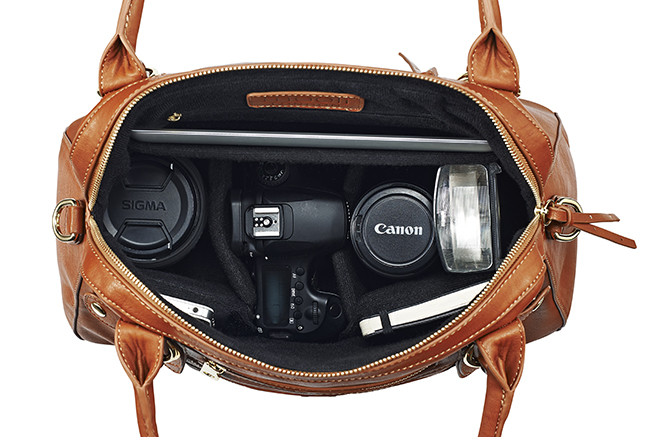 The inside of the Hampton is what you'd expect on the inside of a camera bag. It's soft and padded with removable inserts so you can customize what you carry and how you carry it. Remove it all and use the Hampton as a regular handbag or use the velcro dividers to configurate your lenses however you want. I was able to easily fit my gear and all my extras. There are three zippered pockets on the outside, a zippered pocket on the inside, and a small compartment that would fit a tablet or iPad.
There is a detachable messenger strap that comes with the bag, but I actually didn't like carrying the Hampton with the messenger strap. To me, it felt a bit awkward and bulky. The strap didn't seem very comfortable either, but I didn't have it on long enough to come to a definitive conclusion. If you like the strap, they can personalize it for you with your name or initials.
According to the Kickstarter page, they have an option where the bag can be color matched to your specifications. It would've been great if I had a gray matching bag for this outfit, but alas, I think the brown looks pretty nice as well.
My favorite part of the bag are the studded feet on the bottom. The current bag I've been carrying is Hobo style, so when I put it on the ground (which I often do because it's heavy), the bag falls over, and the bag gets dirty. Not with the Hampton. I can set it on the ground, and it stays upright.
The Hampton Bag: Features
A really cool feature of the Mooli London Hampton Bag is that each bag has an NFC chip that stores your contact info so in the event the bag gets lost, people with an NFC-enabled device (such as an Android), can scan it and see who the bag belongs to. You simply tap the phone against the tag located in the front of the bag. Sadly, I wasn't able to test this feature out, as I had a review copy of the bag. But Beccy, one of the creators of the bag, gave this example,
As mentioned, the NFC chip triggers an action on a phone and this is done by simply tapping the phone against the tag. So, in effect, it acts like speed dial. In our video, we showed this opening up the bag owner's personal contact details, in this example it acts as a traditional lost and found tag. However, the bag owner can program their NFC chip to open any app that they choose. For example, say you are an Assistant Photographer – your job is support the photographer. One of your tasks is to review and give feedback on the exposure and composition of their photographs whilst on a shoot. Next time you take your tablet out of your bag, tap it to trigger the opening of your DSLR Controller app.
This is an interesting feature that seems to have a variety of applications. Unfortunately, I am an iPhone user (as with many photographers I know), so I would not be able to utilize this function. Also, if you are going to use it as a lost and found tag, if the bag gets lost, who would know to scan the front bag to see who it belongs to?
The Hampton bag is designed to carry up to 22lbs or 10kg, is made of water resistant material, and is easy to clean. Mooli also offers personalization of their bags, in the effort to try and bring back some of the older traditions before mass production took over.
The Hampton Bag: Quality
There's no denying the quality of the bag. I'm not an expert in leather goods, but the quality of the bag is solid. The leather isn't too stiff, and I am sure will soften more with use. It has the look and feel of a designer bag and something I could see myself toting around while shopping, not just on a photo shoot. The stitching on the bag, the zippers and gold accouterments are excellent and looks and feels durable. There is a 2-year warranty on the bag if anything goes awry.
The Kickstarter also has some upper tiers where you can not only choose your custom color but with the Luxury Choice, the bag is made with genuine cows leather.

The Hampton Bag: Value
As mentioned above, they are about half way through their Kickstarter project and for about $138 USD, you can get yourself a Hampton Bag. That is about the price that other similar types of camera bags in the market retail around.
Bags will begin shipping toward the beginning of October.

Overall, the Mooli London's stylish, yet functional camera bag is perfect for someone who doesn't want the boring, old camera bag that everyone else has. The Hampton Bag is great as a handbag and a camera bag, or even a little of both. Does it do the job? Yes. Does it look good doing the job? Definitely.
If you want one, jump on this Kickstarter opportunity and grab one now.
Hanssie
Hanssie is a Southern California-based writer and sometimes portrait and wedding photographer. In her free time, she homeschools, works out, rescues dogs and works in marketing for SLR Lounge. She also blogs about her adventures and about fitness when she's not sick of writing so much. Check out her work and her blog at
www.hanssie.com
. Follow her on
Instagram