Whether you're a professional or a hobbyist, printing is an important aspect of photography. Instead of images lost in clouds, hard drives, or social media, printing your photography into wall art or albums makes your photography tangible. Selecting your favorite images for print and laying them out in a story gives them more value and meaning and impact. So why don't we do it more often? If you're like many of us, it's because of the time and work involved in the process as well as the high cost of albums. To help simplify the process for you and to help you create impactful, beautiful albums that are worth the time and effort, here is a step by step guide on how to design a photo album.
In this article, we'll cover the following steps:
1. Decide on an Album Maker and Album Design Software
The first step in designing a photo album is deciding on the album maker and album design software. Do this before selecting images or creating spreads because each album maker and each design software have different procedures and limitations. So understanding these before you start designing will ensure that you design with their specific workflow in mind.
Album Makers
For album makers, you can either go with consumer albums like Blurb or Shutterfly. For professional albums, we recommend Vision Art, but you have dozens of choices, including Finao, Queensberry, Blacksmith, Graphi Studio, Bay Photo and more.

Album Design Software
Consumer album makers all have their own built in software for designing your spreads, so you will not likely need to sign up or download any other software.  For professional albums, you have a few primary options, including Fundy Designer (our recommended software), Smart Albums, Adobe Indesign, or Adobe Photoshop.
2. Select Your Images and Design Your Spreads
If one of the goals for your photography business includes increasing sales of photo albums and wall art, then you'll need a strong understanding of storytelling and design.  In the following video,  we have broken down the basics of both skill sets into four simple steps so that you can create albums and wall art that your clients will want to purchase and display in their homes.
Watch the Video Below
Read the Steps Below
The key to designing better photo albums and wall art rests in how you select and organize your photos. Remember these four steps when you select images to design your next album spreads or wall art clusters:
Step 1: One story per piece/spread (not a summary)
More often than not, photographers use a number of backdrops or scenes throughout the course of a photo session to capture images of their subjects. Each scene offers a new setting and a potentially new story. In a photo album, a single scene can be further broken down into several small stories and used to fill multiple spreads; it's important to note, however, that each spread (two pages, side by side) should be treated as an individual story.
Imagine a photo session took place at the beach, and maybe the couple walked along the beach before standing on the rocks and kissing in front of crashing waves. While it may be tempting to show images representing all of this action on a single spread, we recommend limiting one spread to showcasing the walk along the beach, and another spread to show the couple standing on the rocks and kissing in front of the crashing waves.
If we design our spreads or wall art clusters to include images from multiple scenes, we potentially limit how many spreads or clusters we can sell. Why would somebody want to purchase multiple spreads that tell their story if they can buy one spread or cluster that includes a moment from each scene all in a single spread or cluster? Jumbling images closely together in a single spread is detrimental to the story being told and it limits sales potential.
Design tip: If you plan on presenting clients with wall art designs as well as an album design (which you should be doing whenever possible), don't simply repeat the designs and layouts in both formats. If the album contains all of the images you've highlighted in the wall art design, the client may be less likely to purchase wall art. Some crossover is fine, but try to mix it up.
Step 2: Select the hero shot to build around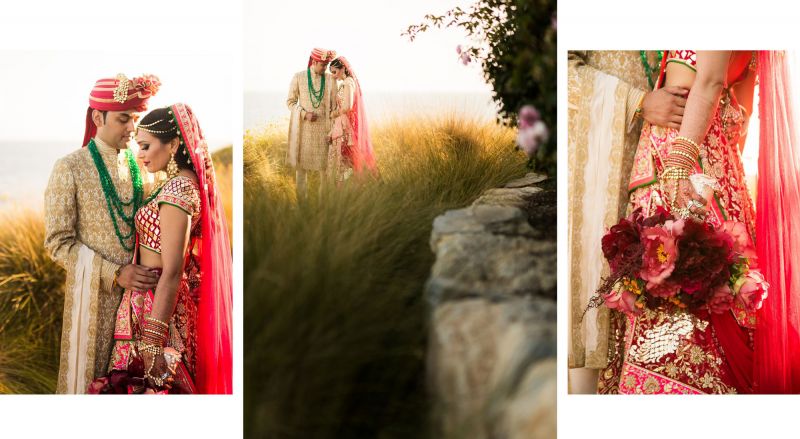 Images on a spread should work well together to tell a story, but there should be a clear hero shot that acts as a centerpiece around which the other images will build. Before you can select a hero shot, you must first understand what you're looking for.
Take the time to learn more about the types of photos your client wants; it will likely be that favorite image that the couple asked for before the session or pinned a similar image on their moodboard. The hero shot is one that likely encapsulates the mood and feel of the story and showcases the subjects within the scene. If we're telling the story of a couple taking a romantic or playful stroll along the beach, the hero shot should reflect the mood we're trying to establish as well as set the scene for the rest of the images.
When selecting a hero shot, ensure that it reveals the subjects with flattering angles. The hero shot should also add to the story and meet the image quality standards you have set for the images you deliver.
Step 3: Each added image adds to the hero/story
Once the hero shot has been selected, each additional image should build around the hero shot to reveal more aspects of the story unfolding in that scene (or in this case, across the spread). Simply put, try to use a variety of focal lengths when choosing these images (close-up, medium angle, or wide angle). This also goes back to step one and limiting the selection of images to those that represent the same time and space as the hero shot. If you photographed a family session, for example, your goal when designing an album spread should not be to include an image from each scene you captured during the session. Instead, choose cohesive images from within a single scene to tell a complete story in a single spread (or wall art cluster).
Step 4: Images are cohesive in look/color
Unless you're trying to juxtapose images that don't go together for effect, we recommend selecting images that are cohesive in look and color. In other words, on a single spread, decide whether the images are going to look light and airy, or perhaps dark and dramatic. Placing light and airy images on the same spread as an image that features dramatic flash may isolate the sets of images and disrupt the story. There's too much of a jump lighting wise between how each image looks.
Choosing images that are cohesive in look and color is more easily done after you've post-processed the images with consistency, which you can learn more about in chapter 4.2 of this workshop.
Follow each of these four steps and you should be able to create photo albums and wall art clusters that will sell, which will increase your revenue and make your clients happy and satisfied with the services you've provided.
3. Retouch and Prepare Your Images for Print
After you've designed your spreads, consider taking your images back into Lightroom or Photoshop for further retouch.  The larger your image, the more detailed you'll have to be. Also, ensure each image on the spread has the same general tones and colors.  We've actually created a detailed guide on preparing your images for print, so be sure to review all of those steps as well.
Conclusion
Printing your images into wall art or albums can feel like a daunting task, but the final reward is well worth the effort. For more information on printing and photographing for the story, we designed the S3: Shooting Stories That Sell Workshop to help photographers increase revenue with wall art and album sales.
Join Premium
Upgrade to SLRL Premium now to enjoy full streaming access to this workshop and many others in our extensive library!