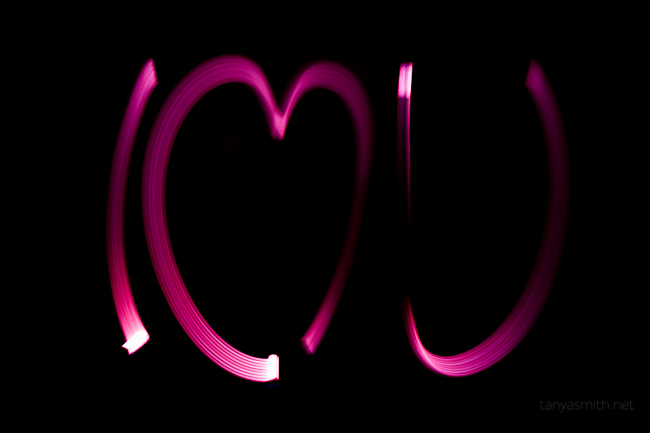 I've been scouring Pinterest for photo Valentine ideas lately. (Hey, did you know we're on Pinterest? Follow SLR Lounge here. I'd be delighted if you'd follow me, too). I found a lot of cute ideas, but nothing that really involved a special photo technique I could do with my kids. I've always wanted to try light painting, and thought, "Why not give it a go for a Valentine?"
Some of the light painting tutorials out there can get pretty complicated and seem a little intimidating, so I've broken down the basics for you here in three easy steps.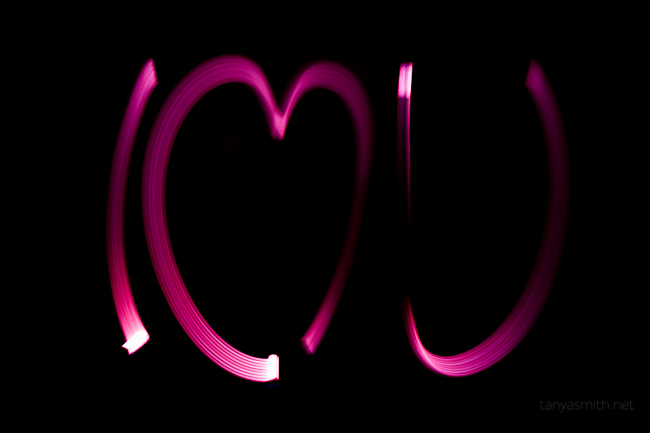 Here's what you'll need:
• LED Hybrid Light
• Tracing Paper
• Colored Film Gels or colored tissue paper
• Clear Tape
• Tripod
• Wireless Shutter Remote Control Release
• Camera with "bulb mode" function
[Rewind: WHAT CAMERA SHOULD I BUY? THE ULTIMATE CAMERA PURCHASING GUIDE]
Here's what you'll do:
1. Prepare your light painting device. I used an LED Hybrid Flashlight. It's pretty bright, so I wrapped it in a folded sheet of tracing paper to defuse the light. I didn't have any photo gels on hand, so I just used a little piece of red tissue paper over the tracing paper to give a colored tint to the light. This step is optional.
2. Set up your camera. Attach your camera to a tripod in a dark space. We did this in our living room in the late evening. If you don't have a tripod, just place the camera on a stable surface, like a table or bench.
Attach the wireless remote to your camera and turn it on. Turn your camera to the B or Bulb Mode. I set my exposure settings to ISO 100 with an aperture of f/7.1. The shutter will remain open for as long as you need to paint your picture. You'll control that with your wireless shutter (see step 3). For the focus, I had my son stand in front of the camera, holding the flashlight. I focused on him and then changed the focus setting to manual.
3. Paint! Turn off all the lights in the room. When your subject is ready to start painting (you could even do it yourself if you don't have friends or kids around), push the remote shutter release. This opens up your shutter. Now, paint your words, shapes or just go crazy with the flashlight. When you're done, push the remote button again. This closes the shutter and stops the exposure.
A Few Light Painting Tips
To create more than one letter or shape without having them run together, simply turn the flashlight off after you finish one word, then move over a bit and turn the flashlight on for your next letter. You can get some funky effects if you have some light spill onto the person doing the painting.
Make sure there is no other light in the room if you want a totally black background.
Don't be afraid to experiment! This was a really fun activity for me and my kids. They loved pushing the remote shutter release at my command or running around with the light to make a "painting." The next day, they wanted to do it again! When the weather warms up, I'd like to take them outside for more light painting experiments.
Have you experimented with light painting? Share a link in the comments. I'd love to see your work!
CREDITS: All photographs by Tanya Smith are copyrighted and have been used with permission for SLR Lounge. Do not copy, modify or re-post this article or images without express permission from SLR Lounge and the artist.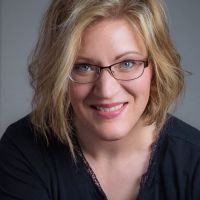 Tanya Goodall Smith
Tanya is the owner of WorkStory Branding Photography in Spokane, WA. Businesses hire her to create story-telling content that sells their high end products and services. She also teachings photographers her unique business model for making serious money as a corporate and personal branding photographer. Find her at
workstoryphotography.com
and
workstoryeducation.com