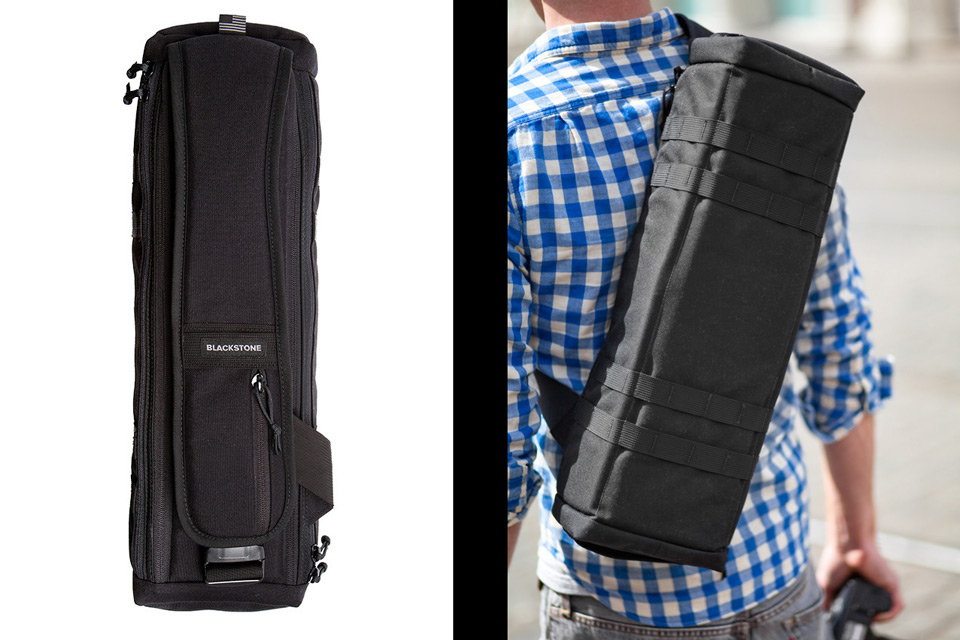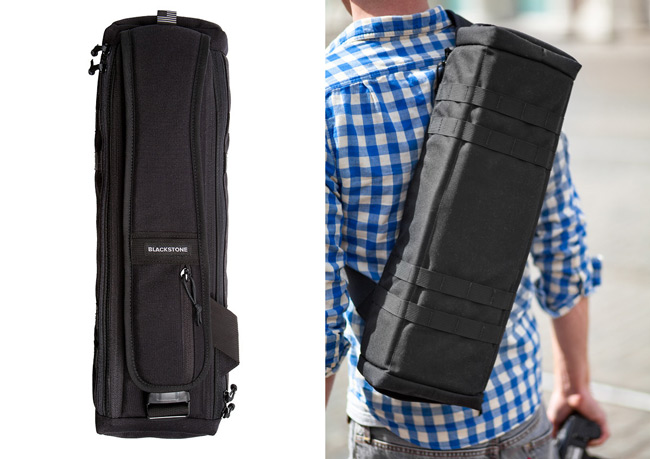 Let's face it. When it comes to picking out a camera bag or backpack, there is definitely not a shortage of choices. In fact, it is sometimes difficult to figure out what makes a particular bag so unique. Camera bags are not commodities, but with so many similar designs it can be hard one bag to stand out.
The minimalist Blackstone Bags Urban Quiver 3.0 sling bag immediately stands out because of its unique shape that is inspired by arrow quivers used in the Medieval age (Game of Thrones anyone?). Of course, with this design configuration the amount of gear that you can carry is limited. Depending on whether on the size of your camera system, you can probably carry your camera, 2-4 lenses and maybe a speedlight.
Unless you only own a minimal amount of gear, the Urban Quiver is meant to be a complement to your main camera bag or rolling case. In my opinion, the Urban Quiver is a day-excursion type of bag that makes a better alternative than a satchel or messenger-style camera bag. It is also more secure the majority of camera bags because the main zippered opening to the camera compartment is on the side that rests on your back. This means that people can't access your gear while you're carrying the Urban Quiver on you.
Perfect for those crowded train station or busy street market.
So is the Blackstone Urban Quiver 3.0 sling bag the ultimate urban camera bag? Let's take a look.
Features Overview from Urban Quiver's Website
Buckle on chest strap allows for rapid clip-on & removal of bag
Three movable internal dividers allow any arrangement of lenses and cameras
Internal compartment has 360º padding
Two end pockets for holding more gear, your rainfly or optional tripod mounts
Shoulder sling creates an extremely streamlined fit against your body, preventing any unbalance(which even makes it perfect for cyclists)
Main compartment opening peels entirely back, giving complete, unhindered access to the inside
Oversized dedicated phone pocket holds large phones such as the Galaxy Nexus and iPhone 5
Inner passport pocket
YKK brand zippers throughout bag
Military-grade 1000 denier nylon fabric
Secure and custom fit rainfly (INCLUDED)
Outer dimensions 21″ x 7″ x 5.5″ (Length x Width x Depth)
Inner dimensions 20.5″ x 6″ x 5″ (Length x Width x Depth)
Made in the USA
The Exterior
At first glance, the Urban Quiver 3.0 sling bag looks very sleek and modern due to its long boxy column shape and its black military-grade 1000 denier nylon fabric. There is also a khaki colored and a grey colored version if you prefer.
The bag is devoid of any shiny features and colors that can attract too much attention, and other than the full-length zippers around the edges and the Molle attachment webbings around the circumference of the bag near the top and near the bottom of the bag, there is little that stands out. Overall, the Urban Quiver's appearance does not scream expensive camera bag, which is a good thing. There are handles at the top and bottom of the bag for when you want to carry it from either side, and under each handle there is a slip pocket for items like the included rainfly.
The Molle attachment mounting points around the front and sides of the bag allow you to attach carabiners or the optional tripod strap mounts. Each tripod mount kit comes with two straps for the top and bottom Molle attachments. I received an extra set and attached the two sets on the front and the side of the Urban Quiver. I did find out that while the tripod straps stay on securely on the bag, they are hard to remove, however. Additionally, it is not as easy to secure a tripod onto the bag compared to other tripod straps that has detachable buckles.
There are two zippered full-length pockets on both sides of the main compartment where you can store a handful of small and slim items such as USB cables. Unfortunately, these pockets do not expand that much so you are limited in the size and amount of items you can store here. It would also be great if these pockets can fit an iPad Mini or Nexus 7 just so you can stay connected while still having minimal gear. Nevertheless, it is still nice to have extra side pockets in this compact design.
The shoulder strap itself has some cool features that makes it stand out from other sling bags as well. First, there is an oversized zippered pocket in the front that can easily house an Apple iPhone,an Android phone, or a lens cap. Below that is the release buckle that allows you to quickly detach the Urban Quiver. Although you can't just take your camera out without putting the Urban Quiver on a surface, this quick-release buckle does make it relatively easy to do so.
The side that rests on your back is where you access the camera gear compartment. This type of opening is great for travelling in crowded environment because people won't have access to your gear while you are wearing the Urban Quiver. Moreover, when you do have to lay your bag down on the ground to grab your camera or lens, you are not putting the side that touches your back on the ground, which is great if the ground is dirty.
Interior
It should not be a surprise that the amount of gear that you can put into the Blackstone Urban Quiver 3.0 is fairly limited. You can probably put in a full-frame DSLR like the Canon 5D mark III with a Canon 24-70mm f/2.8L or a Canon 16-35mm f/2.8L II wide angle zoom lens attached, as well as 1 to 2 prime lenses and/or a speedlight.
If you are carrying a smaller mirrorless system like I do, then you can fit more lenses. In my current bag kit, I have the following items:
Panasonic GH3 with attached battery grip
Olympus 14-54mm f/2.8-3.5 II AF Zuiko Lens
Olympus 75mm f/1.8 Portrait Lens
Panasonic 20mm f/1.7 pancake lens
Olympus 45mm f/1.8 lens
X-Rite ColorChecker Passport
Metz 50 AF-1 speedlight
GH3 charger (cables are in the outside side pockets)
Delkin Battery 8 Cell Storage Case Battery Holder
Small lens blower
One thing that I have to say that the GH3 with the battery grip is a tight fit and can only fit in essentially one configuration before you really feel the camera against your back. A regular DSLR most likely will not fit with a battery grip attached, which also means that large full-frame DSLRs such as the Nikon D4 or the Canon 1D X may not fit either. I think just a bit more depth inside would help, especially since the padding that is against your back is not that thick.
Nevertheless, there is padding everywhere inside the main compartment and you can also order extra dividers like I did if you need more compartments.
Finally, the lid itself has a small mesh pocket in which you can store additional small items such as grey card, pocket knife or leatherman. Here is another area where I would like to see 2-3 zippered mesh pockets..
One last thing to mention is that all the zippers are the high-quality YKK zippers typically found on expensive Think Tank bags. I'm glad that Blackstone did not skimp on the zippers because lower quality zippers can snag more easily.
Conclusion
Unless I am going to a more formal function where a nicer UNDFIND One messenger bag is more appropriate, or when I need to carry more gear, the Blackstone Urban Quiver 3.0 is great when you want carry just enough for gear a casual day of shooting out and about. I love the back-side access entry because it keeps unwanted access into the main compartment. The sleek style also helps when you are moving around in crowded areas.
The price is $225 on Blackstone Bag's website, which is a bit pricey for a street bag or a secondary bag, but it is still a useful, high-quality bag that stands out amongst other camera bags without having to scream for attention.
The sling strap with its detachable buckle makes it pretty convenient to remove the Urban Quiver so you can grab your camera or a lens. The additional large pocket can is useful for storing a smartphone or your lens cap while you're shooting, as well. The full-length side pockets are nice to have, but would be nicer if they can expand a bit more. Material-wise, the military-grade 1000 denier nylon fabric conveys quality and should help to prevent water splashes from seeping in. In the case of bad weather, the included rainfly is a nice bonus to have.
Because the Urban Quiver is shaped tall and narrow, it may feel a bit strange to ear at first but it can be pretty comfortable for longer use. The trick is figuring out where you want the heavier items to go so the weight is more evenly distributed. Better padding on the backside can always help, but at least the shoulder strap padding is fairly generous. Plus, the shoulder strap is adjustable so you can tighten the Urban Quiver around your body for more stability. The company touts that the bag can be used while biking around town and I believe them.
Of course, since the amount of gear you can carry is minimal, the load that you are carrying is far less than that of a full-fledge camera backpack. Additionally, having the weight spread across your back means that there is less strain on one side of the body like you would get with a messenger-style bag.
Finally, if there is anything else that I think can be improved with the Urban Quiver is for the bag to be a little larger just so you can fit an iPad mini, Nexus 7, or other 7″ tablets in there. That is just nitpicking, of course. Overall, the Urban Quiver is a great looking, secure, and comfortable camera sling bag that you can use when you only want to carry a handful of gear around with you. You can read more and purchase the Urban Quiver 3.0 directly from Blackstone Bag's website.
Read our Review Here Canon 24-70mm f/2.8L is very awesome and so is photomatix software | Canon 24-70mm f/2.8L photomatix
[Tip: Click here for a 15% Photomatix Discount Code]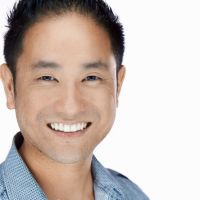 fotosiamo
Joe is a fashion and commercial photographer based in Los Angeles, CA. He blends creativity and edge with a strong style of lighting and emotion in his photographs.