Our photography gear is simply a set of tools that we combine with our artistic mind to create a final photo. I've never had a piece of gear that jumpstarted my career, it was always education and ideas that got me wanting to go out and shoot more.
However, this was one of the first times that a piece of gear acted as a catalyst for creativity, a platform for new ideas that allowed me to put into practice what I had learned. I have had the Godox AD200 for well over a year and it has not only become a staple in my wedding photography toolkit but it has reinvented how I see and create light.
I know, it sounds dramatic, but it's true. Photographers get inspired by many different things, but having 200 w/s in a compact-size strobe truly redefined off-camera lighting for me and immersed me into an entirely different world of creativity.
Godox AD200 Specifications
Power, Guide Number: 200 Watt/Seconds,
170.6 ft (52m) w/flash head, 197 ft (60m) w/ bare bulb (@ISO 100)
Power Control: Manual, TTL, Multi-strobe
Power Levels: 8 EV, 1/1 to 1/128 (1/3-stop increments)
Curtain Sync: First-curtain, Rear-curtain, HSS (High Speed Sync) to 1/8000 sec
Compatibility: TTL: Canon, Nikon, Sony, Olympus, Panasonic, Fuji
(w/ optional X1-type dedicated brand-specific transmitters)
Wireless Control & Pots: Yes, (wireless controller sold separately) & 3.5mm sync port
Color Temperature: 5600 Kelvin (+/- 200K)
Recycle Time: .01 sec to 2.1 sec
Flash Duration: @ t0.1: 1/220 sec t 1/13,00 sec (speedlite head),
1/220 sec to 1/11,300 sec (bare bulb head)
Battery Power: Lithium 14.4 V / 2900 mAH (500 flashes @ 1/1 power)
Size: 6.6x3x2 in (168x75x50 mm)
Weight: 19.7 oz (560 g) w/o flash head & battery
Mount: 1/4-20″ thread, AD-E holder
Included: Flash, 1 battery, 2 strobe heads (bare bulb, flash head)
Price: $349 Adorama | B&H | Amazon
Godox AD200 Review | Pros
Here is why I can't live without the Godox AD200, now that I have had it in my possession for a full year:
Portability: you get the same compact size of a pocket strobe with 200 w/s of power. A traditional pocket flash is 50-75 w/s.
Price/Value: comparable 200 w/s strobes are double if not triple the price. It's almost a no-brainer to own one of these but I purchased 2 at once to displace my
Compatibility: I love that you can buy into the Godox system, vs. having just a strobe with no flash compatibility, and that I can still use my MagMod modifiers.
Battery Life: say goodbye to those 16-bay AA battery chargers! Not only do AD200's run on Lithium-Ion batteries, but the charge lasts for HOURS. I have shot 3-day Indian weddings and haven't had to worry about charging my batteries overnight.
Godox AD200 Review | Cons
Although there are reports of misfires, I think this is more of a knock against "third party" flashes than it is a valid claim. I don't have many negative thoughts on my AD200's, but here are the few things I think could be fixed in future versions:
Modeling light: although some consider this to be a noteworthy feature, it's pretty lackluster in my opinion. If they put a little more time and development into it and made it more robust, I could see it being a more useful asset.
Misfires: I have had some issues with misfires, but nothing that would impact the timing of my shot or risk the potential of my images. The highest misfire rate I experienced was using HSS in broad daylight.
4 of My Favorite Ways to Use Godox AD200's for Wedding Photography
About a year ago, I reviewed the MagMod MagBox (currently on sale right now actually) which was around 3 months after I purchased my 2 AD200's. It was during the testing for this review that greatly influenced my use of these medium strobes in my wedding photography. I found some of the most effective ways to use these strobes during weddings, largely in part to the MagRing, an attachment that allows you to use flashes or medium strobes with the MagBox. Here are four ways I love to use my AD200's at every wedding:
1. Stacked: 2 AD200's to Overpower the Sun
The rule "1/1 to overpower the sun" has been ingrained in my memory from Lighting 101 for years. With pocket flashes, it just isn't possible to get the flash close enough to the subject unless you create a composite. Although a closer composition might allow you to get away with using 1 Godox AD200 to light your subject(s), I prefer stacking mine in a MagRing to create a 400 w/s light that can remain out of frame for wider shots.
2. Two Light Setup: Reception Lighting Recipe
This is one of my favorite reception lighting techniques I picked up from SLR Lounge's Wedding Photography Training System. It's a simple 2 light set-up that uses a pin-lighting technique to light the speaker and the couple. Figure out where the best location is to place your flash stands, and remember not to obstruct the view of the guests! Typically, we place one flash pointed towards the couple and one pointed towards the speaker. Kindly suggest that the speakers remain in that one spot to avoid having to re-adjust your flash. If you want more control, stack your MagGrids for a narrower beam of light.
3. Re-Creating Golden Hour: 2 AD200's to Emulate Sunlight
We are constantly chasing golden hour light, but we only get access to it for a short period. By studying how sunlight wraps objects and creates shadows, we can use off-camera lighting to re-create it. For this image, I used 2 AD200's stacked in a MagRing at 1/2-1/1 power and used a CTO Gels to match the color of golden hour light. You can read more about this technique in detail here or watch the full SLRLounge course dedicated to re-creating golden hour.
[Rewind]: MagBox Review for Wedding Photographers
4. Powerful Backlight: For Nighttime Drama
A great way to end a wedding day is to sneak the couple out for a nightcap shot, something that showcases the venue or incorporates advanced off-camera flash techniques. One of my favorite, and easiest, solutions for when you are stuck with a lackluster venue is to stick one AD200 behind the couple and power it up to light the surroundings and give them a nice pop of light. In this example, it was barely sprinkling outside and I wanted to highlight the raindrops and the tree.
Godox AD200 Sample Images (Real Weddings & Engagements)
Since the date of purchase, I have put my Godox AD200's through the wringer. They've traveled across the nation, been dropped by my assistants during engagement sessions, and have been used for every single one of my weddings for well over a year. Here are a few of my favorite images using the Godox AD200 with various MagMod Modifiers:
How to Use Godox AD200 – Guides & Courses
Looking for tutorials utilizing the AD200 in action? We've rounded up our favorite articles and lighting courses that feature this light.
Pros
Performance & Compatibility
Price/Value
Portability
Battery Life
Cons
Modeling Light (not very effective)
A few misfires, especially during HSS
Final Verdict
Of all the pieces of gear that a portrait/wedding photographer could invest in, the Godox AD200 is one that can make a huge difference in your creative potential.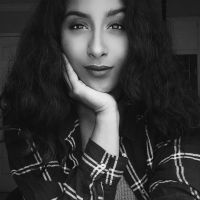 Shivani Reddy
Shivani wants to live in a world where laughter is the cure to pretty much everything. Since she can't claim "Serial Bingewatcher" as an occupation, she'll settle for wedding/portrait photographer at Lin and Jirsa & marketing coordinator here at SLR Lounge. For those rare moments when you won't find a camera in her hand, she will be dancing, eating a donut, or most likely watching Seinfeld. Follow her on Instagram:
@shivalry_inc