The build up to the Panasonic GH5 release has come and gone leaving the new video powerhouse exposed to the scrutiny of the gracious and mildly opinionated photo/video community. All joking aside, this camera does a lot of things well, but, its glaring weakness seems to be its continuous video autofocus capability, and this comes as a significant disappointment to many who have big plans for the GH5.
This has resulted in a series of videos of videographers putting the GH5 through its paces and leading to some contentious debate about how to maximize the camera's video autofocus settings. Two of the more prominent YouTubers to address this issue are Max Yuryev and Lumix Luminary, PhotoJoseph.  After putting out conflicting reviews about this feature, Max "called out" PhotoJoseph and offered to fly him out to Spokane, WA in order to settle the disagreement. PhotoJoseph agreed and this is what they found.
Max's video is the more thorough of the two, displaying both the hits and misses of the camera and lasting 46 minutes. Fortunately, he does provide a time index and you can jump to portions of the video that interest you the most.
Joseph's is far more condensed and displays only the GH5's best performance.  As you can see, the GH5 isn't quite a Canon 80D or even a Sony a6500, but it is respectable and useable in certain applications. One take away to note is that continuous autofocus works better in 60fps than in 24fps.
After their in-depth testing, Panasonic released its official statement through PhotoJoseph revealing what it states are the best settings for continuous video autofocus.
We recommend to select 1-area AF in 30p or 60p frame rate for more comfortable Auto Focus speed. When you select 24p, 1-area AF is recommended. If you are still experiencing slower that desired AF, Panasonic suggest to override AF by pressing the shutter button halfway down. Panasonic pledges to further improve the AF quality.
It seems like you can't have it all, even with the GH5 but, it would go a long way to appease their customers if Panasonic made this an ongoing priority throughout the life of this camera. It may not be perfect, but this camera checks a lot of boxes and they would do well to check this one as well. If you aren't dissuaded by these developments and the GH5 is still your camera of choice, you can get in line for yours here.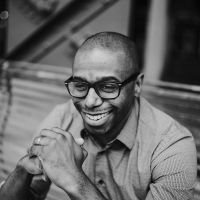 Wendell Weithers
Wendell is based in Atlanta where he shoots events, portraits, and food photography. He also supports his wife Andrea as she runs their cake design business, Sweet Details. Instagram:
Wendellwphoto