I'm sitting in an airport in London writing this on a MacBook Pro, tethering Internet from my iPhone 6, with an iPad in my bag. I think most would presume me to be a what's known as a 'fanboy,' (though there's little boy-ish about me), and I use them because I have done for about 20 years now. I like them. Simple. I don't get that excited over new Apple news unless the stock does particularly well (or poorly), and I don't think most of what they release is all that exciting. Today, however, was the first time in a while that I can remember being very excited about an Apple release, because, for us photographers, it could be a change in the wind.
Apple news is breaking right now all over the globe, and I can hear the buzz about it from fellow passengers walking by in various languages broken only by 'i' this and 'i' that. There's a new iOS operating system on its way, a new iPhone that does some wizardry with a camera and shoots 4K, but it's the new iPad that has got me pulling out my wallet. With a 12.9 inch screen, the new iPad Pro is said to have the best screen offered on any iOS device and more advanced than any Apple product thus far. With a screen resolution of 2732 x 2048 (or about 5 and a half megapixels), it sounds gorgeous, and tremendously powerful.
In fact, it is so powerful that it can stream three 4K videos at once, even with a screen like it has. I mention that because when Apple released the first Retina iPad, it was quickly faulted for not having enough power to run very well with the screen requiring so much of its resources. This, it would seem, is not an issue anymore. The touch capability of the iPad has greatly been improved for precision and feedback, so the entire subsystem has been totally re-engineered, doubling the touch refresh rate and increasing sensitivity of the sensors.
New Input Means New Options
But the new technology has also allowed for new forms of input, and that's led Apple to create Apple Pencil. For a not insignificant price of $99, the pencil will turn this new iPad into something of a Wacom Cintiq style tablet. The iPad and Pencil together detect and input measurements of position, tilt, and force, much like what you'd find on the Pro level Intuos line from Wacom. It's also said to be so precise as to be able to detect a single pixel. Within mention of just how many pressure levels there are, it's tough to compare to the Wacom tablets, but for photographers this would seem to be enough, making this a viable retouching platform.
I can sense a big hairy 'but' coming from your direction as you mention that, to-date, retouching options for iOS devices have been paltry, and I agree. Adobe's mobile variants thus far have done little to sway users to adopt them, though there are plans for a new mobile Photoshop which would seem to be pointless without adding proper functionality such as layers and so forth.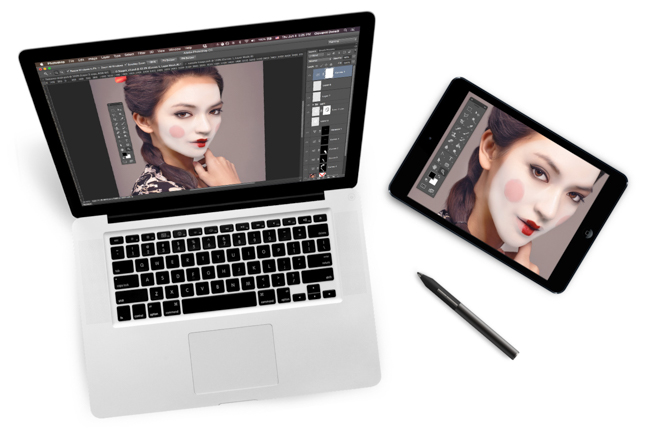 However, even if it doesn't, there are other apps to go with, and most notably Astropad. We've written about it before, but in a nutshell, it basically turns your iPad specifically into a tablet to control any App, and that includes Photoshop, so you can use a myriad of styli to retouch like you would on a Cintiq (sort of). And it's only $20, so hard to go wrong. With the new iPad's power jump and new sensitivity and ability to simultaneously differentiate between a hand and the Pencil, Astropad is looking more and more appealing.
A True Photographer's Friend
An iPad – Pro or not – is an indipensible tool for many photographers, even when not used as a pen tablet. Sharing albums, portfolios, and ideas are probably the most comfortable and seamless on an iPad, and clients intuitively know how to work them and like holding them. Similarly, within a studio or even on location, you can use the iPad to help you and your creative team.
If you're in studio and tethered to your computer through Capture One or Lightroom or something, you can send smaller JPEG versions of the images you're shooting wirelessly to an iPad. This would allow a creative director, a model, hair and make-up or assistant to see what's going on, and on a 12-inch screen they can all get a good of info from it.
Cost
It's not cheap, but you didn't think it would be; starting at $799 for 32Gb with Wi-Fi and jumping quickly to $949 for 128GB with Wi-Fi, to $1079 for 128GB with WiFi+cellular. The Pencil, as mentioned above, is $99 (hard to swallow considering you can get a brilliant Wacom Intros Pen & Touch Photo for the same price), and the optional keyboard/stand is a further $129 should you want that.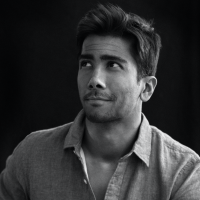 Kishore Sawh
A photographer and writer based in Miami, he can often be found at dog parks, and airports in London and Toronto. He is also a tremendous fan of flossing and the happiest guy around when the company's good.