Seven seconds.
That is the average amount of time that your website has to grab a user's attention before they bounce (apparently). What's more, is that the average attention span is already less than that of a goldfish and it continues to dwindle with each passing year. That's a lot of pressure when creating or updating a website that is representative of you in an effort to garner more business.
There are plenty of reputable platforms to choose from including Format, SquareSpace, ProPhoto Blogs and WordPress among others, many of which offer a free 14-day trial. After signing up for the free trial and experimenting with all of the aforementioned, I kept coming back to the minimalist clean aesthetic and overall simplicity of Format, though we are fans of Squarespace also, and each do different things better than the other.
Design
Like many of its counterparts, Format's design center is very straightforward and includes 23 themes to choose from, four of which are considered premium for an extra few dollars a month. Pick the theme that you like and customize it from there. There is the option of keeping the exact theme verbatim and replacing each specific component with your own images, or you can start a page from scratch and design it to match your aesthetic.

Customization
Format has taken the stress out of editing and customizing an online portfolio on both the desktop version and the Format iPhone app. The interface is very user-friendly and easy to customize the galleries as you see fit and if you have ever used WordPress, this will be a breeze.
Have no fear, coding lovers, as there is still an advanced editor option which is intended for users who are comfortable modifying and debugging CSS, HTML, and Javascript. It should be noted that Format does not provide support for these changes.
Preview Mode is available at all times to make sure everything is to one's liking. But what happens if the current theme doesn't hit a home run after all of that hard work? Format has made this a non-issue and allows for themes to be succinctly switched out without losing any previous progress.
Customer Service
There are questions that fall outside of the realm of easy self-discovery such as optimizing SEO and transferring of domains. Questions of any nature are submitted via the message center located in the bottom right corner and replies are received within 1 day (often within a few hours) via both the message center and in an email, both of which are possible to respond to and communicate with. They even offered to handle the transfer of my domain.
Additional Features
Each theme comes standard with an 'About' page that includes the option of automatically linking to one's Instagram feed, making it even easier to build a social audience. Format also comes equipped with a built-in blog, advanced editor and client-proofing system with the option of password protection and watermarked images, all of which are ideal for photographers of any genre.
Unlike SquareSpace, Format isn't necessarily synonymous with or particularly known for all things SEO, although they have created a "How-To" guide to make it as efficient as possible. The platform has also made it very easy to integrate Google Analytics and Webmaster Tools Integration within the site without having to manually change the code. Format's websites are also optimized for search engine requirements.
Pricing
Format utilizes a 3-tiered pricing model ranging from $7.99/mo ($6/mo if billed annually) up to $32.99/mo ($25/mo if billed annually) and includes the cost of hosting. Pick the best one that meets the requirements and demands of your business.
Final Thoughts
Format has made it possible to create an impactful and attractive portfolio with the ease of both the user and viewer in mind. While the platform has many benefits, it isn't perfect. There are a few extra steps that need to be taken in order to be as SEO compatible as possible. I also found that the cover images for each page could use some work; the snippet that is shown when sharing a page to Facebook crops in and therefore isn't ideal with portraiture. I am still looking to find the best dimensions for this particular theme.
It also seems that Format has listened to and continues to listen to its customer base. Former complaints of lack of video support and client proofing seem to have been addressed and it appears that this will continue to be the case as they continue to strive to be one of the best options for creatives.
The cons aren't really a deal breaker when it comes to creating a very simple, clean and easy to navigate portfolio that is pretty to look at. The customization, customer service and price make Format a contender if you are in the market for a new website.
Be sure to check out my website and see the finished product. You can also keep up with recent work and gear tests by following me on Instagram.
Why Use Format for Photographers?
Unlike WordPress and Squarespace, Format was created specifically for photographers and creatives. We've covered them extensively in other articles, but for your quick reference, here are a few more reasons you should give this platform a look.
1) Beautiful Portfolio Options
As mentioned, this platform was built specifically for photographers, so simply put, they get it. With some competitors, you're stuck modifying a theme built for a bike shop or bakery to make it fit your needs. With Format, they've thought through the key features for photographers, including beautiful portfolio displays.
2) Features to Make Money
From client photo galleries and review tools to online stores to sell your work directly from your website, Format is primed for photographers to make money.  Having this in a single platform, without the need for additional coding or plugins, is a great feature of format.
3) Ease-of-use, Customer Service and More
Unlike WordPress, you don't need any coding to get started. In fact, you should be able to get your website up and running within a couple hours (assuming you have your images picked out and website copy prewritten).  We've also had great experience with their custom service and support team, and they've been very responsive for the few questions we did have.
Conclusion
The right platform is different for every individual and every business.  However, in this crowded field, Format is worth a look.  You can get started with a free demo to see if it's right for you.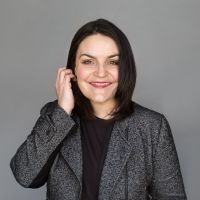 Brittany Smith
Brittany is a fashion and beauty photographer who works between NYC, Montana and LA. She photographs the way she has always wanted to feel and believes in the power of raw simplicity. When not behind a camera she can usually be found at a local coffeeshop, teaching fitness classes at the YMCA, or baking something fabulous in the kitchen. Instagram: @brittanysmithphoto