Styling for a model test shoot in the fashion realm can be intimidating, and it doesn't have to be. As fun as it is to go full fledged into a magazine editorial styled shoot, it is always refreshing to get back to the roots of a basic test shoot, especially if the model is in the beginning of building her portfolio. You can never go wrong with simple styles that highlight a model's versatility.
If you are new to styling your own shoots, pull pieces that are neutral in color and aesthetically classic because it will provide longevity to the image. White is always a good idea as it is a blank canvas. Advise the model to arrive with very little makeup that appears fresh faced as well as her hair styled in a way that looks good whether it is pulled up or left down.
While this is geared towards models, the styling tips also apply to portraits. Below are three basic styles that pair very well with minimal hair and makeup.
#1 Basic Tank & Denim | Fashion Styling Tips
A good fitting pair of denim paired with either a tank top or a Calvin Klein sports bra has been a staple fashion style for decades. It is perhaps the most versatile outfit in existence and is a great choice for full length, 3/4 length and portrait images that photographs incredibly well, not to mention every model owns these pieces.
The wash of the jeans and whether or not they aren't distressed will depend on the backdrop; choose what looks best with the setting of the shoot. Be sure to also capture the model's hair in an array of styles.
#2 Oversized White Shirt | Fashion Styling Tips
Men's white button-up shirts drape beautifully on the model for beauty portraits and are also a nice length that hits mid-thigh for body shots. This is a moodier look that is best served with a bit more rawness and emotion. This translates to messier hair with the shirt gently exposing the model's neck and shoulder as well as bare legs for body shots. Encourage the model to exaggerate her expressions and provide verbal cues such as vulnerable, sensual and fresh to achieve the desired result.
#3 Classic Outerwear | Fashion Styling Tips
Fitted blazers and oversized jackets are a simple way to add a third distinct look to a basic model test shoot for fashion. Loosely tucking the model's hair into the outerwear creates a faux bob and is a fast way to change the mood or styling if pressed on time. Additionally, accessories such as a hat, scarf, and jewelry are another avenue to create a different variant of the look provided it all goes together.
Being able to style for your own shoots is a good skill to add to the repertoire and only improves with practice. These are simple go-to styles that work every time and don't require a fashion stylist. The looks are easy to build up or play down and can be achieved sans hair and makeup artist if they aren't available. Learning to style also makes it all the easier to collaborate with a team and plan out a full blown editorial when the time is right.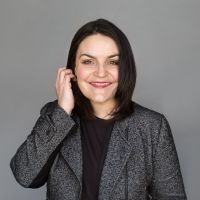 Brittany Smith
Brittany is a fashion and beauty photographer who works between NYC, Montana and LA. She photographs the way she has always wanted to feel and believes in the power of raw simplicity. When not behind a camera she can usually be found at a local coffeeshop, teaching fitness classes at the YMCA, or baking something fabulous in the kitchen. Instagram: @brittanysmithphoto