In a recent webinar, we discussed the importance of creating candid imagery with the help of verbal cues, and introduced the term "assisted photojournalism". We've reached out to some award-winning wedding photographers to get their two cents on what posing cues they give their brides and bridesmaids to elicit genuine and candid emotions, and if you missed our Groom & Groomsmen version of this check it out here!
This is one of the major focal points of Photographing the Bride, our latest installment of the Wedding Workshop series, where we teach shooters to fully understand the nuances of posing the female body to create flattering looks for every bride. See what they have to say:
Join Premium
Her goal is to get as much of a natural expression as possible that shows laughter and true emotion, without trying too hard.
"We have a series of images that are a bit more posed, but I always finish with the girls next to each other and say, "Everyone look at me, now look at the bride, and bride look at me… Ok perfect, now quickly find your favorite bridesmaid" Or something to that. It always results in a confused look as they process what I said, and then everyone erupts in laughter and they are all naturally looking at each other and the bride. This will usually follow with jokes and authentic happy expressions. "
Andy & Amii Kauth of Sunshine & Reign Photography love to keep the emotions as real as possible as well and usually opt for two phrases, "It's time to adore your bride" and then follow it up with something like, "Okay, ladies, now, IT'S PARTY TIME!".
Luke focuses on how and where the bride is looking, positioning their body to appear connecting to those they are interacting with and to create appealing compositional triangles for a more impactful photo.
"Find natural frames for the bridesmaids to interact, as not only does it capture their interactions, it also adds depth to the visual narrative by showcasing the architectural elements of the venue. We encourage them to keep the graceful lines and elegant shape."
Ashley tells the bridesmaids that they will take a basic portrait with the bride first, then something fun, and then give her a piece of advice.
"I call this "Operation Bridesmaid"; while I'm taking bridal portraits, my second instructs the girls: "We're going to do individual portraits with each of you and the bride. It can be sweet and emotional or it can be dirty. We just want you to have a moment with her and capture that genuine reaction! Just remember keep your bouquets low!" They are always my bride's favorite images of her girls, and usually my brides say something along the lines of "this captures our relationship perfectly," and they always remember what each girl told her!"
Giving the girls a bit of direction to act oftentimes results in some naturally candid moments. Directing and setting up a short walk, for example, is Tauran Woo's method of choice. He asks them to "say hi to their neighbor while simply linking arms to keep them in close proximity."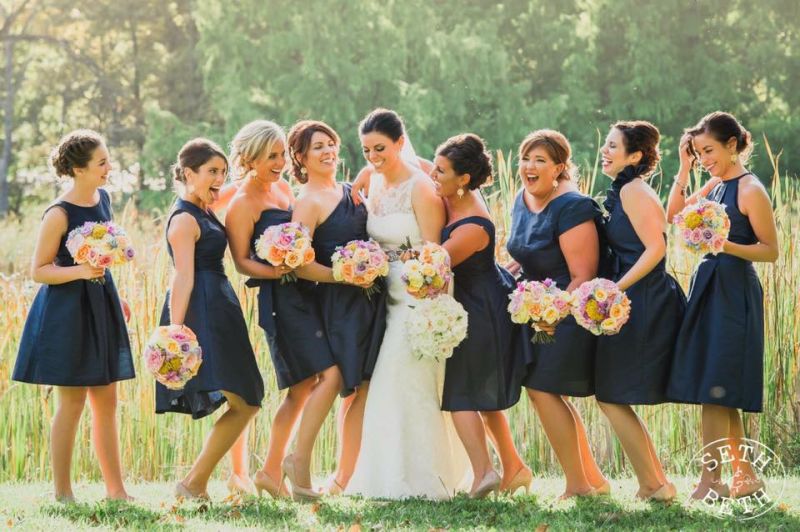 "Our advice always results in laughter – turn inside to get skinny and close to each other, then lean toward the camera to show off your gorgeous faces and finally, grab each other's butts. The gals always start busting up and squealing. The process can loosen them up on a tense wedding day and we can all laugh together while looking at the back of the camera."
"To bring out the candid and the bridesmaids individual personalities, I create mini games. Mini games leave room for bridesmaids to add in their own touch of creativity and personal flavor. They dive into how well they know the bride's personality or fun moments they've shared. The mini game is a thought, a moment, a story, an expression, a personality…acted out. Examples of mini games include bridesmaids guessing or acting out what the bride is thinking. Or maybe even what she will be thinking later that day at the alter…or even what outfit she wants her groom to surprise her in later that night. The game part comes in when I ask them to act out, or show me, much like charades. When you pair how well bridesmaids know the bride with an action, the possibilities around creating new creative mini games are endless."

Trevor Dayley plays a similar sort of game: after all the girls have lined up he directs them to "look at the bride and then asks the bride which girl is her favorite" – a sure fire way to get everyone laughing.
"I tell them to think of their favorite guilty pleasure boy-band song and dance in place. Singing it out loud is encouraged too."
"Look at the person next to you and tell her how pretty she is!"
Kate Noelle Kernutt shares similar advice, directing "everybody to lean and check out each other's makeup! Make sure no one has lipstick or spinach in their teeth!" getting the girls to interact and produce genuine reactions.
"Get really close together and laugh like sorority girls!"
"Set up a first look with her bridesmaids where the bride just gets dressed with mom and then all the girls get to see her completely dressed and ready."
"I tell them to look at their neighbor and tell them how HOT they are. You're so hot…no you're so hot! GOD, we're hot. You have to wait until they say it a few times and get the reaction after they're done saying it."
"Everyone wants a totally kickass shot of the girls on the big day, but they're also almost ALWAYS total goofballs too. I always try to get them a very "vogue" kind of shot, and then some variation of what I call "smooshy face" . I instruct the bride to sit or squat down and then tell all the girls put their faces as close to her as possible and then comment as they struggle or get weird and it's always super cute/sweet/funny!"
"I love to bring the Bride forward towards my lens, and frame her with her Bridesmaids. I really like to do this after I've done some of the more traditional Bridemaids photos so they are already comfortable and loose. Then when I bring the Bride forward, they naturally all continue talking and laughing."
WHAT ARE YOURS?
Please share some of your favorite posing cues below in the comments. Also, for more inspiration, check out our third installment of the Wedding Workshop Series, Photographing the Bride– the essential lead shooter's guide to posing, lighting, capturing, and post producing remarkable imagery that documents the bride & her bridesmaids throughout the wedding day. Upgrade to SLRL Premium now to stream the entire workshop!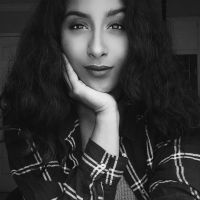 Shivani Reddy
Shivani wants to live in a world where laughter is the cure to pretty much everything. Since she can't claim "Serial Bingewatcher" as an occupation, she'll settle for wedding/portrait photographer at Lin and Jirsa & marketing coordinator here at SLR Lounge. For those rare moments when you won't find a camera in her hand, she will be dancing, eating a donut, or most likely watching Seinfeld. Follow her on Instagram:
@shivalry_inc