Photographing in an urban landscape without a proper understanding of how to use your surroundings to your benefit can not only thwart your creative process but inevitably produce unhappy clients.
We've compiled some tips to help guide you as you photograph your couple in an urban landscape. Whether it be creative camera tricks that are suitable for the situation, or compositional tools to help utilize what's around you, these 10 tips are sure to get your through any creative rut.
To see behind-the-scenes footage of how we photograph an actual engagement session in Downtown Los Angeles, check out our Unscripted BTS Series, exclusive to SLRL Premium.
Urban Photoshoot Tip 1: Use street art to tell a story
Graffiti and other street art can be used to help frame your subjects to add interest and color into your photos. Looking for leading lines or small pockets of light and using these painted walls as your backdrop is one of the added benefits of photographing in an urban landscape. These backdrops are also a great opportunity for your couples to be playful, and add personality to their engagement session.
Urban photoshoot tip 2: Look for interesting lines
Buildings, streets, bridges, architecture – there are so many visuals that can help guide focus to your couple. Use leading lines to compositionally draw the viewer into the scene while still incorporating a portion of the urban landscape.
Urban photoshoot tip 3: Utilize hard light
Harsher shadows and strong highlights work in urban scenes because they depict real light direction, essentially helping you capture the scene as is. Place your subjects intentionally in sunlight and then adjust their stance and position to find the right balance between shadows and highlights. Here we used a silver reflector to balance the light on both subjects.
Urban photoshoot tip 4: use the skyline as a backdrop
The best part about shooting in the city is without a doubt the ability to capture city lights. Every photographer loves a bit of interesting bokeh and using the city as your backdrop provides you with just that. Using a telephoto lens such as a 70-200mm or an 85mm, compress your background and send the city lights into a blur. Another option is to simply use the skyline as a storytelling element, first photographing the couple tight and then showcasing the landscape by pulling back and seeing the wide scene.
Urban photoshoot tip 5: shutter drag
The easiest trick in the book when shooting in an urban landscape: shutter drag. Whether you choose to do this with moving cars & buses or with pedestrians, always mount your camera to a tripod to prevent camera shake. Take a plate shot of your couple so that it will be easier to composite the shot in Photoshop later. You can see how we accomplished the shot above in our CreativeLive series, Incredible Engagement Photography.
Urban photoshoot tip 6: using ambient light as your key light at night
Specifically when you photographing at night, don't be afraid to use the ambient light around you to set the tone. But of course, check with your clients if that's the type of shoot they are looking for before sticking them under a bright neon sign.
Urban photoshoot tip 7: reflections/shooting through glass
This tip might prove to be a little tricky considering your location, but make sure to keep an eye peeled for any reflective surfaces or shoot-throughs that you may find wandering through the city. This image was taken at a vintage shop but would have been hard to spot without prior location scouting.
Urban photoshoot tip 8: use your surroundings
Imperfections add to the story in urban settings simply because they are apart of your surroundings. Using what is naturally available in your scene instead of concealing it can actually help story-tell and paint a realistic picture of your setting. Find spaces or places that create interesting compositional visuals and use light and objects to frame your subjects.
Urban photoshoot tip 9: texture & architecture
Another simple and easy trick is to use building-textures and unique architecture to your advantage. By placing the subject closer to background, the texture will be more visible, compared to pulling them off of the background which will compress it. Play with spacing and create art using the architecture as your guide.
Urban photoshoot tip 10: editorial & edgy poses
This last tip truly depends on the personality and mood of your couple. Urban photography lends itself to more editorial posing considering a good portion of fashion based shoots are done on location in cities.
For more tips on couples posing & flattering lighting techniques, check out our Wedding Workshop Series where we take you through a comprehensive journey of creating consistently amazing imagery from start to finish on a wedding day. Upgrade to SLRL Premium now to start streaming the series now!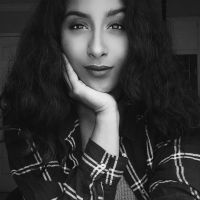 Shivani Reddy
Shivani wants to live in a world where laughter is the cure to pretty much everything. Since she can't claim "Serial Bingewatcher" as an occupation, she'll settle for wedding/portrait photographer at Lin and Jirsa & marketing coordinator here at SLR Lounge. For those rare moments when you won't find a camera in her hand, she will be dancing, eating a donut, or most likely watching Seinfeld. Follow her on Instagram:
@shivalry_inc