If you're anything like me, you've been quarantining since the beginning of the pandemic back in March, and are likely feeling a tad cooped up and stir crazy without a creative outlet. You're also probably trying to find new and exciting ways to be creative. Well, Photographer Daniel Horvath from Hungary might have a few ideas for you to get those creative juices flowing, and to just help you have some fun creating from the safety and comfort of your own home!
[Related Reading: Professional Models Teach You How To Pose for Better Self-Portraits]
In this video on Daniel's YouTube channel, he quickly shows 10 (+1) Creative Ideas for Selfies at home while using just normal everyday items around his home like window drapes and even his dining table chairs!
If you allow your creativity to rise you can make awesome photos at home. This is my collection of home selfie ideas during quarantine.
Like a lot of us, Daniel is a self-taught photographer that does photo and video services for his clients. But since COVID started he's lost a lot of those clients because most of his travel/business/tourism clients were closed with the pandemic.
"It was in my mind so long to start to teach 'kitchen language' photography to my followers. I wanted to give back something to the community. Since I am a vintage kinda guy who learned everything from YouTube on sites like SLR Lounge, so my concept is to teach things as quickly and easily as possible.

Also since I don't have a budget for fancy equipment and big studio setups, I like DIY things. I want to show people you can easily be creative without fancy equipment…Just use your imagination! That is the key: Use whatever is around you and be creative.

That was the concept behind this video that I shot during the Covid lockdown. I wrote down and tried out a plethora of concepts and then selected my favorites for the video!"
[Related Reading: Self-Portrait Workflow Tips with Capture One Pro From Beauty Photographer Tina Eisen]
To view more of Daniels work be sure to visit his website here and Instagram here
Honestly, I feel like He did a pretty great job with these and even got me inspired to do something a little more creative on my own at home, and with my new puppy! Have a look through the video above and let us know if you end up trying any of these ideas yourself. Also, be sure to share them in the comments below along with any other ideas you might have to add to this list!
*Content shared with permission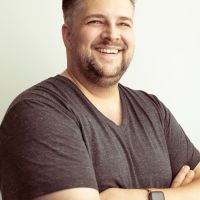 David J. Crewe
David J. Crewe is a full-time commercial photographer and Senior Editor with SLR Lounge. Based out of both Southern California & Las Vegas, Nevada. View his work and blog:
DavidJCrewe.com
Follow his Instagram:
@DavidJCrewe