The following expresses the opinion of the author and does not represent the opinion of SLR Lounge.
There are many online proofing websites out there, two of the most popular being SmugMug and Zenfolio. After trying out both of the above mentioned websites I decided to keep looking. Not being one to bash things, I will not talk about those sites other than to say that they simply were not what I was looking for.
I was looking for something simple that I could integrate with my workflow easily through Lightroom and my WordPress powered website. One of the services that I came across after leaving both SmugMug and Zenfolio was this website called ShootProof, and after just a few weeks of using the service I was sold on it.
What is ShootProof and what sets them apart?
ShootProof is a different sort of proofing website, they are not supported by commissions or setup fees and every level of account has access to every feature they have. I was so happy to not have to upgrade my service just to get this or that feature, all I had to be concerned with was if my quota of images would be enough for my business needs.
When you sign up for ShootProof you can choose from one of their 5 plans ranging from 100 images for free to 50,000 images for $60 per month. After that you can customize the look of your proofing site, setup a custom domain name, create price lists for print orders, and much more. If for any reason you decide that you need more or less images on your plan you can always upgrade or downgrade your account easily and instantly through your studio control panel.
My Workflow with ShootProof
One of the biggest things that got me hooked on ShootProof was the ease of adding it into my workflow. So I thought I would talk a little bit about my workflow. I am a Portrait and Sports Photographer, but I do the majority of my proofing for portraits in person. The Sports is where I take advantage of the ShootProof gallery.
After I am home from shooting a sporting event, usually youth or high school, I sit down with a nice cold beverage and get to work. I go through the images and cull any shots that are out of focus, badly composed, or just not up to my standards. After the culling process I go through and rank the images 1 to 3 stars. Images ranked 1 go up on ShootProof, Images ranked 2 get featured on my Blog, and Images ranked 3 get added to my Portfolio.
Once I figure out which images are going to be used for what I start the basic editing process. Since sports photography is a game of time, I do as little as possible to each image. To help in this endeavor I utilize the SLR Lounge Preset System, and make any changes to the images as needed on a case by case basis.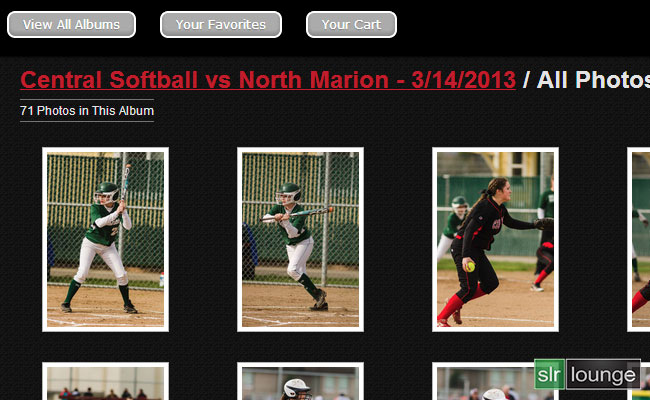 The Lightroom Plugin
Once I am happy with the images as a group I upload them to ShootProof via the handy dandy Lightroom Plugin that they provide. This plugin is one of the best that I have used for uploading to a web service. I can create and add albums to the event gallery right from lightroom without ever having to go online. It is a huge time saver and one of the biggest selling points to me for ShootProof.
Print Ordering
Another great selling point for ShootProof is the Print Ordering system. In your studio control panel you get to create price lists and attach them to different galleries. As part of that system you also get to choose from 4 different options for print fulfillment, ShootProof has partnered with BayPhoto, Black River Imaging, and ProDPI. If you do your own prints, or have another printer that you prefer you can select to self-fulfill your orders. If you go through one of ShootProof's partners all your clients have to do is order and the prints will be shipped directly to them (or you, depending on how you set it up). If you opt to take care of the prints yourself, then you will receive an email with the print order and the client's information.
Final Thoughts
I already have a website to promote my photography, I love that ShootProof doesn't try to take over my website as well as my proofing. Their system is easy to setup – It literally took me about 10 minutes to get mine going – and even easier to use. I was even able to setup a widget on my WordPress powered website where clients could enter their email or password and be automatically directed to their proofing gallery. Its just so simple and convenient that I can't believe I ever did it differently.
[Related: 5 Online Proofing Tips To Improve Your Client Experience]
I think the way that images are displayed to clients is the best that I have seen. It is easy to navigate for them and print ordering is simple, and I love that I can take a look at what images people are liking the most (Through the studio control panel you can view each individual visitors "favorites" list).
Lastly, if you are currently with another proofing service and feel stuck since you have already paid for the service fear not, shoot proof has a solution. They have this unique competitor match program where if you switch to ShootProof while you are still with another proofing service they will give you credit on your ShootProof plan for the remaining balance on your old proofing service.
If you are in the market for a great proofing website that doesn't try to be anything more than that, then I highly recommend that you check out ShootProof.