Learning the rules of the game and playing by those rules are essential skills needed to get a foot in the door of the fashion industry. A successful photographer in the fashion and beauty industry understands the intrinsic value in the relationships with models and realizes their responsibility to remain abreast of future trends.
This information is often considered common knowledge yet there seems to be a lot of information that goes unspoken regarding the journey and this results in more questions than answers. Alexi Lubomirski sits down to talk with Kyle Hagler, the president of Next Models Management NYC, picks his brain, and, among other things, they discuss the current state of the industry, trends, and importance of having a strong point of view.
Kyle insists that assisting for well known photographers will always be one of the best approaches to learning the ins and outs of the industry. Assisting provides hands-on experience with all nuances in the industry including learning how to direct models on set and interacting with other industry professionals. It also provides an inside perspective of fashion and photography trends which are useful when building a book to begin testing as a photographer.
Kyle points out that every working photographer in New York began their career as the newbie that essentially didn't matter in the conversation. They found a unique way of refining their aesthetic, defining what beautiful is to them and spoke up; being quiet doesn't resonate.
"Most of us who come to New York, we were either considered the freaks or people that really didn't operate within the lines of what society told us to do. I think that's the beauty of fashion and I think the responsibility of artists…. is to pull people into another understanding, to show them that there is a broader view of the world bigger than what they know."
-Kyle Hagler
Beauty is all about the imperfections and striving for the perfect image. Being a great model requires vulnerability, an innate understanding of oneself and the ability to be critical during the shoot to find moments that work. A skilled photographer realizes the value of the blank canvas and is able to imprint their vision without micromanaging the talent. The most iconic images occur when there is a harmonious interlude of give and take between everyone on set.
Kyle reaffirms that the future trend is strong women in tandem with diversity. Archetypes are a thing of the past and models from all walks of life and various cultures are being scouted for future work. Diversity is an ever evolving process that the fashion and beauty industry has an obligation to support the individuality of women no matter how slow they are to adapt.
"We're an immediate business so we also can create a momentum around anything that we define as interesting."
We all have a voice and have to be confident in the validity of our life experiences, according to Kyle, and need to be inspired before we can inspire. It is important to define beautiful and promote what is interesting on an individual level. Working in the fashion and beauty industry provides the world with art that influences the way people live, dress and see things. It's incredibly powerful.
The following video is just shy of a half hour and is packed full of information regarding the relationship of models and photographers in the fashion industry. Also, be sure to check out and subscribe to Alexi's YouTube channel.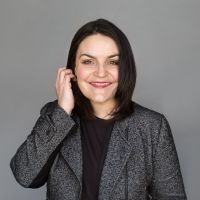 Brittany Smith
Brittany is a fashion and beauty photographer who works between NYC, Montana and LA. She photographs the way she has always wanted to feel and believes in the power of raw simplicity. When not behind a camera she can usually be found at a local coffeeshop, teaching fitness classes at the YMCA, or baking something fabulous in the kitchen. Instagram: @brittanysmithphoto