As a photographer that pays some of the bills from work with brands, understanding what they are looking for has been a long and often frustratingly unclear journey. The best case scenario is they have reached out to me, which means they have already vetted my work; not that it automatically means I would be a good fit for them or they me, but at least there's already a contact and interest, to begin with. It can be more convoluted when I'm trying to pitch myself to brands.
I recently began working with Outex, a flexible underwater housing system –I'll talk more directly about in a separate article for sure– but more importantly, I started talking and working directly with JR deSouza, the co-founder of the company.
He grew up in the water and has worked with companies like TiVo, Disney, and Dreamworks so he brings a wide range of passion and experience to the table. With mechanical engineer cousin, Roberto, together they created Outex. He now has a team of over 40 Pro/ambassadors and has launched numerous successful Kickstarter campaigns.
I was able to pick JR's brain about his side of brand work, innovation, and the product itself, and it quickly became clear that his experience and advice would be a huge asset to anyone.
RL: As a person on the other side of the table what do you look for when wanting to partner with content creators for business?
JR: Creating great content is a good start. But good content comes in many forms. It can be an Antarctic expedition, a desert rally, or a backyard pool party. There's no recipe or secret, and it can come from anywhere. I'm looking not just for acclaimed photographers or videographers, but for anyone who is pushing themselves and their own envelope in ways that Outex can help – and who's genuinely interested in, and appreciative of how our brand can help.
An acclaimed professional is great, but we're just as likely to partner with an enthusiastic amateur if we can help them expand their horizons and capabilities and give them a new way of executing a vision. Sometimes people with already large established followings aren't looking to grow or stretch themselves in the same way, so it's not just about the numbers, it's about initiative, learning, and personal growth. Every single one of our ambassadors started out as a customer. And the relationship grows from there.
*I was and will continue to be passionate about companies like Outex that talk to me directly, clearly, promptly, and are supportive and open to my ideas also.
RL: What is one or two pieces of advice you could give to content creators wanting to work with brands?
JR: 1. Express your vision, let them know what you're trying to accomplish.
2. Do a little homework. Learn about the company/brand. Put yourself in their shoes and try to listen/learn what they may envision/want from the work as well.
We're always looking for long-term, 2-way relationships that are genuine and organic. That also helps make the rewards commensurate with the results.
RL: What are some ways that creatives waste energy and where do you feel it would be better utilized?
JR: I think the biggest waste of time or energy is making assumptions (often misguided or incorrect) and not spending 2 minutes investigating or interfacing with our team to satisfy exactly what one needs.  Use and explore Outex.com, for example.  There's so much information there, with links to social media and a video channel where resources are offered, examples are given and answers provided to just about every question you may have.  Not only by us, but others using the product in hundreds of ways that may also inspire you.
At the very least we will answer/correct your assumptions. And your feedback is also helpful improving a brand's own communication strategy and execution.
So, if you are a photographer who has a desire to work with more brands, whether that be gear or otherwise, it seems the advice JR imparts works well across the board:
Have a vision, and provide that to them. Give them something to get behind rather than the only relationship being them giving you free product.
Think about what needs they might have, and listen and learn about the needs they actually do have. Ask and then listen
Do your homework about the brand (answer your own questions rather than making them have to babysit you through the process). If it's a match, it's more likely to produce better, more genuine, longer-lasting results.
There it is folks, aside from the obvious need to have a good body of work that shows consistently what you offer (and quality communication), the next step is to develop a vision, learn their needs, and know their brand.
If you end up reaching out to a brand, those that follow your work should be able to say "Yeah, that would be a good fit". In the same way, if a brand that doesn't fit with what you want to do it's also ok to say no. Brands might want you and think you're a good fit even when you feel otherwise, and the inverse of that is also true, and both of those things are ok. If it helps, ask yourself these 4 questions before reaching out to work with any brand or company:
What is the vision I'm bringing to the table in this partnership?
Do I know their brand well enough to know if I'd be a good fit?
How would they benefit by bringing me on board?
How will I make their job easier?
Early on in my career, I would have thought this advice to be too cryptic to be useful, or at worst, aimless so that people don't discover the real "secret". The longer I've actually done this the more genuine this kind of advice actually has revealed itself to be.
The real stuff takes time and also has to take shape in your unique voice. Just because a specific direction worked for one person it's no indication that it will work with your voice, your unique situation, this particular time, or with their unique needs.
The best approaches have always been to look at what is live, actually in front of you, right now, and respond to that. Working with brands means being able to be receptive, to be challenged, and to be responsive with them as needs change. There is a real strong tension to be held between adaptability and consistency and everyone's path to find that balance is unique.
Find out more about Outex here, and whatever questions you have leave in the comments.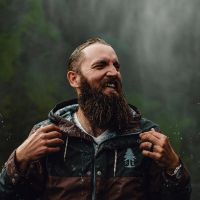 Ryan Longnecker
I grew up in the Eastern Sierras and since I was a kid I loved being outdoors and art. I went to school for music and theology and think both of those weave their way into my photography. I have a passion to change people from being cynical about people and this planet to being hopeful and seeing the beauty in it. I have a wife and two daughters and they could care less how successful I am at taking pictures, and that's great, because it's a constant anchor to what is best.